Discussion Starter
·
#1
·
This upgrade is for all 04-07 Titans. It gives you a 13.9" front rotor instead of 13". Bigger front calipers/pistons. And if you go aftermarket with Frozen rotors, Hawk LTS pads, Goodrich SS brake lines it makes for what Nissan should have offered in 2004.
NOTE, this upgrade only works on OEM 18" or bigger rims. I have read that it may not work on some aftermarket 18" rims too, due to backspacing etc. If you are not sure and live in socal you can test fit your rims on my truck.
The parts.
Frozen Rotors SlottedFrozen Rotors has been slotting brake rotors for our customers for the last ten years. We have never advertised this optional upgrade on our website but we are now proud to say this performance enhancement will be availible on most of our long lasting Frozen Rotor® brand of brake rotors.

Our slotting is performed on a CNC machining center for precise accuracy and balance. We slot our rotors to the discard depth of the brake rotor so when the slots are no longer visible you will know that the brake rotor needs replacing. Frozen Rotors® - Slotted brake rotors provide your vehicle with better brakes by reducing brake fade when brake pad gasses build up on the rotor surface. They will give you better stopping power in wet weather by providing a channel for water to escape. Slotted brake rotors keep the brake pads clean which gives you improved brake bite.

Why would you need a slotted brake rotor? Slotted brake rotors are recommended for performance cars and trucks. If you drive a Truck or SUV and pull trailers or use your vehicle to haul heavy loads slotted rotors give you that extra confidence and braking power to stop your vehicle. Our racing customers have been using this service for years!

NEW! Frozen Rotors® - Slotted

•Provides improved braking "bite"
•Cleans and refreshes the pad surface
•Prevents gases from collecting between the pad and rotor interface
•Better wet weather braking
•Enhanced aesthetic appearance
Left Front rotor: $213.51 + shipping
Front Left Frozen Rotors Slotted 2376 FZR SL for Nissan Titan 2009 All models - Frozen Rotors
Right Front rotor: $213.51 + shipping
Front Right Frozen Rotors Slotted 2376 FZR SR for Nissan Titan 2009 All models - Frozen Rotors
Hawk LTS Pads: $82.88 + shipping for the front set (4) comes with 2 packets of high temp brake pad grease too.
Front Hawk Performance LTS Brake Pad HB620Y.703 for Nissan Titan 2009 All models - Frozen Rotors
HAWK LTS - LIGHT TRUCK AND SUVA Better Way to Stop Your Truck and SUV!Hawk Performance has applied their severe-duty brake pad friction technology to the braking demands of trucks and SUVs. Heavier vehicles with larger brake systems are more likely to experience higher temperatures, requiring a brake pad that has excellent heat dissipation characteristics.
The new LTS (Light Truck & SUV) Brake Pad Compound utilizes Hawk Performance.s established and proven Ferro-Carbon formulation to provide superior stopping power for full-sized light trucks, SUVs and vans without noise and dust.
Key Features:
Improved braking over OE
Superior fade resistance
Low Dust
Excellent pad and rotor life
Virtually noise-free
OEM Parts:
1 - 05N/D1080-ZC60B DISC BRAKE HARDWARE KIT $77.77
Includes 2 upper pad glide plates, 2 lower pad glide plates, 4 outer/solid shims, 4 inner/slotted shims. Pic to follow later.
1 – 05N/41001-ZC6OA CALIPER $317.80 Comes with Torque member
1 – 05N/41011-ZC60A CALIPER $317.80 Comes with Torque member
1 - 41005-7S00 CALIPER BOLT qty 1 (Pack of 4) $39.95*
*Note, these bolt are not meant to be reused. They stretch/contract etc. I spoke to the SM and he said the only reason they have them in stock is because his techs break many of them.
Custom parts.... Some guys have done this mod without these spacers. It works but I dont recommend it as the 04 hubs are smaller that the 08 thus making your 08 rotor "lug centric" not "hub centric" something I totally advise against.. The guy that CnC'd these spacers has made 2 runs and now says he is done making them. I hope if there is enough interest he will make more. Talk about jewelry... they are art.
rg500.com: Nissan Titan Rotor Spacers
Tools:
Jack
Jack stands
Blocks of wood if you T has any kind of lift
6pt 1/2" 14 mm socket
6pt 21mm deep impact socket
Flathead screw driver
Rubber mallet
PB Blaster ( or some other penetrating oil)
½" drive breaker bar and at least a 3' bar…
High temp caliper grease (usually found at the counter of most auto parts stores)
Wire brush
Brake Clean
Hot soapy water, brush
Torche
Anti-seize
High-temp Caliper grease
Patience
A helper to bleed your front brakes
Jack up truck
Remove wheel
Clean new rotors with hot soapy water, dry off, then use brake clean to fully remove any grease etc. These rotors are directional. So be sure to label them/ keep them in their original boxes, whatever it takes to keep them going on the right sides!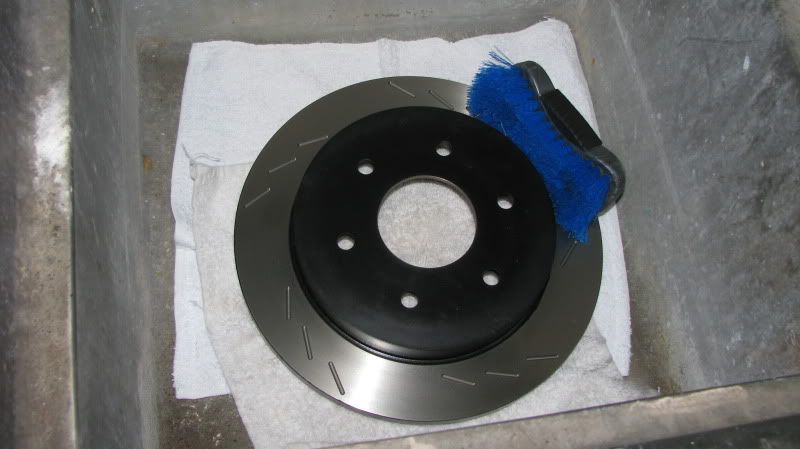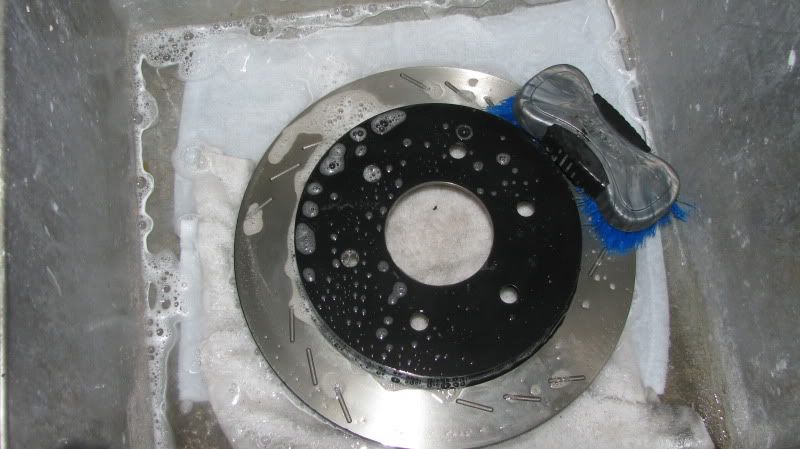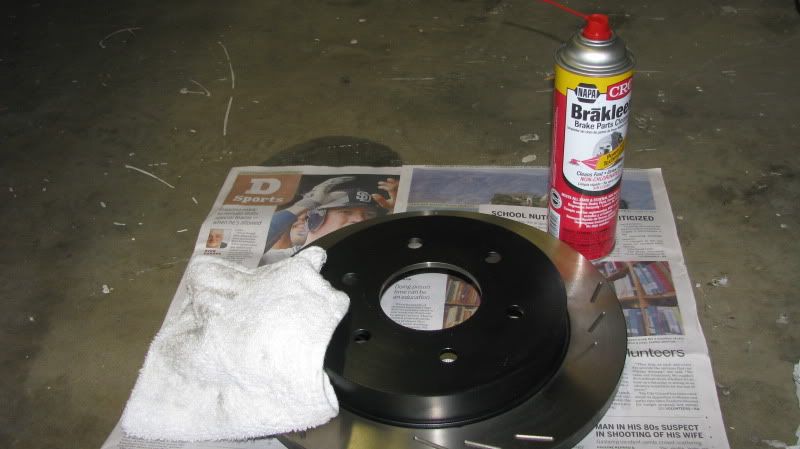 Inspect pads, rotor, brake lines, for leaks, uneven wear etc,
Using a wire brush clean inside of rim and clean with brake clean.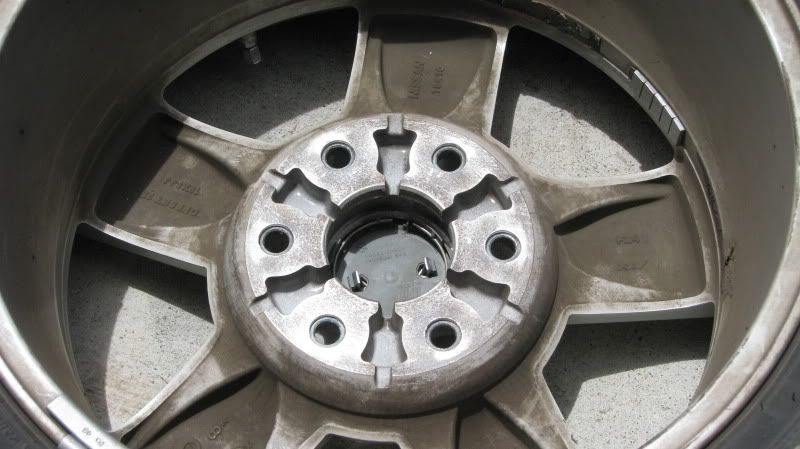 OEM brakes ready to be removed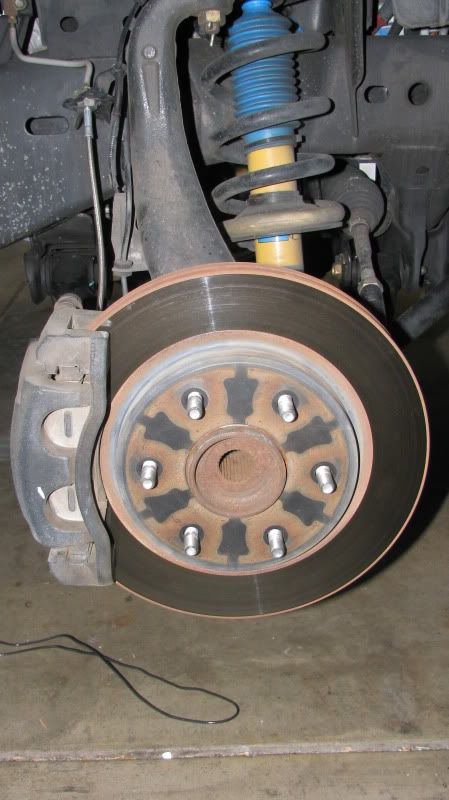 Remove 2 - 14mm caliper slide bolts, there is one upper and one lower. Sorry for the lack of pics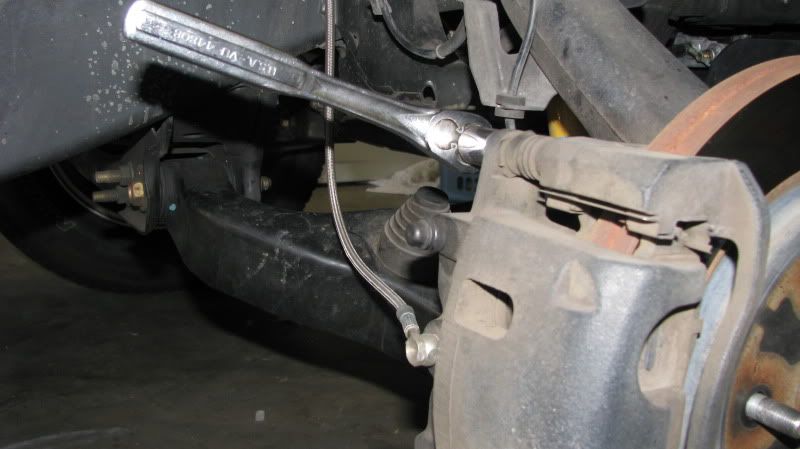 Remove Caliper with a large flat head screw driver. Insert into top and pry away from the rotor. Unlike the rear brakes, there are no locking tabs or whatnot to hold them in. The front pads "float" thus letting the caliper slide out real easy
Now simply pull the caliper off set it on a bucket with a towel under it as later when you remove the brake fluid line it makes a heck of a mess.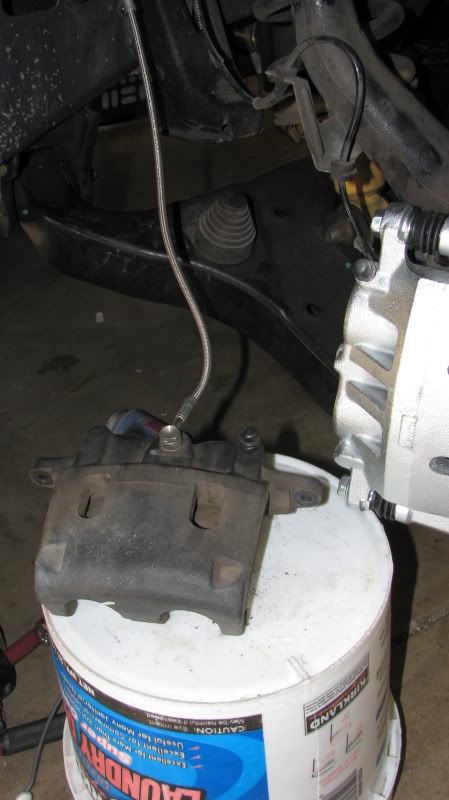 Now the fun part. The caliper and pads are out, time to remove the torque member. If you are just replacing pads this step you do not need to do.
Get your breaker bar out, get your 3'+ pry bar out. 21mm 6pt deep impact socket. Turn your wheel to get good access and have at it. Mine would turn a 1/8 of a turn with a lot of noise. After 30 minutes and a lot of turns I saw no progress, the bolt had not backed out one bit. The turning/noise I heard I suppose was the bolt stretching like the SM said it would. I applied PB Blaster.. Let it sit… Nuttin.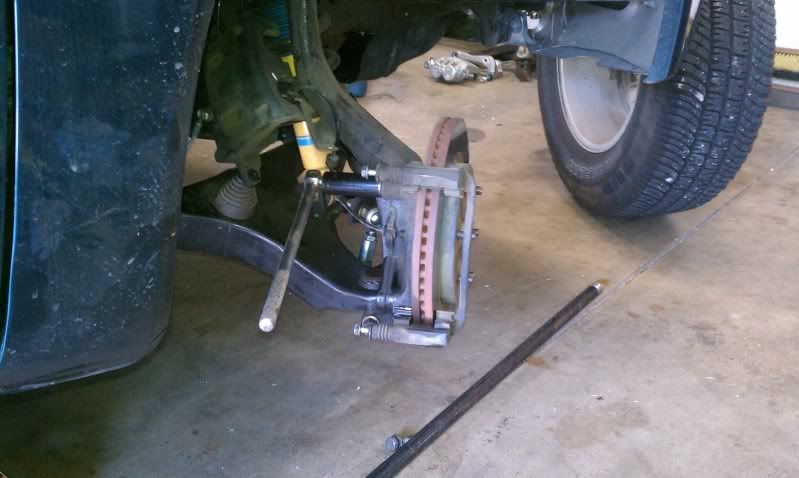 Like everyone said .....HEAT. I put a torch to it for about 3 minutes. Dont heat up the bolt, or the hub assembly, just the torque member where the threads seat. The hub assembly where the torque member bolts to has no threads (thank Gawd). Then I tried the impact gun for fun. Nothing.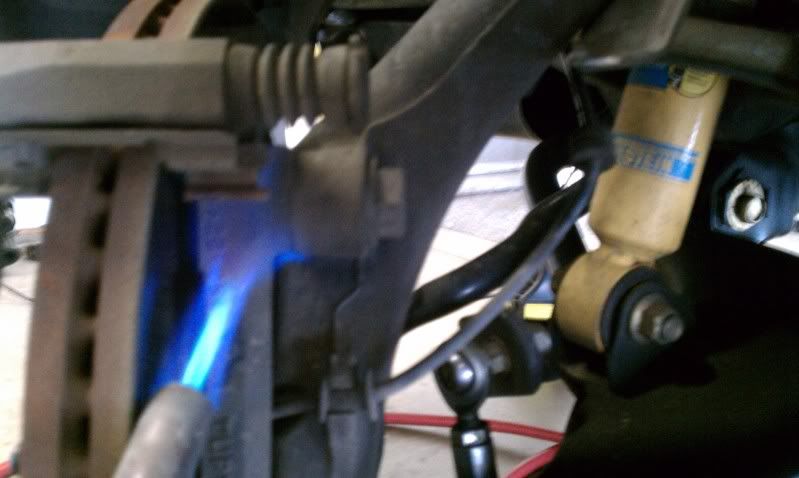 Back to the breaker bar. YES! I could turn the bolt ½ turn at a time with progress and no noise!
Once the bolt was ¾ the way out I used my ½" ratchet to remove. I them threw the bolts in the trash.
now, clean up the hub with a wire brush and spray with brake clean.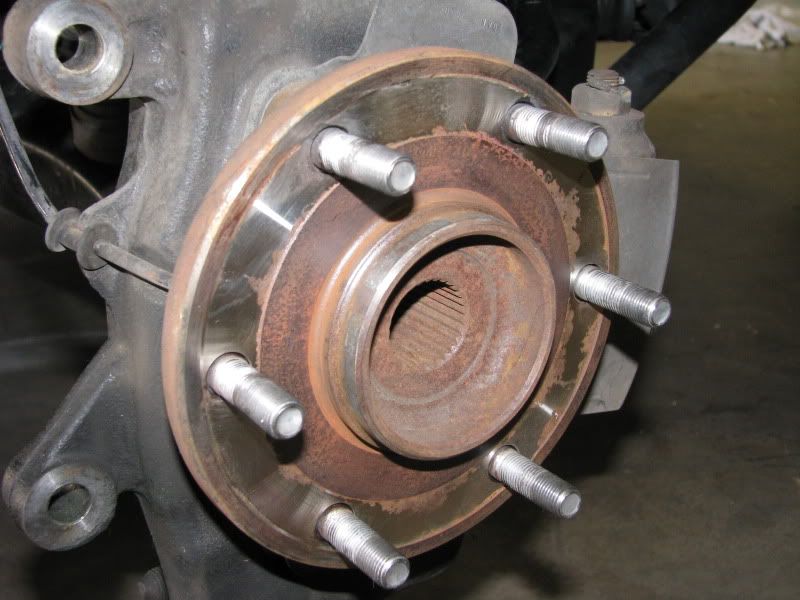 Install the new rotor.
Install the hub upgrade spacer rings onto the hub. They are well machined and are a snug fit. Use a rubber mallet to partially seat them. I say partially because you will not be able to get them flush with the hub.
Here is a pic of the spacer and 08 rotor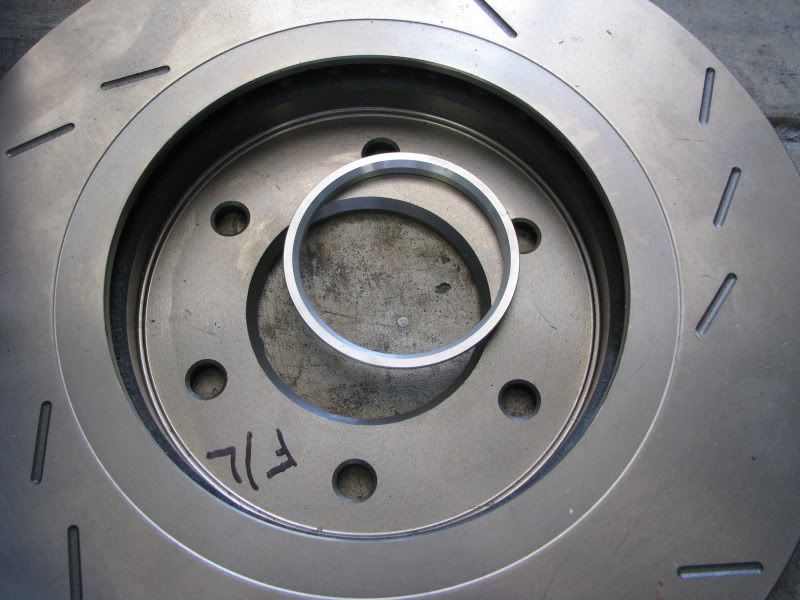 To get them snug, slide on the new rotor. Add at least 2 lugs and torque them down to 30 ft lbs. You will see the spacer pop out of the new rotor and seat quite nicely.
Before I installed the new torque member bolts,I took a torch to them and a wire brush I removed at least ½ of the oem lock tight. I know this may be frowned on but i did it. Then before installing the new bolts i gave them a coat of anti-seize then torqued them to 155 ft lbs.
Install the new torque member now. 155 ft lbs
Again, I applied anti-seize to these bolts then torqued them down.
Now time to fit your new brake pads with 08 hardware. This consist of 4 brake pad slide rails (2 top) (2 bottom)... 8 shims (inner slotted that snap on to the outside of the pads, then a solid shim that snaps over that)
Here is how the shims snap on in order, where to apply grease, and where the slide rails get snapped into and where to apply grease. Oh, between parts #1 & #2 the diagram does not show an inner slotted shim.. Well, Im tellin ya, one goes there.
Notice I applied the Hawk high temp brake grease where the service manual says. Be carefull not to get any on (your pants) or the front of the brake pads. If you contaminate the front of the brake pads, clean the thoroughly.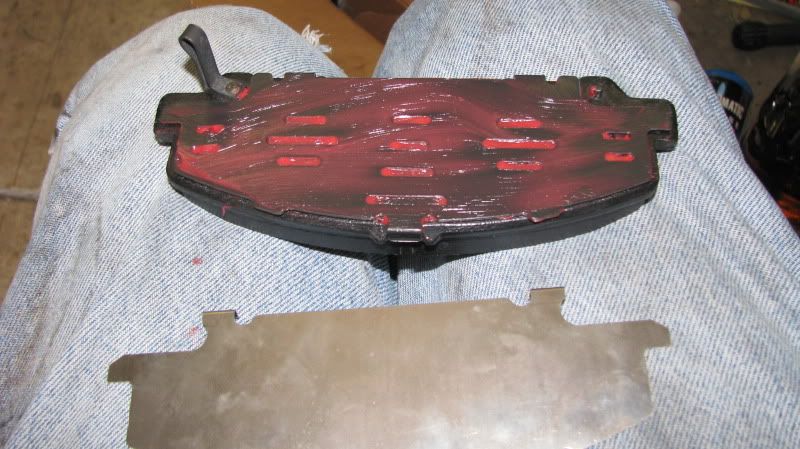 Also apply the same grease to the outer linings of the new caliper boots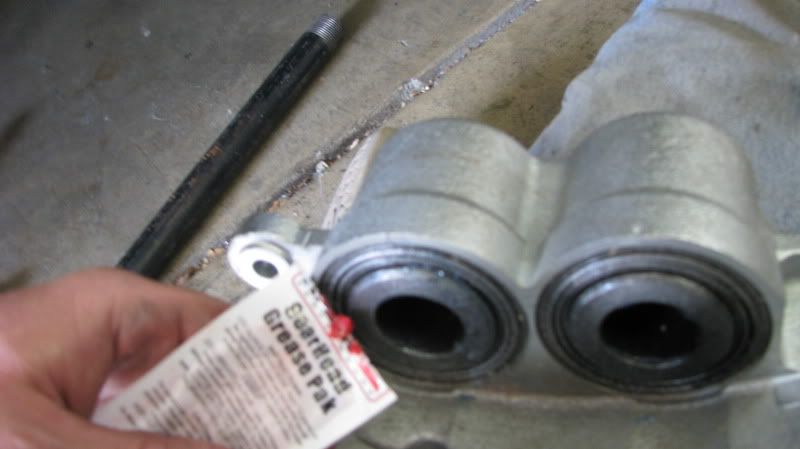 Now install the brake hardware to your new calipers.
This is simply a top and bottom brake pad slide rail that snaps into place on both new calipers.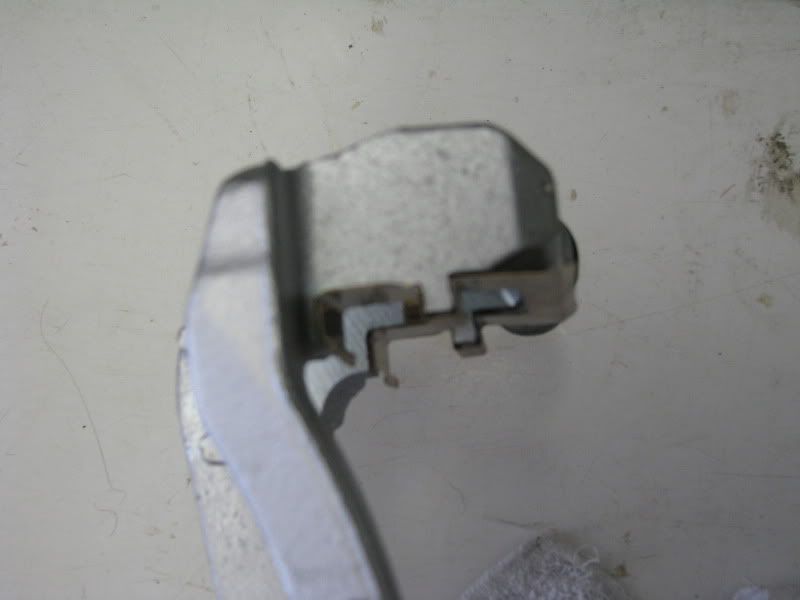 After you snap all 4 into place lube them up generously
After snapping on the shims and lube the pads slide right into the torque member. The inner pad should have the wear tab facing down. With the pad surface against the rotors push in, then seat it in the slide rails.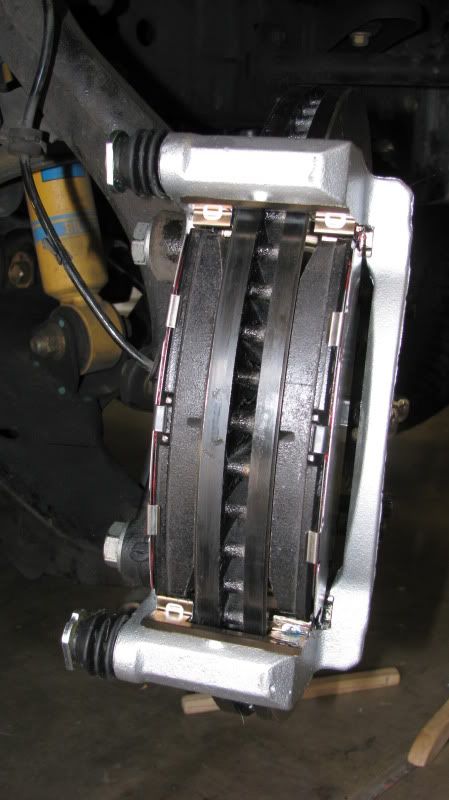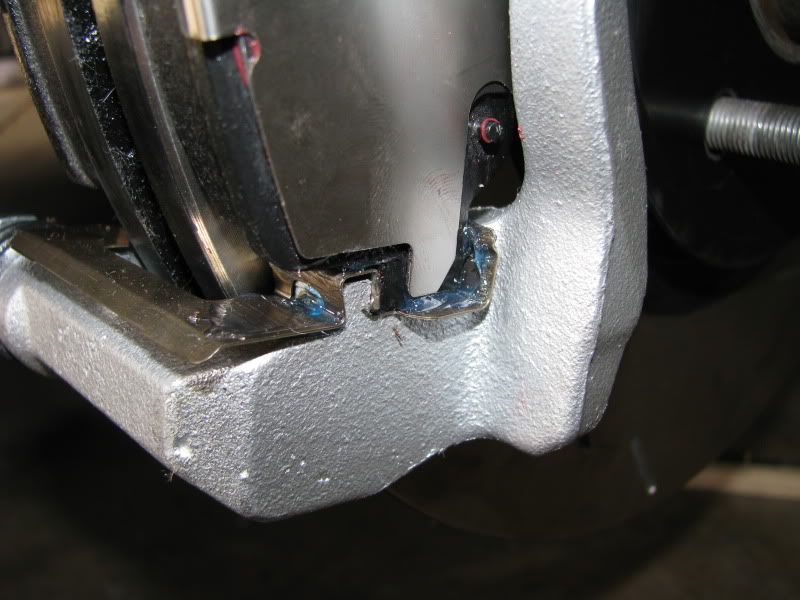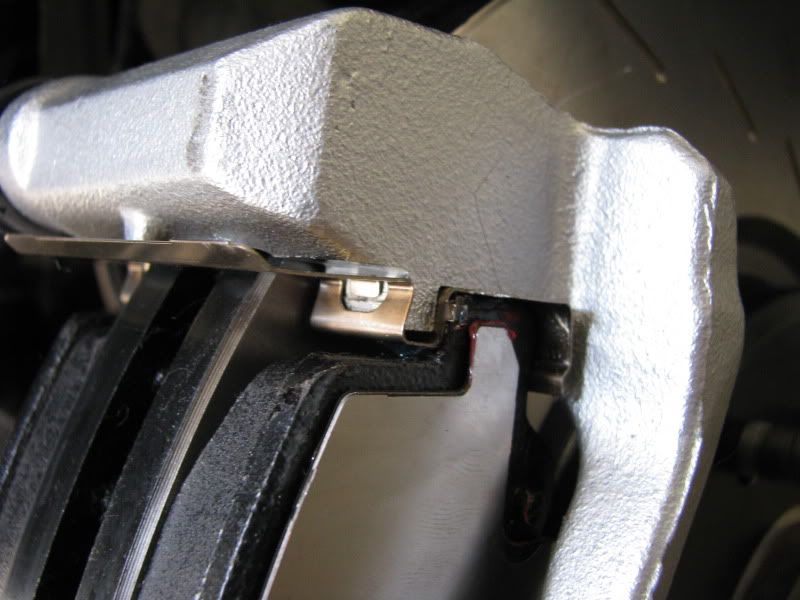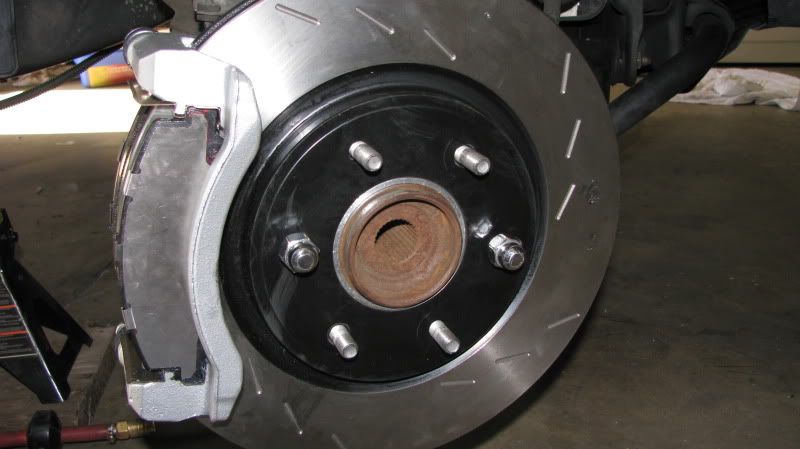 Now install the caliper. Make sure the bleed valve is pointed up, that is how you know you have the right or left caliper. It simply slides over the pads, align the slide bolt holes. NO need to compress the capiper boots as there is no pressure/fluid in them. Coat the bolts with anti-seize then hand tighten. Once seated, torque them to 54 ft lbs
Hmmmm, thought I had more pics of this but I dont
Now the messy part. Open the brake fluid reservoir and put a towel around it.
Loosen the top part of the brake line as the bango fitting is reverse from the 04. The whole line has to be spun so the banjo fitting is orientated inward and upward. Remove the banjo bolt and put another copper crush washer behind the bolt. The 04 system calls for one washer between the fitting and the caliper. 08+ calls for a washer on both sides of the botl
The 04 brake lines I have read are not long enough for this install.. I have also read, they are long enough but the locating tab on them has to be cut off due to the different mounting orientation. I have also read that 08+ front brake lines work but need some modification too. The Goodridge SS brake line kit I put in is plenty long enough and uses no locating tabs on the calipers. So... This part of the upgrade is up to you.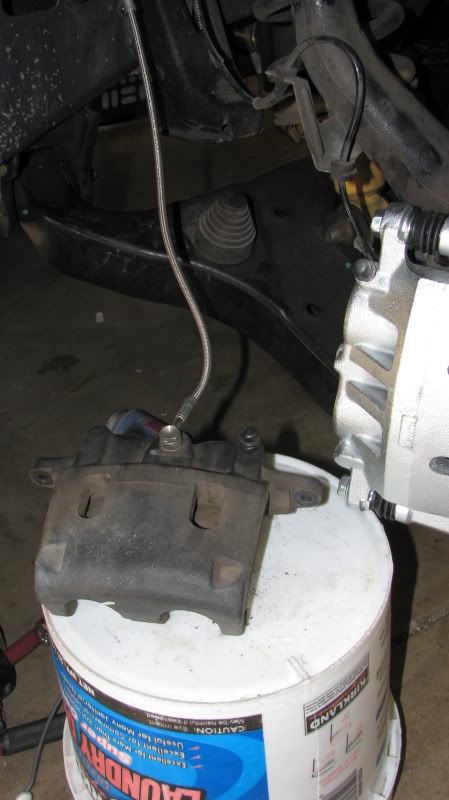 Have a rag handy because if you are not fast it will make quite a mess, In fact just have many towels handy. Torque the banjo bolt to 13 ft lbs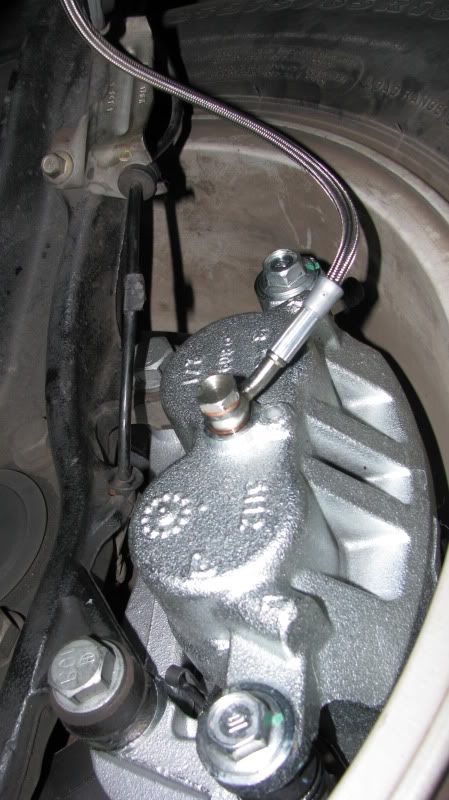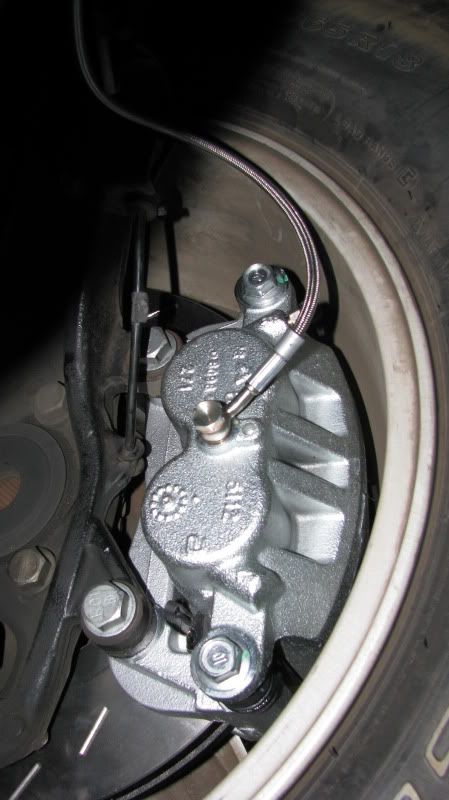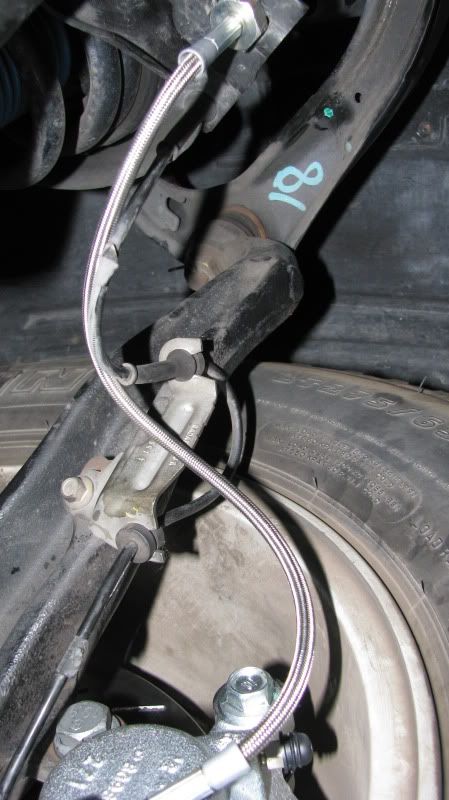 Rotor, pads, brake lines installed.... Now to the driver side. As they say "repeat process"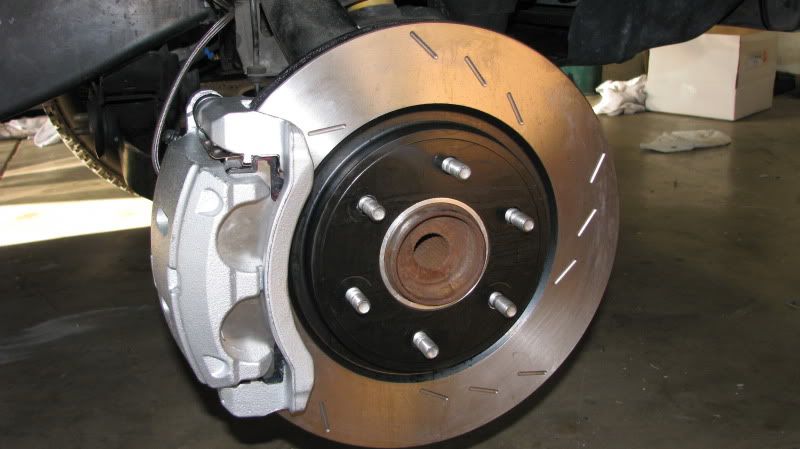 A pic of the new rotor vs old. The new rotor will stay silver as I painted them with high temp brake caliper paint
When done with both sides, time to bleed the front brakes. Have a bottle or 2 of Dot 3 brake fluid ready. Passenger side first.

-Using a box end 10mm 6pt wrench or 10mm line wrench, a hose attached to your bleed valve to catch the fluid, or a rag covering it. If you dont do either, excpect brake fluid to shoot 6' or so and make a mess.

-Make sure key is not in ignintion.

-Leave brake fluid reservoir lid off (I know, dont worry)

- Have a friend pump the brake peddle 5 times and hold down firm, He should verbally confirm, Open the bleed valve until the brake peddle hits the floor (your helper MUST confim when it hits) then close the bleeder valve. Verbally confirm to you helper the valve is close and he/she can let off the brake. Repeat this 5 times then moved on to the driver side.

It is criticall that your helper does not let up on the brake peddle until you have shut the bleeder valve shut or the brake system will suck in air that you are trying to purge. Also keep an eye on your brake fluid level. You will probably go through a whole bottle of it as the new caiipers/lines are void of fluid.
Now that both sides are done make sure your rotors are clean, spray with brake clean if needed. Mount wheels and torque to 98 ft lbs.
If you do not burnish your new rotors now make sure you do so before 200 miles and during that 200 miles go easy on them
I went to the dealer and paid $99 for a brake fluid flush, then burnished the rotors. To do this you will need a lot of open road with no traffic/cops
Brake fluid flush. BTW, Pat (service tech was very impressed with the install
Left the dealer and headed out to El Monte Rd here in El Cajon where I could burnish the brakes without interruption. Here is how Frozen Rotors says to do it:
Have Technicians make 5 decelerations from 70 to 50 mph. Firm on the brake pedal. Drive approximately two or three miles to cool brakes then make 5 more decelerations from 70 to 40 mph. Firm on brake pedal. Don't slam on brakes. Again, drive approximately two or three miles to cool brakes and then make 5 more decelerations from 70 to 30 mph. Cool brakes for two or three miles then park car and allow brakes to cool completely. When brake rotors return to ambient temperature repeat this entire process one more time. The brake rotors are how burnished and are ready for service!
Some thoughts.......
- Never attempt such a write up on your own.
- Brake peddle is not as firm up top up very firm down low
- Brake dust on the original POS 04 brakes scales of 1-10? (10being worst) 8
- Brake dust after original dealer fix in Feb '05, a 4
- Brake dust after a 100 miles? a 7
- Oh, it stops 2 1/2 - 3 truck distances sooner from 60-0 now

Not bad. I love the upgrade. Worth it? You bet your arse. Writing this how-to? Worst part of the job..
I am sure I left something out and this write up is not professional advice. No liability please. You are on your own.
Oh, Links to rear brake install, SS brake line install
http://www.titantalk.com/forums/titan-faq-howto-area/130939-big-brake-install-how.html
http://www.titantalk.com/forums/titan-wheels-tires-brakes/123534-ss-brake-lines-installed.html