Discussion Starter
·
#1
·
Rears today, the fun stuff tomorrow.
This install/upgrade is for all 04 Titans+. Front brakes were changed in 08. More on that later.
The parts.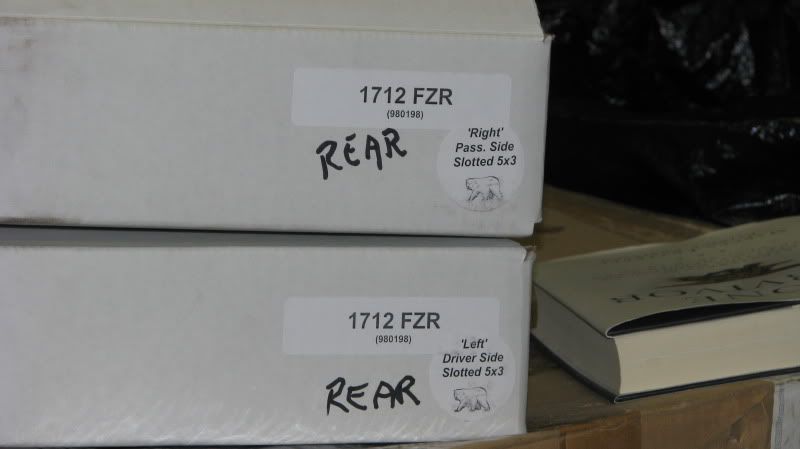 Frozen Rotors SlottedFrozen Rotors has been slotting brake rotors for our customers for the last ten years. We have never advertised this optional upgrade on our website but we are now proud to say this performance enhancement will be availible on most of our long lasting Frozen Rotor® brand of brake rotors.

Our slotting is performed on a CNC machining center for precise accuracy and balance. We slot our rotors to the discard depth of the brake rotor so when the slots are no longer visible you will know that the brake rotor needs replacing. Frozen Rotors® - Slotted brake rotors provide your vehicle with better brakes by reducing brake fade when brake pad gasses build up on the rotor surface. They will give you better stopping power in wet weather by providing a channel for water to escape. Slotted brake rotors keep the brake pads clean which gives you improved brake bite.

Why would you need a slotted brake rotor? Slotted brake rotors are recommended for performance cars and trucks. If you drive a Truck or SUV and pull trailers or use your vehicle to haul heavy loads slotted rotors give you that extra confidence and braking power to stop your vehicle. Our racing customers have been using this service for years!

NEW! Frozen Rotors® - Slotted

•Provides improved braking "bite"
•Cleans and refreshes the pad surface
•Prevents gases from collecting between the pad and rotor interface
•Better wet weather braking
•Enhanced aesthetic appearance
Left rear rotor: $169.55 + shipping
Rear Left Frozen Rotors Slotted 1712 FZR SL for Nissan Titan 2004 All models - Frozen Rotors
Right rear rotor: $169.55 + shipping
Rear Right Frozen Rotors Slotted 1712 FZR SR for Nissan Titan 2004 All models - Frozen Rotors
Hawk LTS Pads: $77.71 + shipping for the rear set (4) comes with 2 packets of high temp brake pad grease too.
HAWK LTS - LIGHT TRUCK AND SUVA Better Way to Stop Your Truck and SUV!Hawk Performance has applied their severe-duty brake pad friction technology to the braking demands of trucks and SUVs. Heavier vehicles with larger brake systems are more likely to experience higher temperatures, requiring a brake pad that has excellent heat dissipation characteristics.
The new LTS (Light Truck & SUV) Brake Pad Compound utilizes Hawk Performance.s established and proven Ferro-Carbon formulation to provide superior stopping power for full-sized light trucks, SUVs and vans without noise and dust.
Key Features:
Improved braking over OE
Superior fade resistance
Low Dust
Excellent pad and rotor life
Virtually noise-free
Rear Hawk Performance LTS Brake Pad HB555Y.678 for Nissan Titan 2004 All models - Frozen Rotors
Tools:
Jack
Jack stands
Blocks of wood if you T has any kind of lift
6pt 1/2" or 3/8" 14 mm socket
Flathead screw driver
Rubber mallet
PB Blaster ( or some other penetrating oil)
10 mm wrench
21 mm 6pt impact socket
High temp caliper grease (usually found at the counter of most auto parts stores)
Wire brush
Brake Clean
Hot soapy water, brush
Chock front wheel
Jack up truck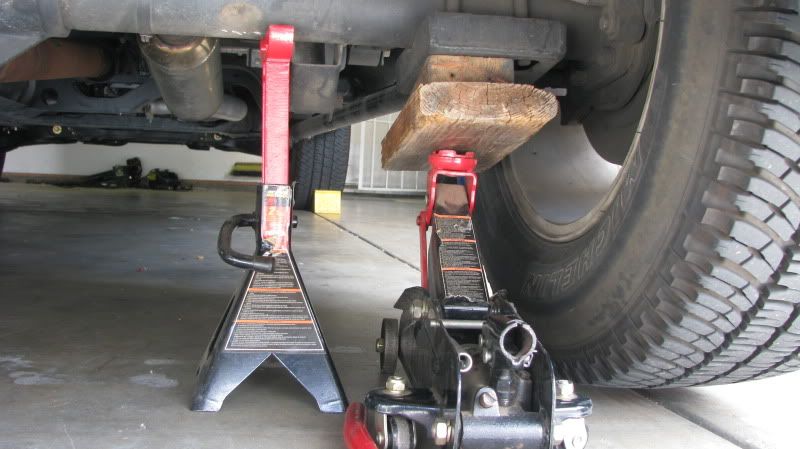 Remove wheel
Open brake fluid reservoir, wrap a towel around the spout, and remove about 2/3's of the fluid using an old turkey baster or pump. If you do not do this when you compress the caliper cylinders to install the new pads brake fluid will spill out.
Clean new rotors with hot soapy water, dry off, then use brake clean to fully remove any grease etc. These rotors are directrional. So be sure to label tem/ keep them in their original boxes, whatever it takes to keep them going on the right sides!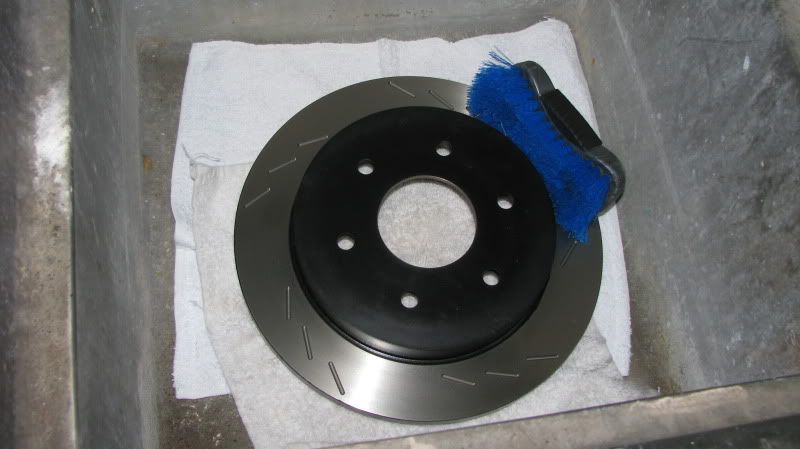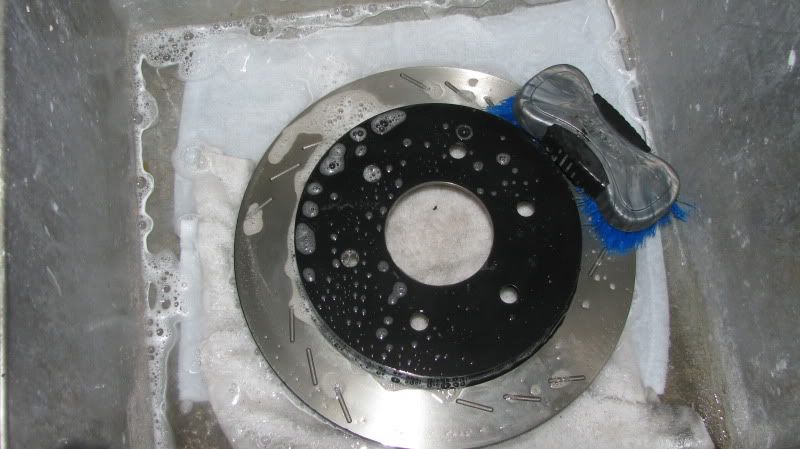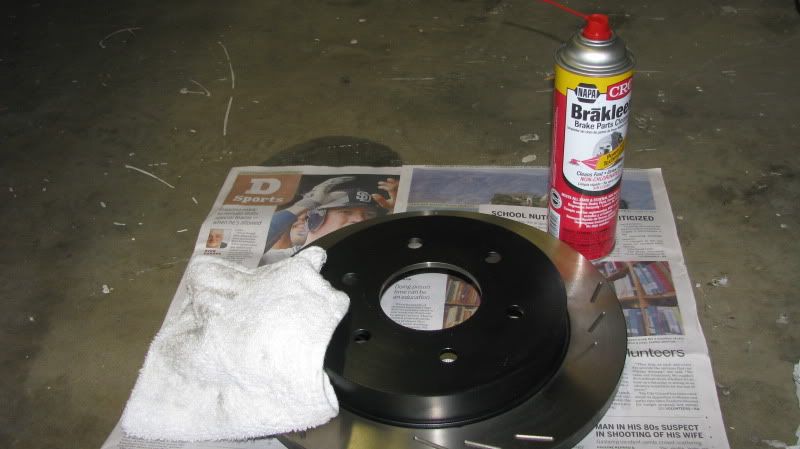 Inspect pads, rotor, brake lines, for leaks, uneven wear etc,
Using a wire brush clean inside of rim and clean with brake clean.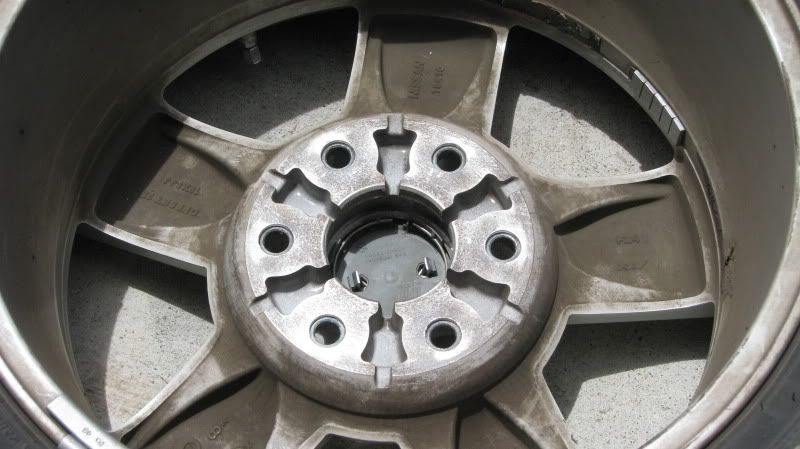 Remove 2 14mm caliper slide bolts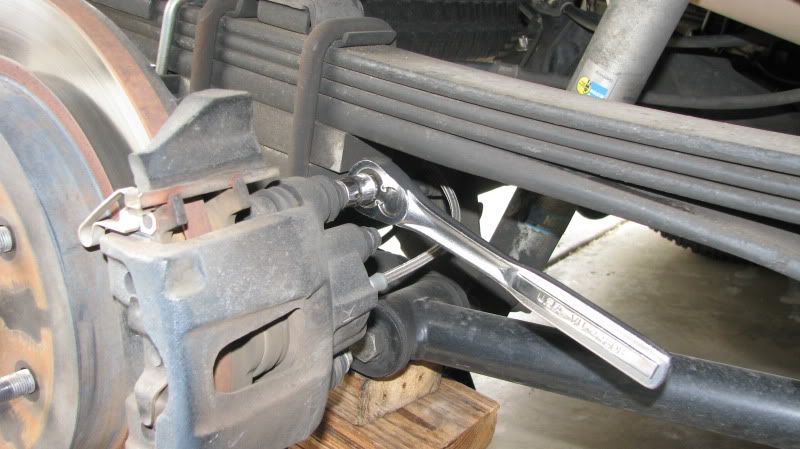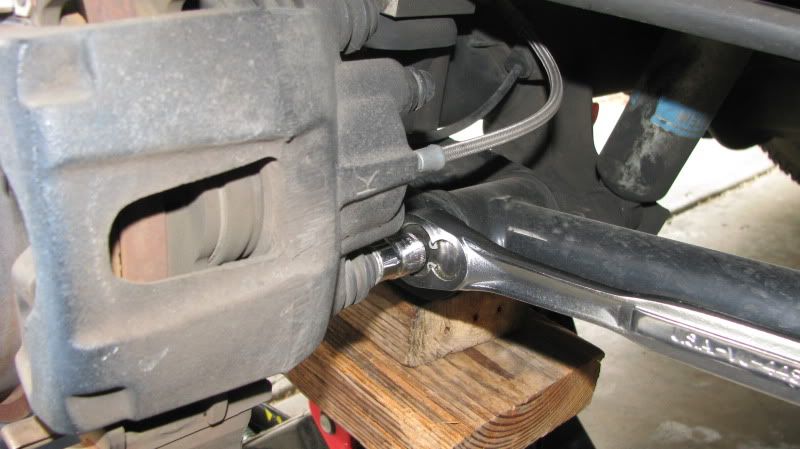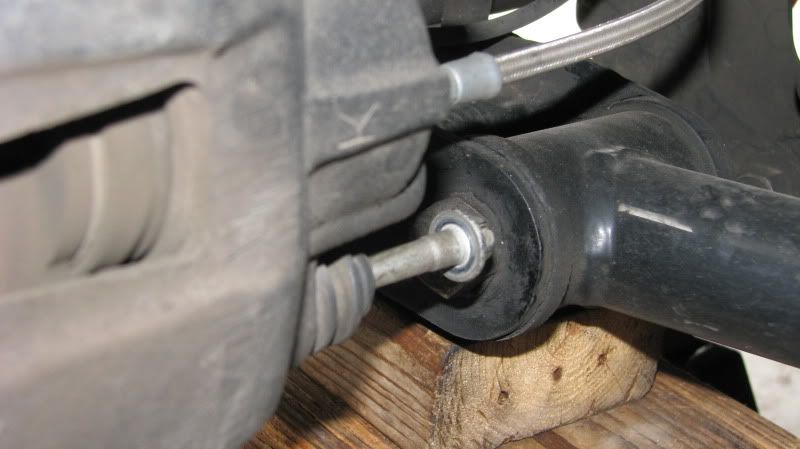 Remove Caliper with a large flat head screw driver. Insert into top and pry away from rotor. You have to push in the locking tabs before it will full release.
See the locking tab here?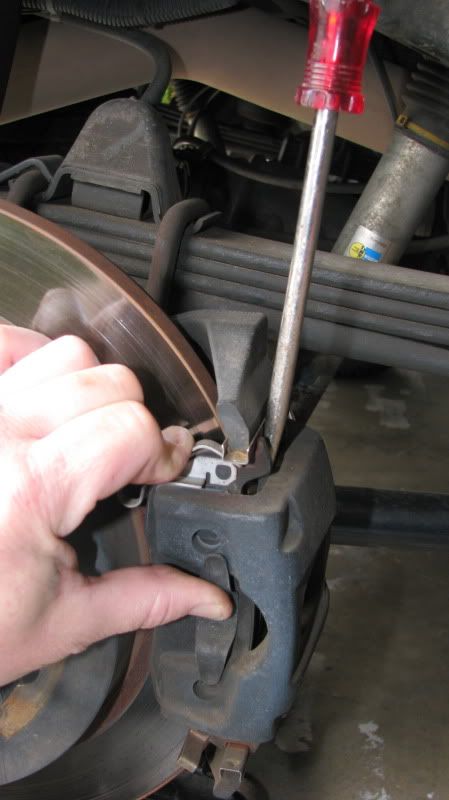 Now simply pull the caliper off and hang it with a bunjee cord or wire. Do not let it hang by the brake line.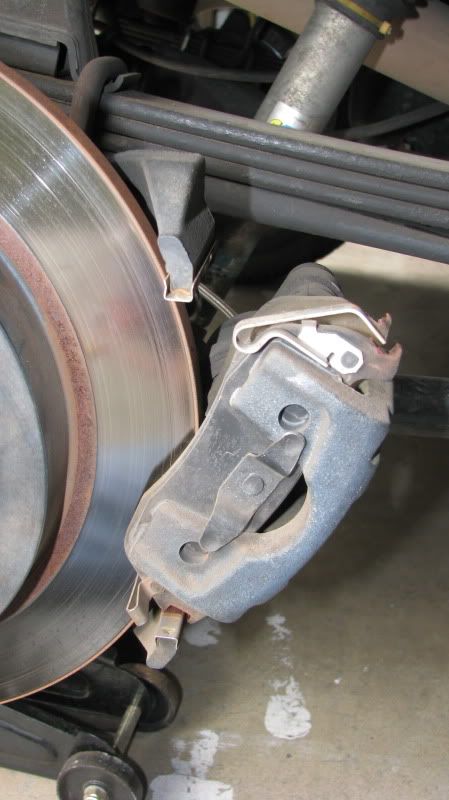 Remove the outer pad using a screwdriver, simply pry up on the locking tab and pull it out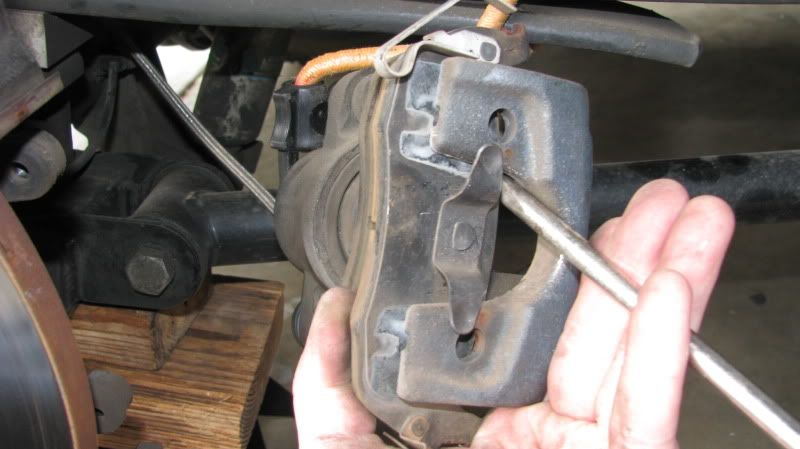 Here is the inner pad, it is held in with a 3 prong "spring" that seats into the caliper boot. It just pulls straight out.
Pads out, new vs old..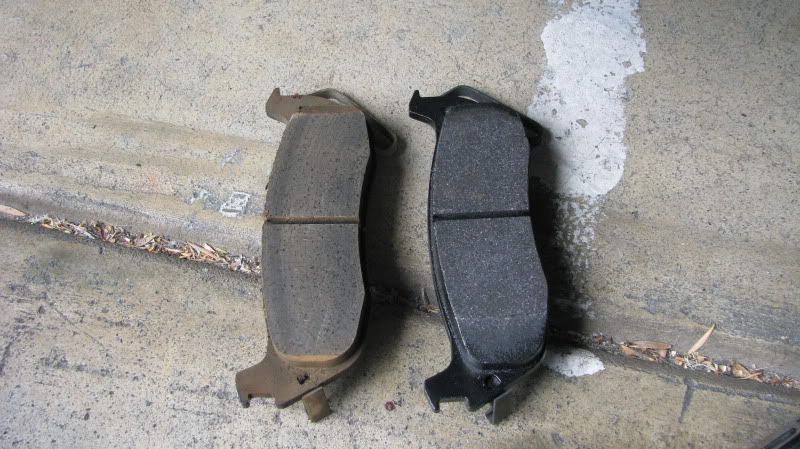 The old rotor may be stubborn, if so use a rubber mallet, a few blows and she will pop right off.
After the rotor is off wire brush the hub to remove any rust debris, etc and spray with brake clean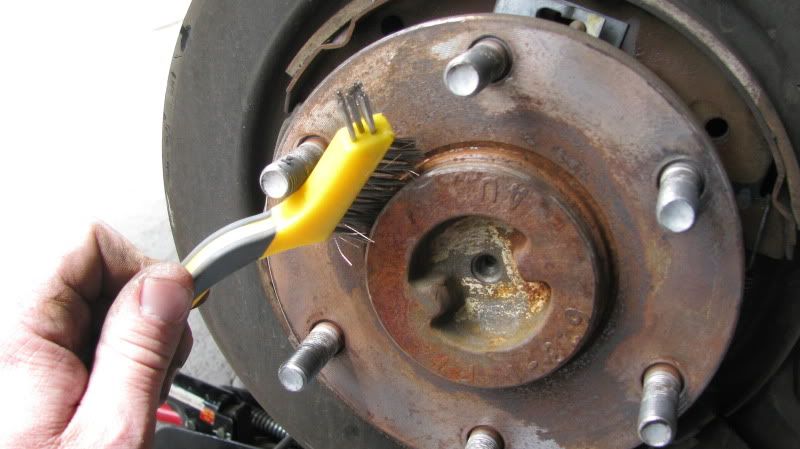 Also wire brush the caliper brake shoe slides to remove rust, debris etc and spray with brake clean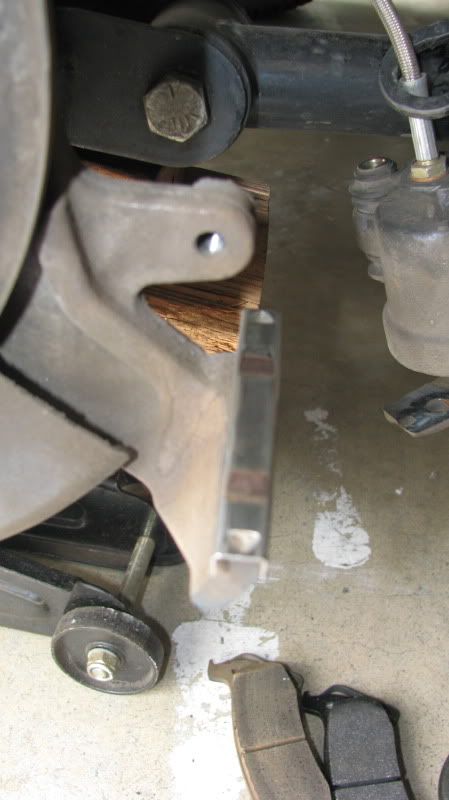 Apply caliper grease to upper and lower pad slide guides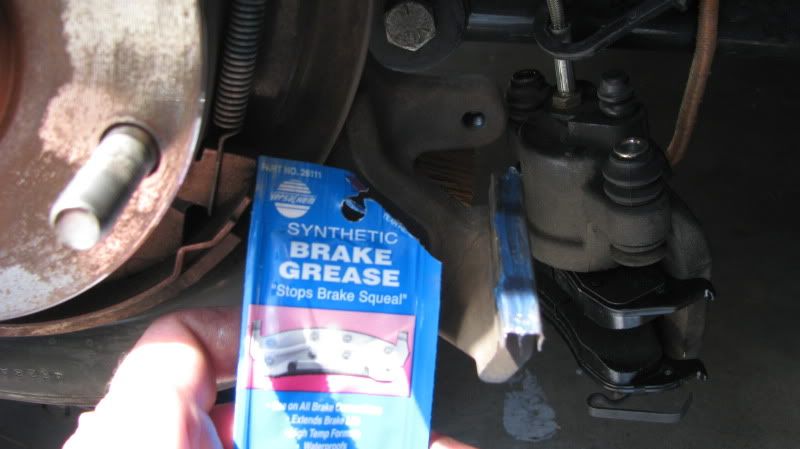 Here is the P-brake assembly. Notice the drum pad that comes in contact with the inside of the rotor?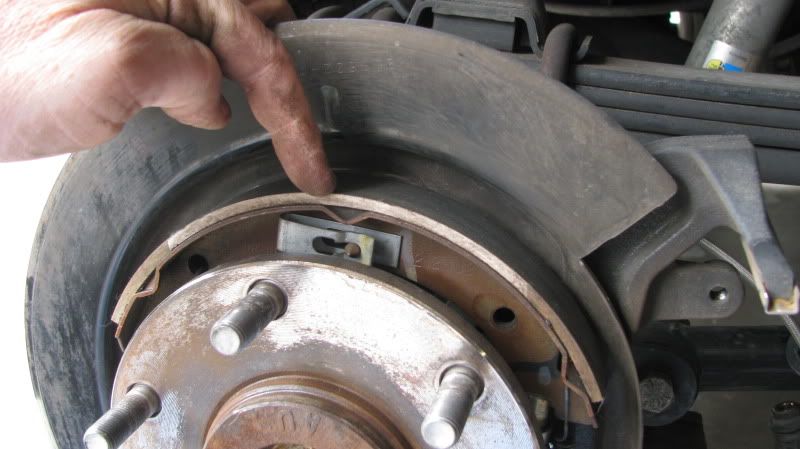 Using a C-clamp, use your old inner pad to compress the caliper boot. This is why you need to empty some of your reservoire. Do not use a clamp straight on the boot. Once the boot is retracted install both pads like they came out.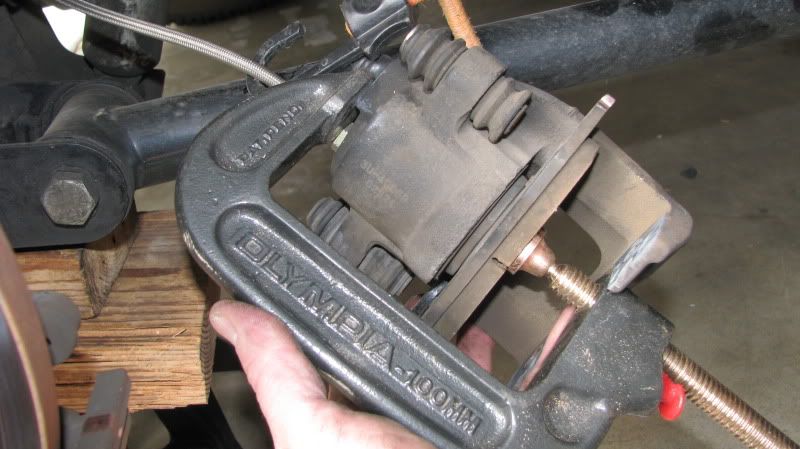 Aplly the Hawk brake pad grease to the back of the pads, the caliper boots, and the outer caliper member where it come in contact with the outer pad.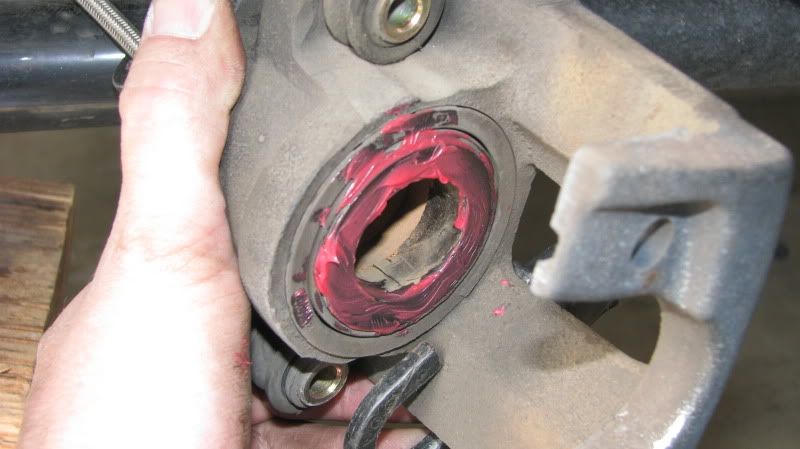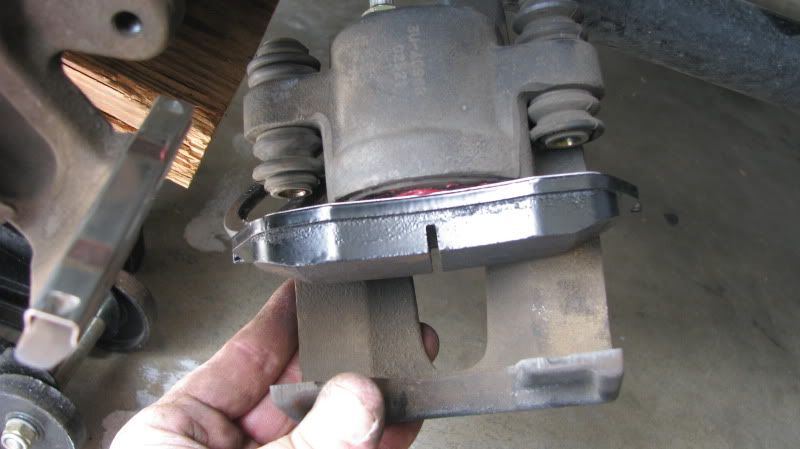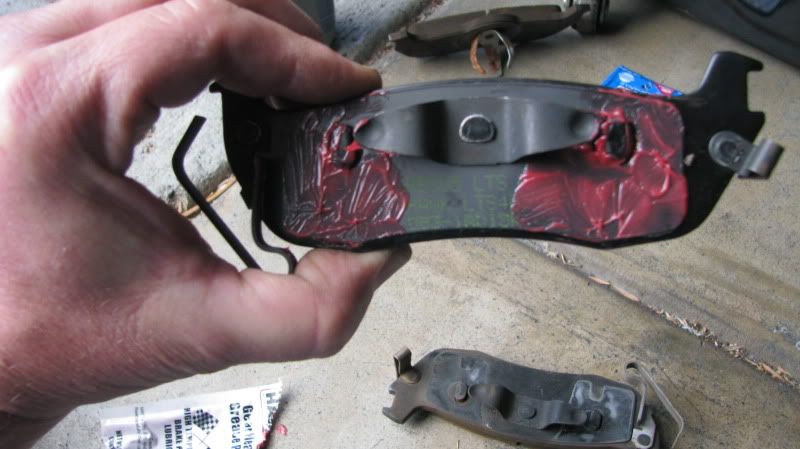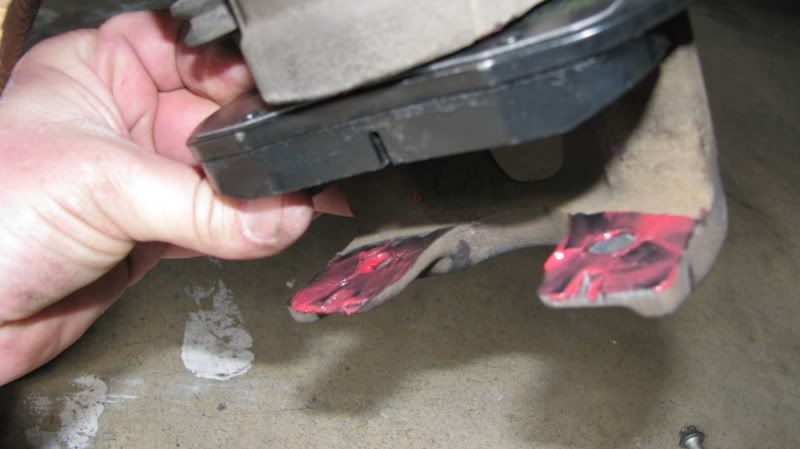 Pads installed.... Make sure if you got any grease on the face of the pads that you use brake clean to get them oil free
Install new rotor using 2 lug nuts and tighten too about 20 ft lbs (temporarily) to hold the rotor in place while you install the Pad loaded caliper.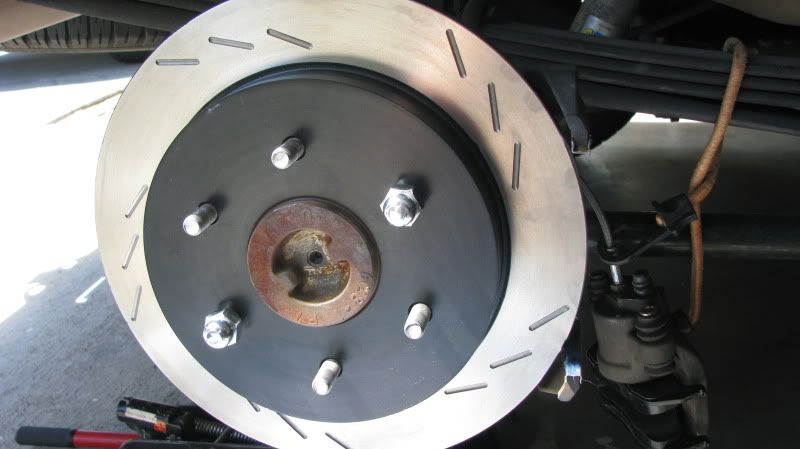 Now Reinstall the caliper assembly by hooking the bottom of the brake pad retainers on the
brake pad slide rails (knuckle slides) and pushing them onto the rotors. Basically hook the bottoms to the slide rails then push the top of the caliper up onto the rotor until the locking clips engage.
Now reinstall caliper slide bolts (14mm) and torque to 24 ft lbs. Like Black Beauty, I used anti-seize on these.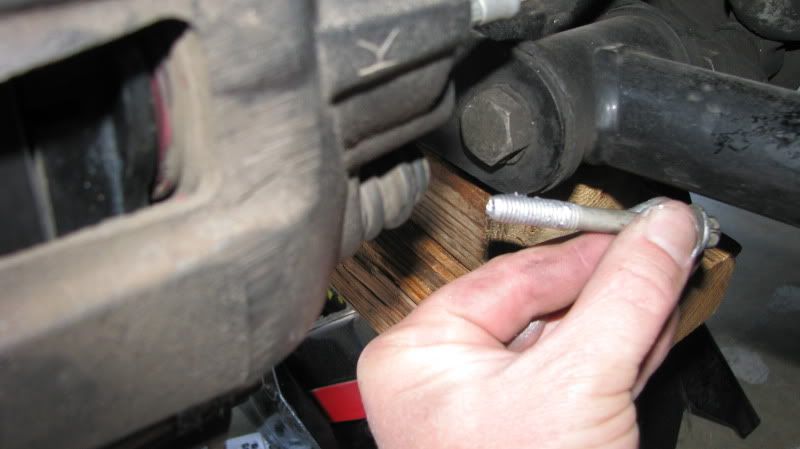 Done! With this side! LOL
The Driver side was cake a EXCEPT the rotor did not want to come off. I hammered it with the mallet for a long time, pried, even used Black Beauties method of loosening the P-brake. Turn this adjustment nut (10mm) counter clockwise a few times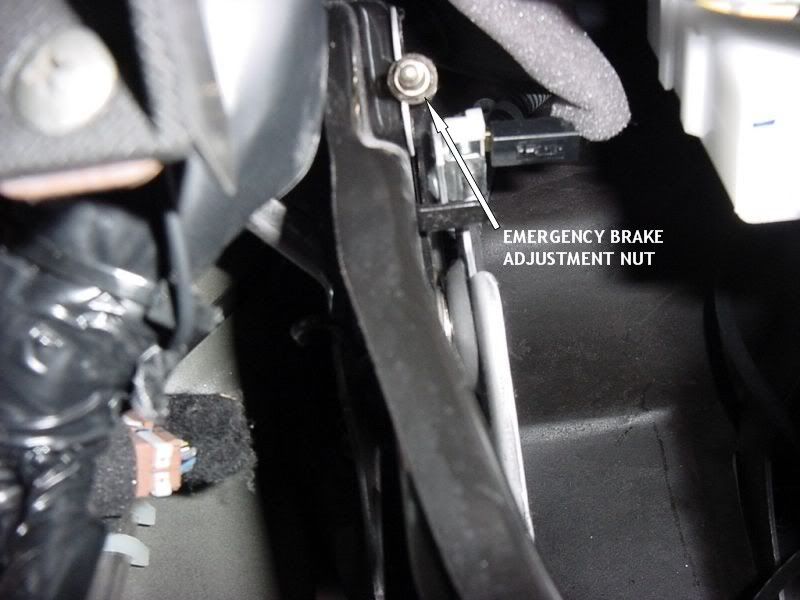 NADA! Now Im thinkin Im doomed. I got out some PB Blaster, sprayed the hub and all the lug studs, sat down and had a beer. 15 minutes later, deep breath, got under it, went to give it a wack with the mallet and the effer fell to the ground. PB Blaster melted away whatever rust etc that was holding it on there. If you use this method, make sure you degrease EVERYTHING and use brake clean on it. Oh, brake clean on the final rotor instal is no a bad idea either.
Put your tires back on..... mount, finger thread the studs, lower truck so the tire is barely touching the ground ( so it wont turn under 50 lbs of torque),,,, Torque to 50 ft lbs star pattern then around the clock. Fully lower your truck and torque all lugs to 98 ft lbs in a star pattern then a round pattern. If you drive your truck now, re-torque in 100 miles or so.

DO NOT DRIVE YOUR TRUCK AT THIS TIME! Haha... Next day, install the fronts, have your brake fluid flushed, then burnish your rotors...
I will finish this how-to tomorrow. This documentation is a bigger PITA than the install was. OH my fronts? Frozen/slotted rotors (08+ bigg uns, Hawk LTS pads, 08 Big rotors, brake fluid flush.
:smt002