I posted this in another related thread but its received very few views/response so I'm re-posting...
My rig- 2007 4x4 CC 6" procomp lift (dealer installed from day 1) 33's and about 130,000 on the clock. Truck is used 99% on the street with no abuse. No accidents.
So I've been trying to track down a funky rotational noise that sounded like it was coming from the left front for quite some time. Didn't quite sound like a wheel bearing and sounds nothing like a failing CV. I know sometimes noises may sound like they are coming from one side when they are actually coming from the other- so I've pulled the calipers and torque members off of both sides (twice) and could not find any obvious problems- bearings spin freely with no noise or slop. Given the mileage and history of wheel bearing issues with the Titan figured I would go ahead and do the '08 and up hub and brake conversion. Had all the parts in my RockAuto shopping cart but had not pulled the trigger.
Today the brake pedal went to the floor, ABS and slip lights came on and horrible noise from the front left. Limped it home a few blocks and pulled it apart to find the hub portion with the studs busted off of the bearing portion- the brake caliper was the only thing keeping the wheel on the truck- VERY SCARY!
Bearing stills spins freely with no noise or slop. Now I'm not sure if the noise was coming from a cracked/failing hub or if the bearing could have been failing putting stress on the hub? Regardless needs the hub replaced.
Anyone else have a hub failure (other than killcatzforfun and myself)?
Thoughts? Failing bearing causing hub fracture or defective hub casting? Its the original OEM hub.
Here is a pic and a video.....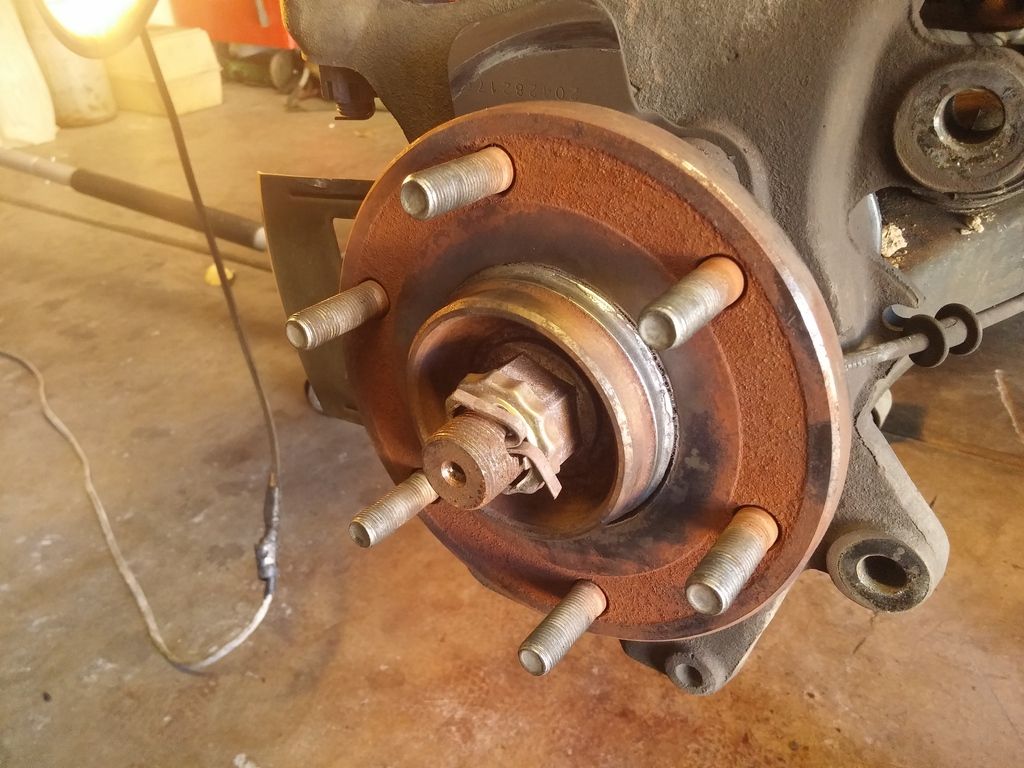 https://m.youtube.com/watch?v=XyLdsE0-Y4A