Discussion Starter
·
#1
·
So i decided to do another "informational thread". I have nothing better to do than hang around titantalk and figure out stuff to post :teethmast
Just wanted to make this thread so that members could get info about this procedure quickly. I and others who have done this wrap have answered questions in threads, but the answers tend to get lost and questioned asked over and over again.
So here is a thread with information about "carbon fiber" wraps. Carbon fiber in quotes as it is NOT real carbon fiber (unless you actually do use real carbon, and then have it resin'ed)
There are two main types of wrap out there.
Vinyl "3M" DiNoc style and fabric type style. There is the official 3m Dinoc and other brands similar as well as knock offs.
DiNoc Vinyl style:
As mentioned earlier, there is the legit stuff and knock off stuff (mostly on ebay). There is also legit stuff made by other companies other than 3M (Oracal (spelling?) is one brand if i remember correctly). I just say 3M DiNoc because its the most popular brand.
This stuff has adhesive on the back of the material, so there is not glue needed. It is a bit stiff when cold (its recommended you use a heat gun when applying it) and has a hard finish when you touch it. The material is made where it is made to look 3D, so it gives a carbon fiber look when light reflects on it. You can also feel the texture if you rub your nail on it. It is basically a sticker in easy terms.
When it comes to installation, the cliff notes version is as follows:
Cut material to appropriate size to cover the part (excess is better, you dont want to be short)
Prep the part by cleaning it with alcohol to get any oils/grease off
Remove adhesive protector from wrap product and lay it on the part
Use a heat gun to make the wrap more flexible to wrap around corners, holes, etc
Cut out any holes in the wrap that need to mold to holes in the part
Cut off any excess wrap. Make sure that any corner wraps do not lift up by holding them down for a couple of minutes.
In general (and depending of preference and experience), this sticker type wrap with adhesive already on it is easier to work with. You just peel, stick, heat (for corners), and cut.
Here is an example of the 3M wrap i have sitting around. Since this stuff is like a sticker, it usually is rolled for shipment as it cannot be folded because it would get hard edges. It looks a lot better in real life, the lighting conditions when i took this picture were not very good.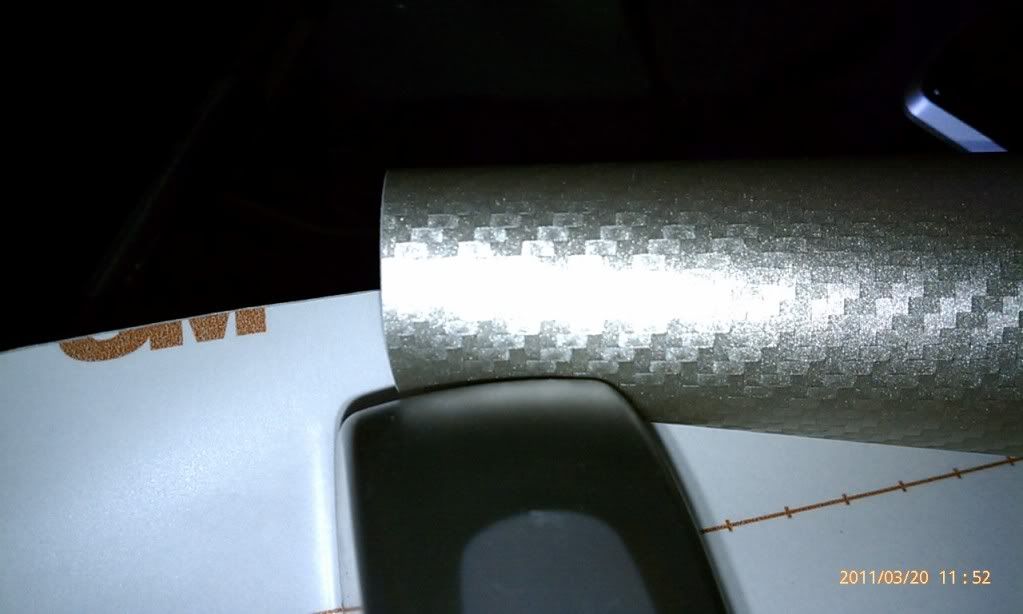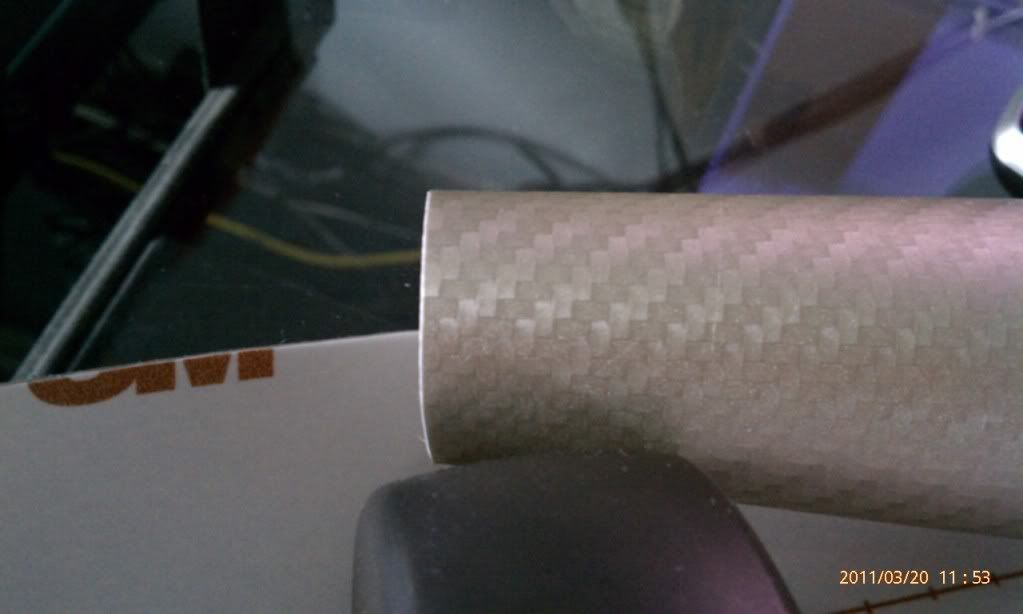 Fabric type Carbon Wrap
This stuff is carbon wrap that feels almost like very thin fabric. It has a softer touch than the 3M or equivalents.
This material DOES NOT have adhesive, and requires that it be installed using a spray glue. It is a lot more flexible when "cold" (the 3M stuff needs to be heated up to flex more). It has the same textured feel, meaning you can feel the texture if you run your hand over it.
This fabric style wrap can be trickier to work with because of the spray adhesive. If you use too much glue, you can get bubbles, and if you keep lifting it up over and over again to fix any flaws, the glue will lose tackiness. If you use this type of wrap, you have to do a dry run and see how the fabric will react to the curves and contours of the part you want to wrap.
Gather materials needed: Wrap, Spray adhesive, razor/scissors, clean work area
Cut wrap in excess of part size
Test fit the wrap over the part to see how it will lay on top. Make note as to how corners behave using the wrap
Prep part by cleaning it with alcohol to remove grease/oils
Spray part (not wrap) with a thin layer of spray adhesive
Let spray glue tack up a little by letting it sit
Lay wrap on top of glue and part, making sure to "stretch it tight"
Let wrap stick with the glue, then cut out any holes in the part, leaving a small sliver to wrap around the part for better durability
Here is an example of the fabric style carbon wrap. This picture shows the material I ordered. It came in a yard size and as you can see, can be folded easily like fabric. I have used neffy wrap, and the stuff from ebay and they were the same. I would'nt spend more than $25 per yard for this style of wrap.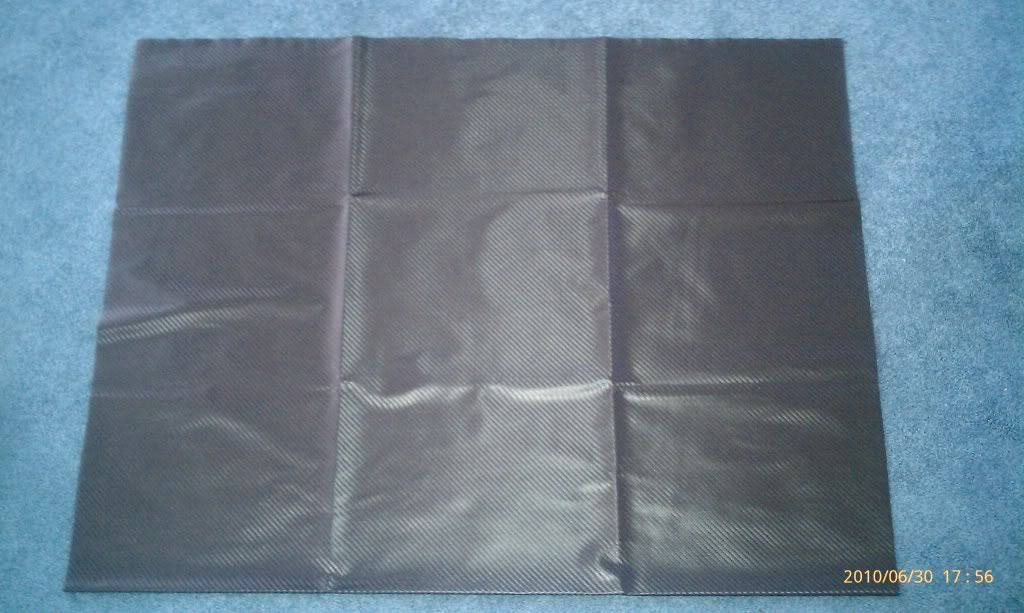 Both are great materials in their own way. Using these wraps is a great way to "freshen" up your interior. I wrapped my interior using the stuff (I have used both types) because after years of use, my stock interior paint was scratched up.
Applications are not limited to interior usage either, the wraps can also be used externally.
Its all up to personal preference on what type you want to use.
Personally, I prefer the fabric type wraps for items such as the center bezel, center console, gauge surround because of its "softer" feel. But I prefer the 3m or other sticker type wrap for exterior work (door handles, tailgate bibs, mirror caps) as well as for window switches and door handle inserts.
I hope this guide was helpful for those wondering about this type of wrap. If you have any suggestions as to how to improve it, or any experiences you would like to add, reply to the thread and let others know. I know a bunch of users have use both types of wraps.
If you are looking for the adhesive backed wrap, member Peytons_Titan08 sells it. I would look at him first to support a fellow member.