After a good night's sleep we were ready to tackle the show from beginning to end.
As we walked over to the Maxxis display I noticed Mike Penland (long time ATV Baja racer) joking around with a couple of magazine editors I happened to know. As soon as they left we snagged Mike to give us the run down on the new Maxxis Viper tire.
Here's what Mr. Penland had to say about the new VIPR.
Maxxis VIPR - Discount Tire
Mike is a blast to talk to and has a ton of enthusiasm when it comes to riding. He calls himself an Alppalachian Hillbilly. When he talks to you he pokes you in the chest or arm and you know you are being poked.
Along our path we noticed the nearly all green Slime booth. The guy running the display was one of the smoothest demonstrators of the whole show.
Here's the presentation he gave us.
SLIME - Discount Tire
He had with him a motorcycle tire that belonged to the first female solo rider to complete the entire Baja 1000 in 2006. Her name is Anna Cody. It took her 33 & 1/2 hours to complete the race. She and her husband were in the booth as well.
Here's the link with Anna's story regarding this amazing feat.
Anna Cody's Baja Story
Next we stopped by Vision Wheel. They had a small display but there was a tire there that caught our attention. It was called Outfitter by Realtree. It has a very unique tread pattern with an aggrerssive two-step lug and high void center. The Realtree Outfitter is DOT approved for limited highway use.
Here's what Barry from Vision had to say about their new tire.
Vision Realtree Outfitter - Discount Tire
Since we all like accessories we dropped in the Chatter Box helmet radio booth. Chatter Box is one of the best known systems for helmet to helmet communication.
Here is a video explanation on one of their newer Chatter Box models.
Chatter Box - Discount Tire
Since we are talking about helmets, here a couple of unique looking helmets we saw as well.
We all need some place to carry our gear so we took a look at a new box Koplin had at the show. This box has a triple lining to keep it water tight. It looks like it is much more rugged than their previous boxes.
Koplin Utiity - Discount Tire
Another outstanding product we came across was the Warn skid plate system which they had installed on a new Commander 1000. I especially liked how they have the side protection on the skid plate.
Warn also gave us a quick overview on their XT and RT Portable Winch Series.
WARN Winch - Discount Tire
Matt took a break so I went for a walk and found GNCC racer Rick Cecco in the Gates belts booth. Gates CVT belts have been around for 100 years. They must be doing something right.
Gates CVT GForce Belt Series - Discount Tire
For the Motorcycle enthusiast's we found two outstanding products. The first one is produced by Rekluse. They developed a new upgraded auto shift clutch system.
Rekluse Auto Clutch Tech. EXP 2.0 - Discount Tire
The second item is the Renthal breakaway brake and clutch levers. If you fall they swivel up or down without breaking.
Renthal Gen2 Intellilever - Discount Tire
At our last stop of the day, as we were running out of gas, we came accross the amazing electric motorcycles produced by Zero Motorcycles. These are strictly powered by batteries. They can go up to 100 miles on a charge and you just plug them in to recharge. They come in Motocross and street models.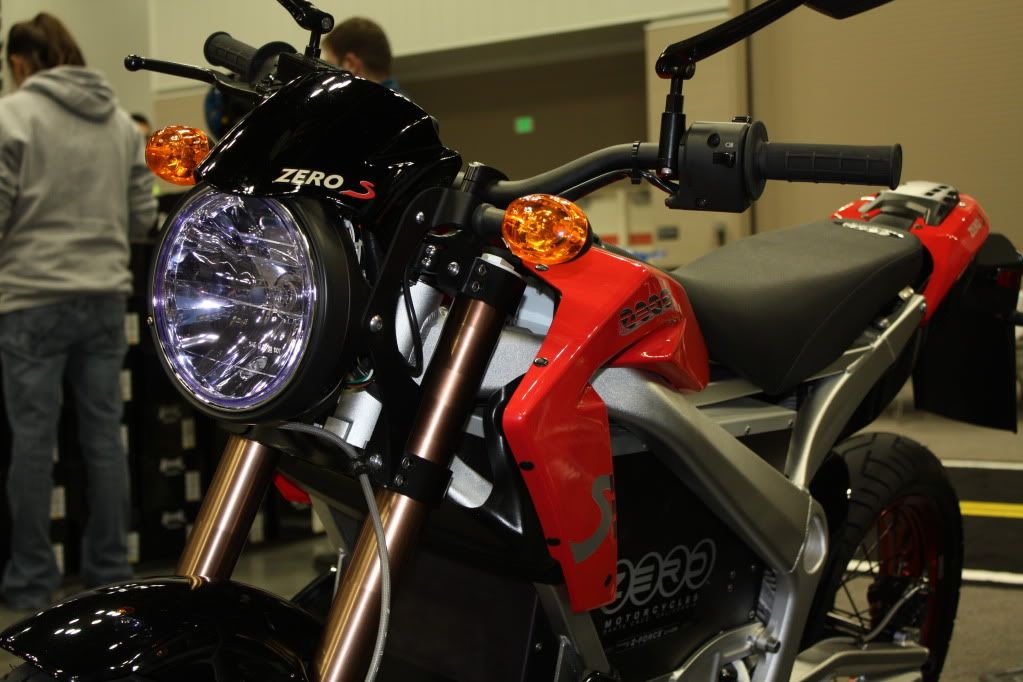 Zero Motorcycle - Discount Tire
If I could use just one word to describe the show it would be Unbelievable. We spent 2 and ½ days at the show going nonstop. We actually forgot to take a break to eat the 1st full day until about four o'clock. We were starting to drag.
There is so much to see and so little time. We had a blast, renewed some friendships as well as making some new ones and saw tons of unbelievable products. Next time we will do even better now that the glare is out of our eyes.
See you on the trails.
Discount Tire Direct.