These seems to be frequently asked fuse locations.
The following diagrams shows different locations.
Older IPDM layout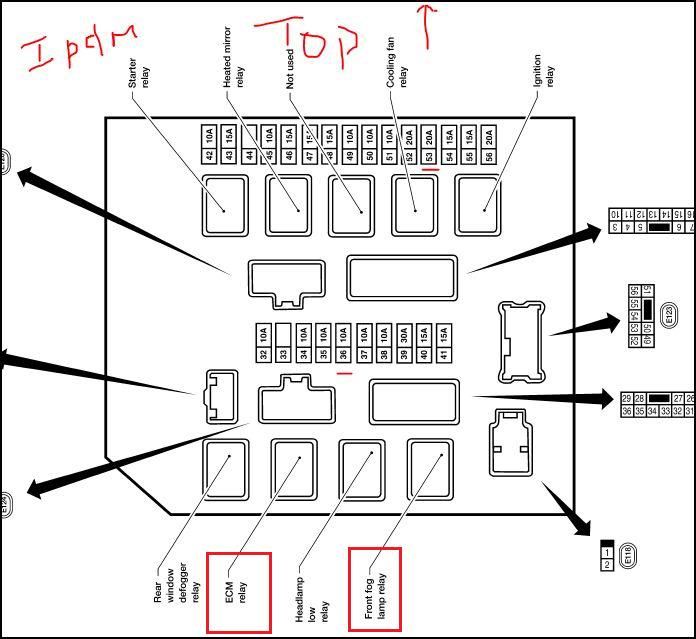 Newer IPDM layout (black IPDM)
Location of IPDM and how to remove the IPDM to access lower row of fuses.
Fuse block (next to glove box)
Fuse and fusible link box (locate inside the IPDM box to the front)
Trailer running light:
Fuse #32 - 10A - IPDM
NOTE
: The newer
BLACK
IPDM is label
F4
on the IPDM itself but it's still #32 via the diagram.
Trailer left/right turn signal for 04-05 only
If you don't have turn signal to the trailer tow harness,
check by the BCM for two fuse holder (these get added if you have had the TSB done).
Picture of added fuses
http://farm3.static.flickr.com/2471/3586159356_cefac98838.jpg?v=0
(Credit member
SweetRide
for the picture)
Trailer 12V accessory wire
Fusible link "j" - 30A - Fuse and fusible link
Fuse #51 - 10A - IPDM <<<This is to energize the relay only, it's the same fuse as reverse light.
Power port (aka cigarette lighter, cell phone charger)
Driver side #18 - fuse block
Passenger side #7 -fuse block
Center console #6 - fuse block
Bed #28 - fuse and fusible link box
Headlights
Low beam left #40 - 15A - IPDM
Low beam right #41 - 15A - IPDM
High beam left #35 - 10A - IPDM
High beam right #34 - 10A - IPDM
Stop lamp/brake light
Fuse #21 - 10A - Fuse block
This fuse also control the shifter lock, so if you can't get out of Park this fuse might be blown also.
Cargo light
Fuse #20 - 10A - Fuse block
Parking, license plate and tail lamp.
Fuse #37 - 10A - IPDM and/or
Fuse #53 - 20A - IPDM
Reverse/backup light
Fuse #51 - 10A - IPDM
Fuse #38 - 10A - IPDM <<<Reverse for trailer harness
Dome light/door puddle light
Fuse #22 - 15A - Fuse block
Illumination-back light for radio and A/C knob and cluster gauge
Fuse #19 - 10A - Fuse block
Fuse #14 - 10A - Fuse block
Switch lights/back light on all your switch
Fuse #36 - 10A - IPDM
Radio
Fuse #31 - 20A - Fuse and fusible link box(constance power)
Fuse #4 - 10A - Fuse block (Acc power)
Rear view mirror (Inside - auto dimming)
Fuse #12 - 10A - Fuse block
Power windows
-Front windows
Fuse #4 - 10A - Fuse Block
-Rear windows - Crew Cab
Fuse #14 - 10A - Fuse Block
Horn
Fuse #25 - 15A - Fuse and fusible link
Adjustable power pedals
Fuse #15 - 10A - Fuse Block