Discussion Starter
•
#1
•
So saturday I decide to do some yard work and trim my tree in the front yard...so I load up a load of limbs to take to a burn pile at a future subdivision site... well I started backing up to unload my crap, and I didnt see the 2 feet of swamp under the grass....
I couldn't get out...4hi, 4lo & locked. So I grab the phone to call my neighbor and his 4x4 powerstroke excursion (33" Toyo A/Ts) to yank me out. Well he didnt tell me he was having tranny issues...(until after he dropped me off at the house to get shovels) ...so he hooks up and starts to go..so I give it gas...well I noticed his Turbo's spinnin and his wheels aint..none of em. Well mine where...before he hooked up I could open my driver door. After his attempt...door wont open...I sunk.
So I call my Bro-in-law...he has the same vehicle 4x4 Excursion...he hooks up and can't move me. (If I would have called him first...I would have been out in 10 minutes). So I call my wifes friend Layla to see if she has any friends with a winch...nope.."We're on our way with a strap" (her and her husband). So they show up and she pulls in behind me to pull me out backwards....well she's in the same swamp as me in her TJ and starts to sink...sowe now have 2 vehicles stuck still attached. So my Bro in Law runs home to get his Hi-Lift Jack and More beer. (I've allready contacted DD..and he has Commitments with "The Boss".....well I've would have had my phone on me and I would have answered, he would have came out and took the wrath from the boss later.)
So I call my Buddy, and he say's I'm on my way home to get the 4runner, we'll be there. So we daisy chain the 4runner (33" M/Ts) to the Excursion (33" Terra Grappelers) then Hi-lift the TJ to get wood under the tires....and pull her out no problem (yes its my wifes friends TJ). So they decide to try to yank me out from the front...our tow hooks SUCK....well the bolts do....we snapped the rear bolt on the passenger side hook, and pushed it in to the bumper.. (pics of that damage tomorrow).. now my center section is effed up and the gap between the bumper and bellow the head light his bigger on the passenger side. (oh well character...good reason for and aftermarket bumper). That doesnt work, so we hi-lift the back of my T to get some wood under the tires...(oh I was sitting on the frame..with the truck in gear and @ idle...tires rotate..lol). So we daizy chain the 4runner and Ex again (they were on solid high ground). We connect 3 20' recovery straps to reach me...and BINGO! I'm out. My brother in law started to hear everyone yelling so he stopped...then they said no GOOOOO!..lol
Now Here's the audience. Me, Joe (Broinlaw), My Wife (in the begining...daugher was at home with son), Layla (TJ), Jeff (Layla's husband) John (my other Bro inlaw), his wife 4 kids and 1 friend, Mark (4runner), His wife, neice, her boyfriend, his friend, some family on 4 wheelers (they didnt hang around). Then all went back to my house for beer & pizza...till 2am. Got stuck @ 2:30pm..got out @ 8:45 ish. As night was rolling in.
The part the took the longest time was waiting on stuff and vehicles...lol
Ok now for the part ya'll wanted...PICS...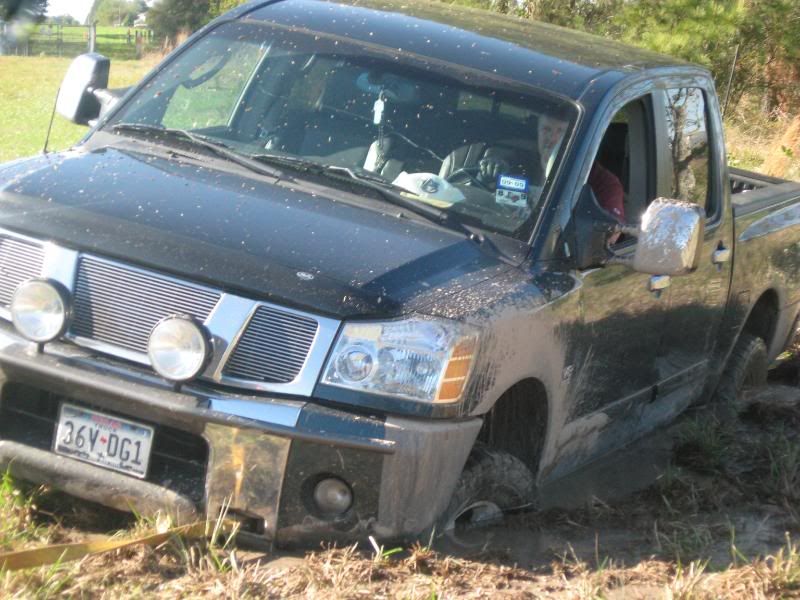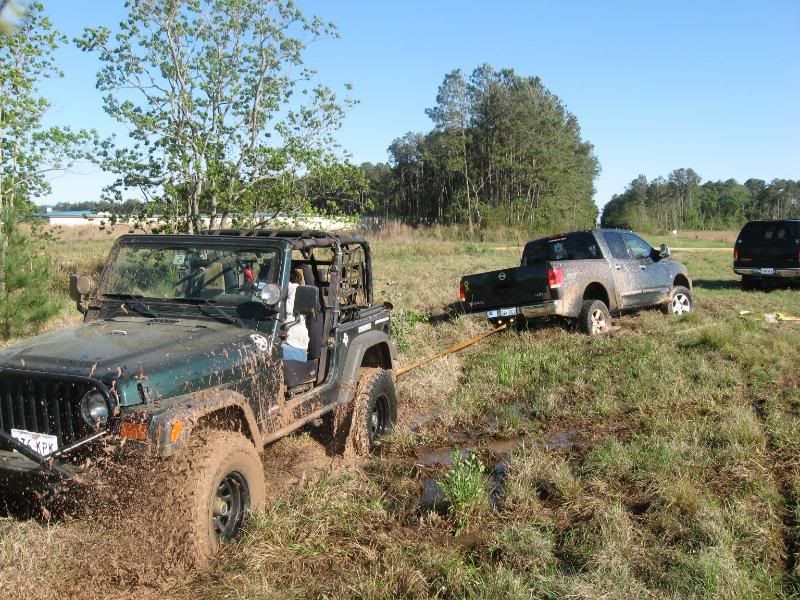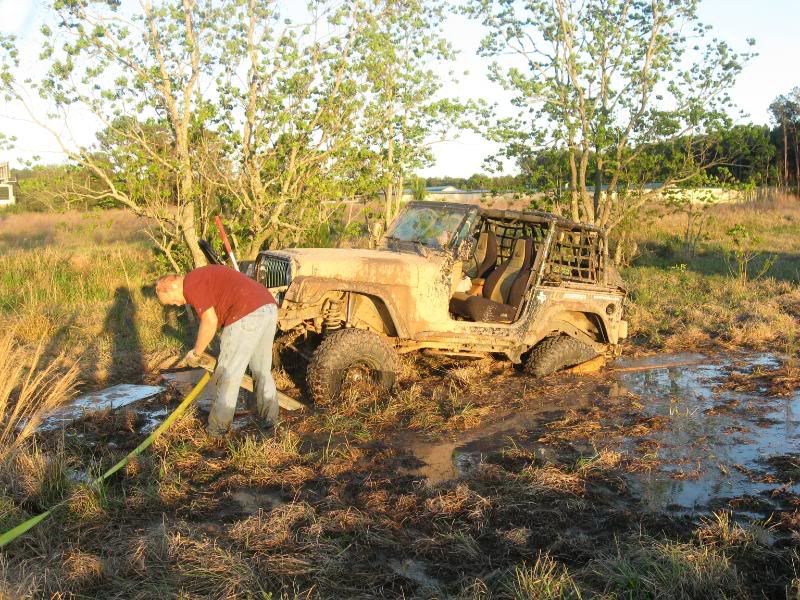 Me workin the Hi-Lift..(After bumpers...this is next!)
Front end up on the Hi-Lift