Discussion Starter
•
#1
•
Many thanks to Jason at Burtman Ind. for his help with picking out the intake and exhaust for my truck.
I just loaded a new tune from Randy at Uprev to adjust the mixture for the new parts, and will hopefully get a dyno from that shortly.
I got an S&B intake and Gibson side swept exhaust (Aluminized, as I live in the south). It took about an hour and a half to install both, and they have certainly made the truck a bit louder. My engine leaned out, due to the increased air volume, so my 0-60 times didn't really move, but hopefully Randy's tune will take care of that.
I realized that the 2015 Titan does NOT have a y-pipe from the factory, but two 2.25" pipes coming off the b-pipes and leading to the muffler. Still, I think the single 3" feeding a straight-through muffler is freeing up some exhaust flow.
I did have to hit the exhaust pipe end AND SS tip with the hacksaw. With all the existing parts, the tip dropped my ground clearance to 6". After chopping off metal and about 5" of tip, I now have 9" back there.
On to the pics:
Intake: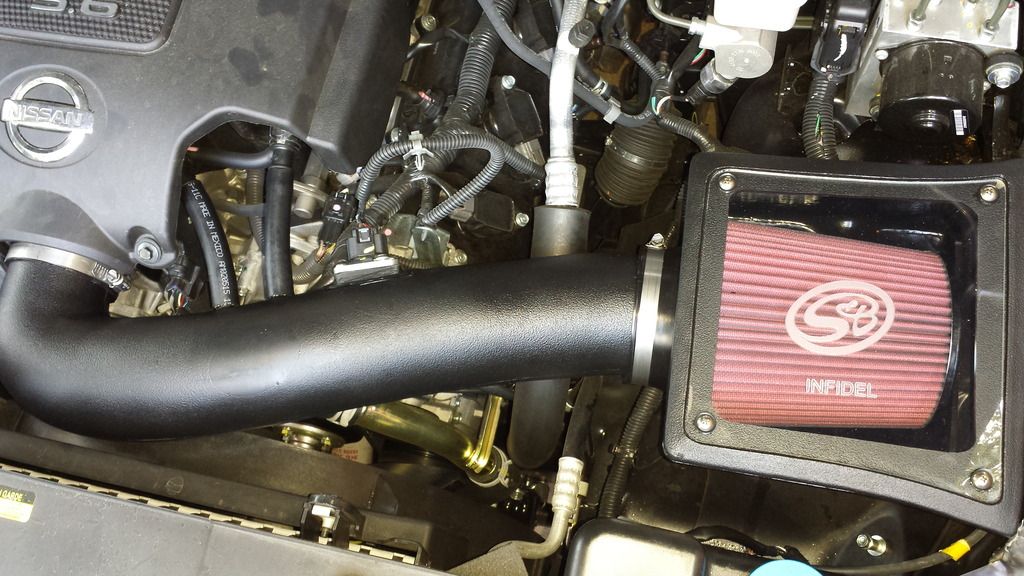 Exhaust:
(you can see the two pipes to the muffler on the stock parts)