so here's my build...not completely done but i'll start posting my journey here until it's completed which isn't anytime soon :devil: before anybody ask about performance that will be done last as i need to do more research on that part of my build.
so here she is stock 2008 Nissan Titan LWB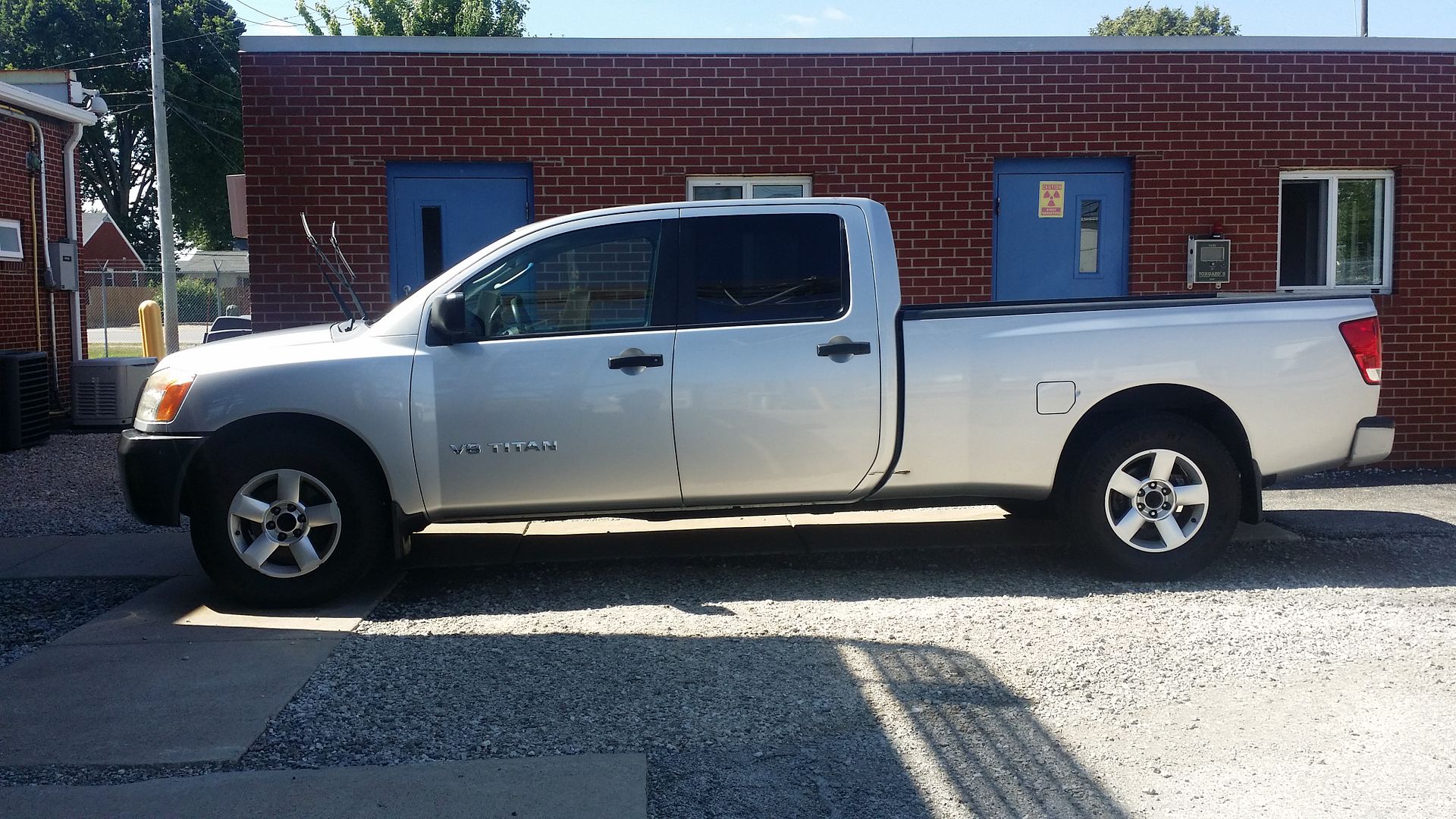 i've had her since 2010 but never did anything with it since i dropped alot of my budget on my BMW and my 06 Toyota Tundra. Little background on the Toyo it was lifted with the RCD 6" lift and a 3" PA BL sitting on 35's.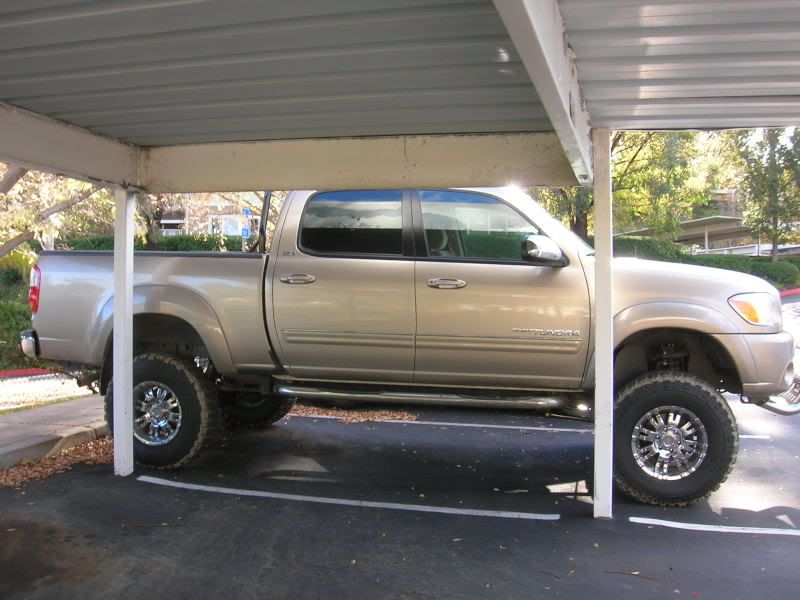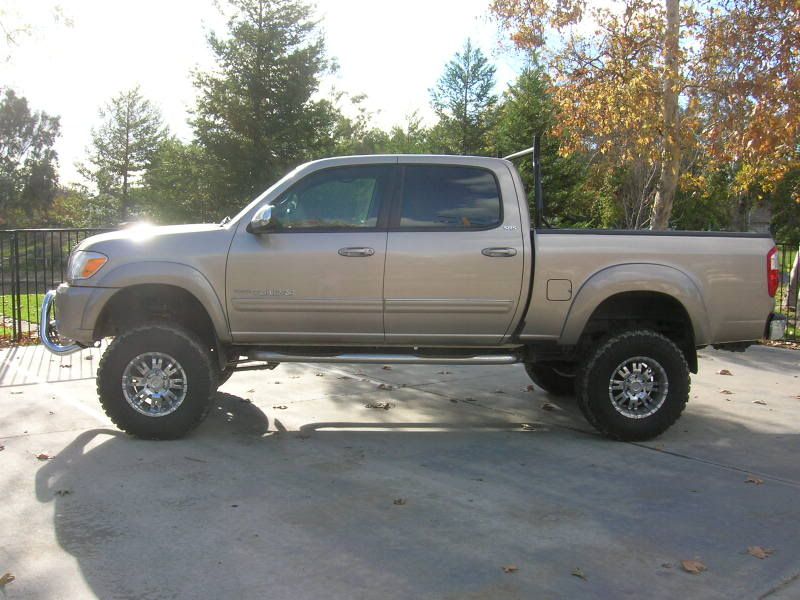 and of course my BMW which is still not done but getting there!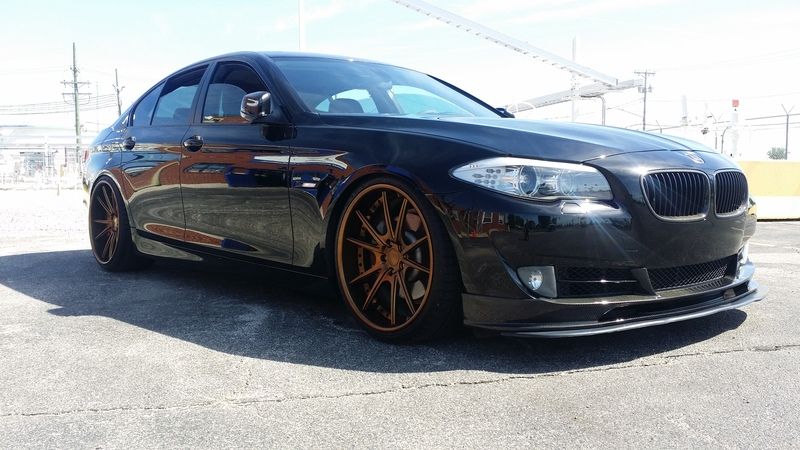 okay back to the titan! so my vision was i love the way a longbed trucks look no matter if it was a Chevy, Ford, GMC or Dodge because seeing them lifted was just a beast so i knew when i purchased her i knew the direction i wanted to go. BIG! But not BulletProof big. i wanted the truck to still be functional as a daily driver. funny i dropped a lot of dough on the suspension but will not see dirt since i live here in Ohio lol :eek_surprise: But just in case i end up moving back to Cali my truck will be Cali ready :devil:
So first thing was compiling my suspension components. Thanks to Mike from TAP! So i ordered the 6.5" Maxtrac Spindle lift: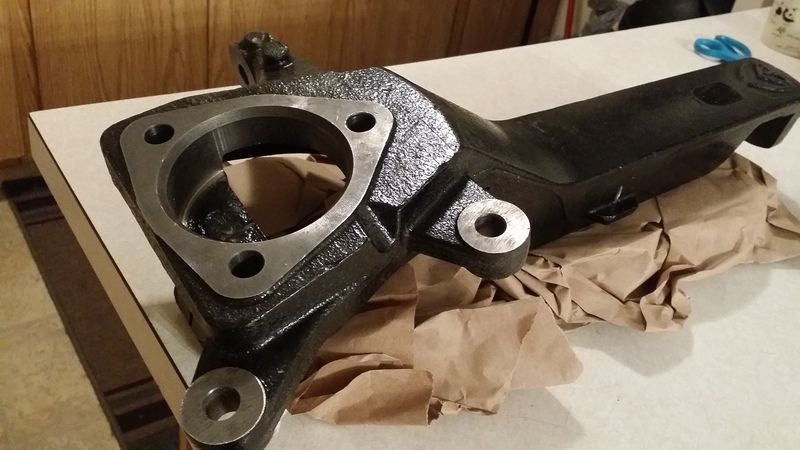 Maxtrac Carrier Bracket: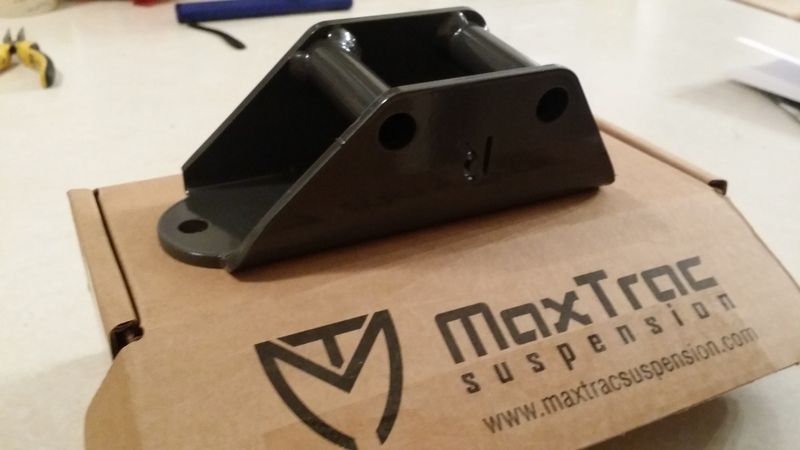 Maxtrac 2.5" Spacers: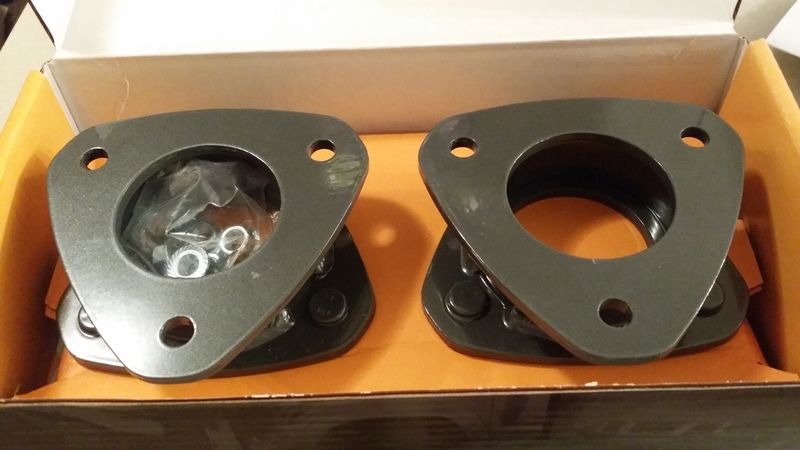 Maxtrac rear shocks: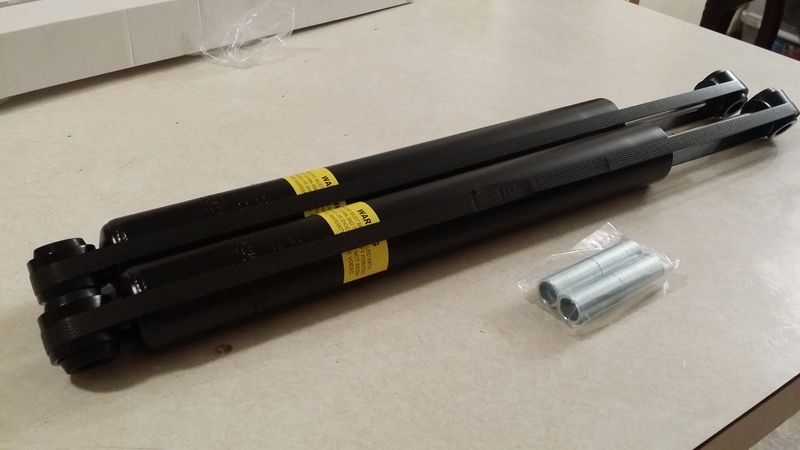 Maxtrac 4" Blocks: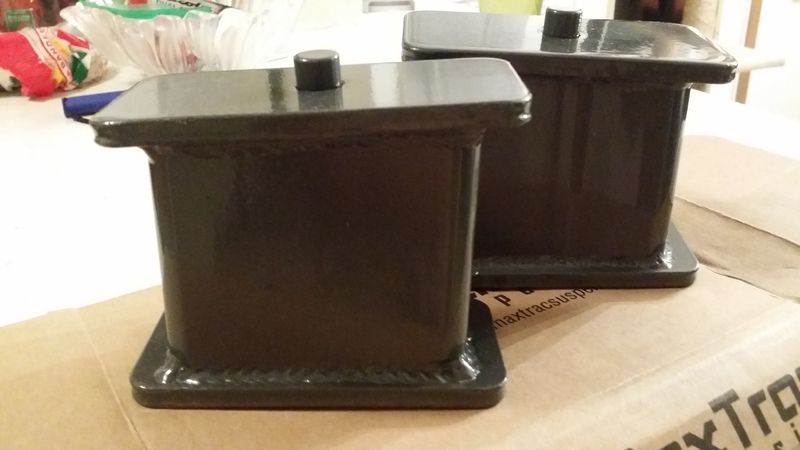 rear U-Bolts: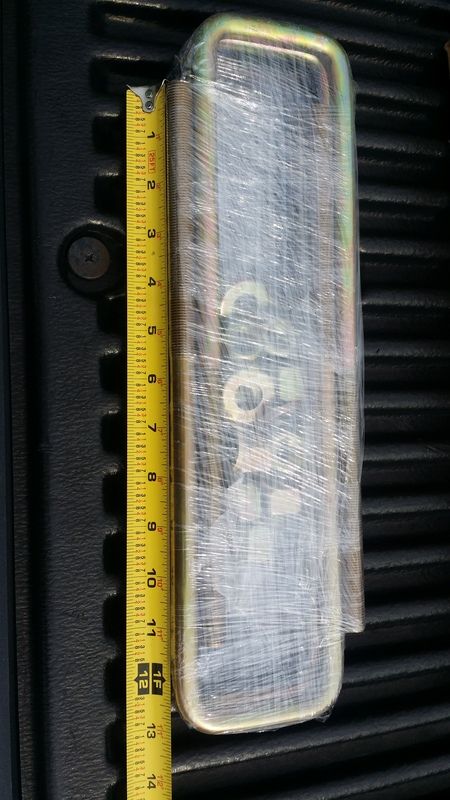 Maxtrac Extended Brake Lines: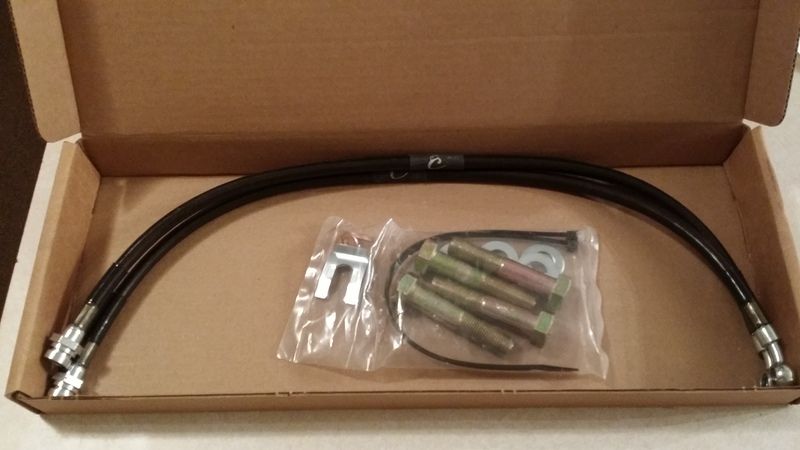 Dirt King UCA's...love these things as they're freakin' BEEFY! :devil: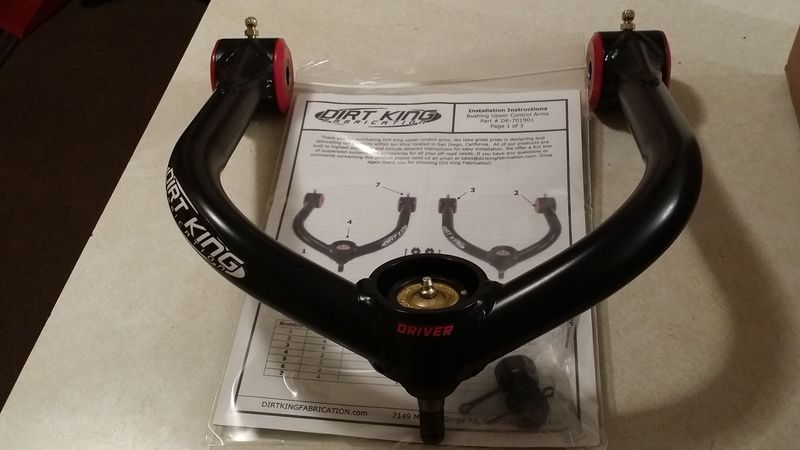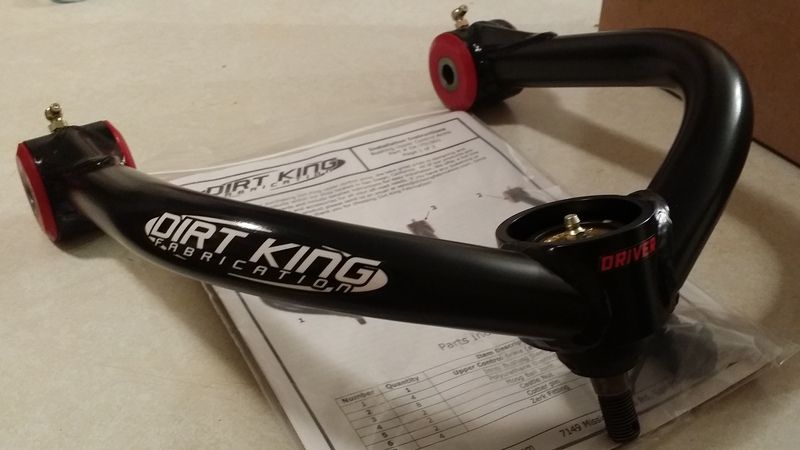 PRG Endlinks: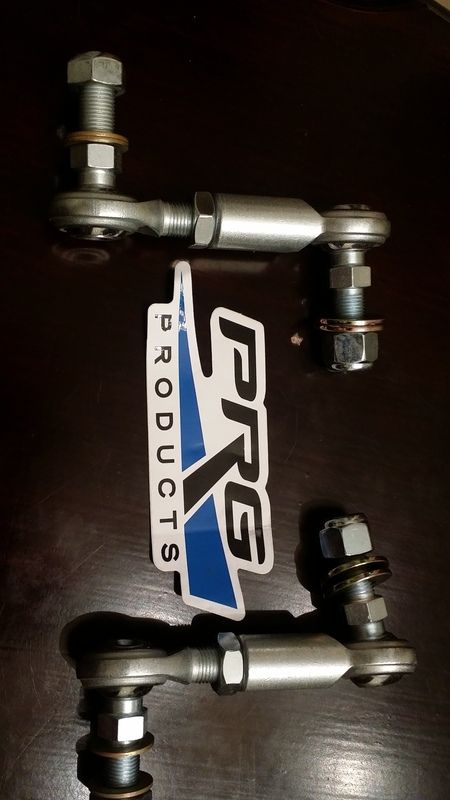 I originally was planning on ordering the Bilstein 5100's with the Moog 4x4 coils but i ended up scoring a deal on some 2.0 OEM Radflo Coilovers here in the Market Place: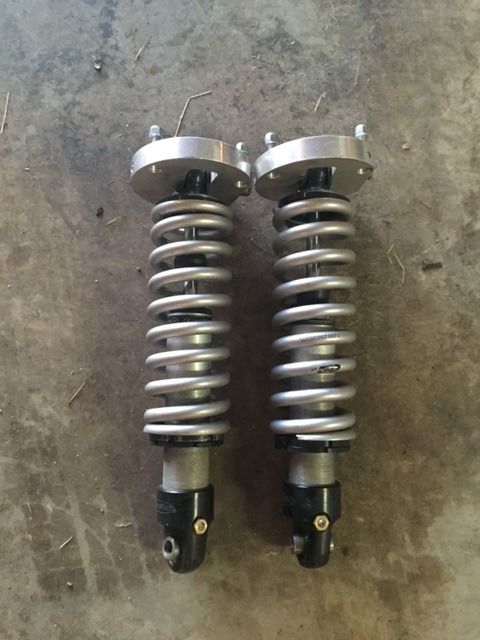 so i called Greg from PRG and he recommended i run the 1.5" PRG spacer with those Radflo's: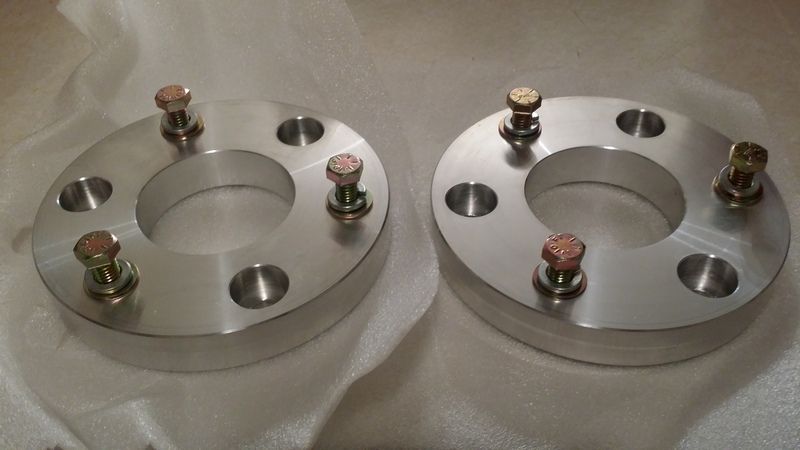 these measured 7/8" even tho they said they're actually 1.5" after installed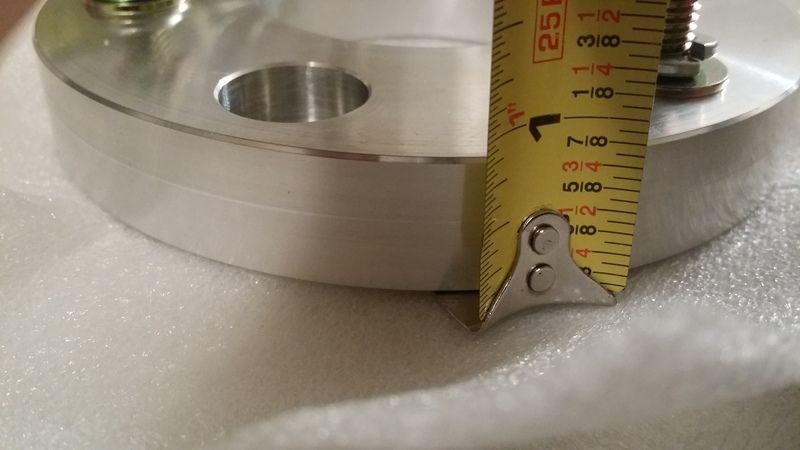 mounted on top of the Radflo's: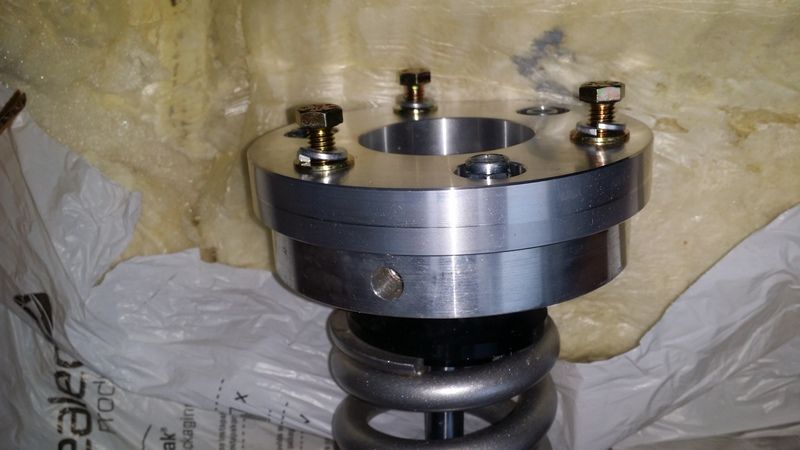 so it got me thinking of what am i going to do with those Maxtrac 2.5" spacers? so I posted a thread about it and asked and most of the guys agreed that if i left the Radflo's at 1" preload with the 2.5" Maxtrac Spacer that be fine since it's less stress on the coils? so i installed it and it gave me about 3.5-4" of lift in the front. so far at that time i drove with them for a month or 2 with no issues. i'll be the first one to report back if something breaks or what not. here she is with the DK's, Radflo's, 2.5" spacer installed with stock rear: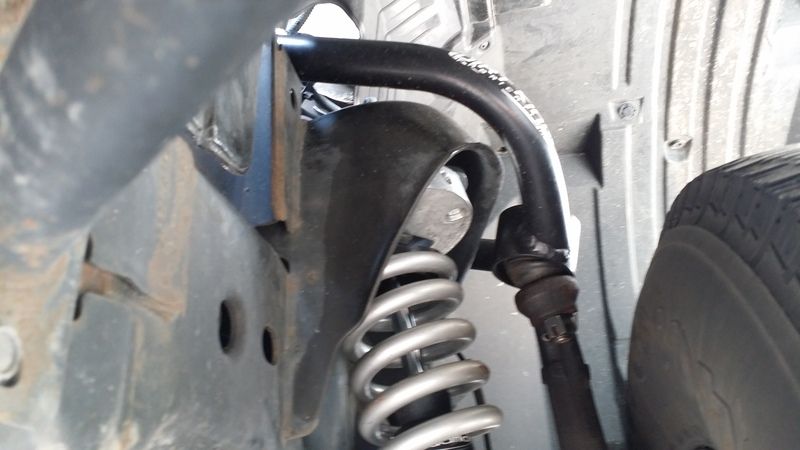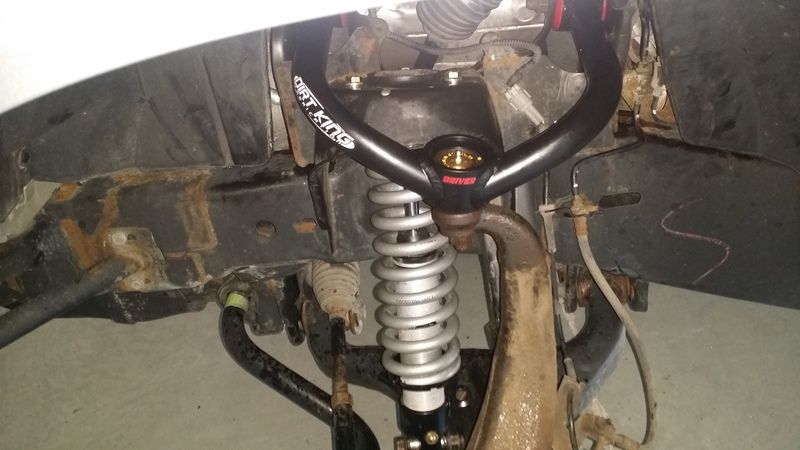 PRG Endlinks installed"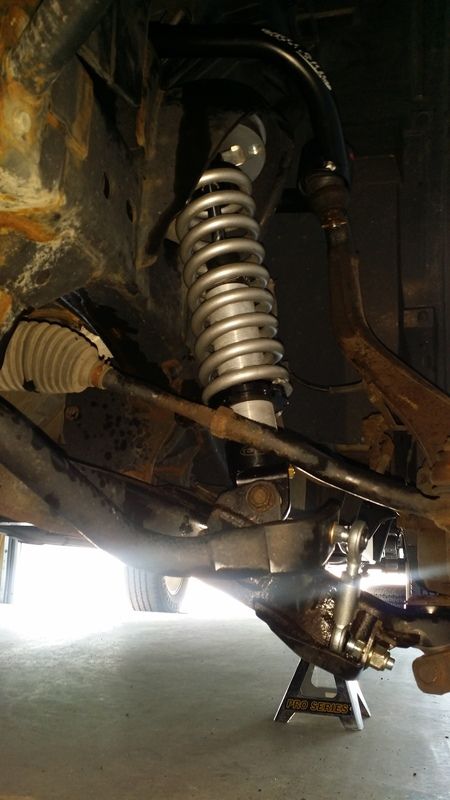 here's the OEM strut/coil next to the Radflo's: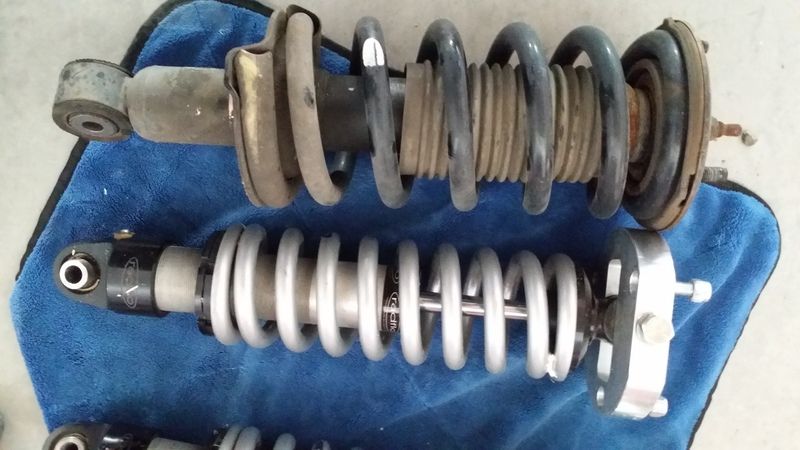 So stock height the truck was sitting at 36.75"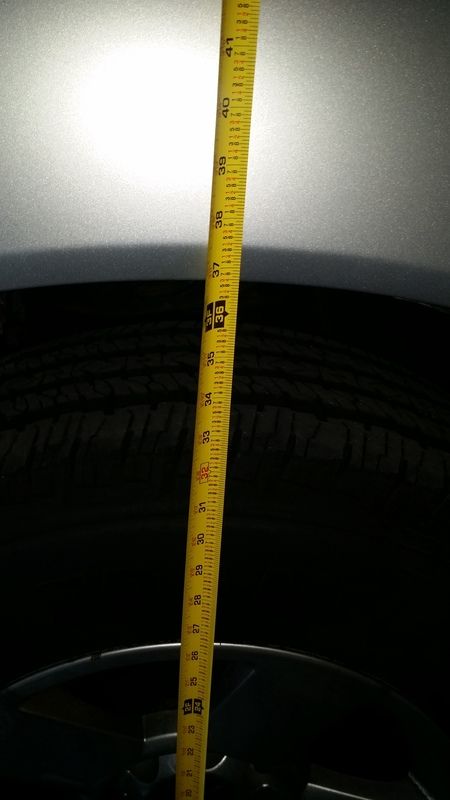 she measure at 39"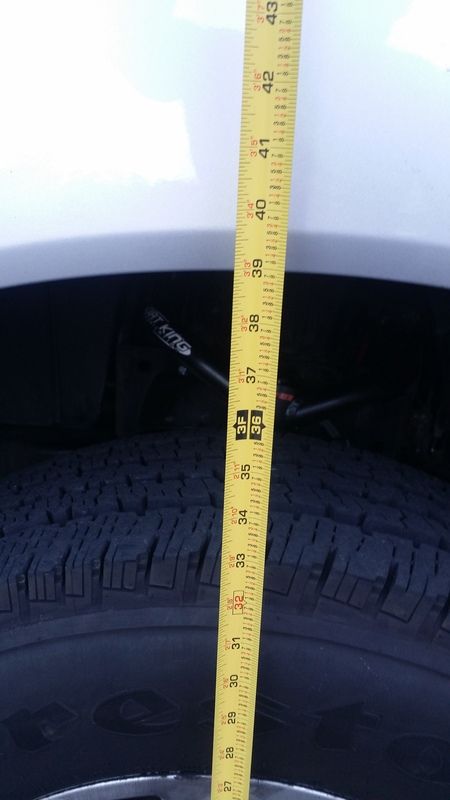 here's how it looked with the install"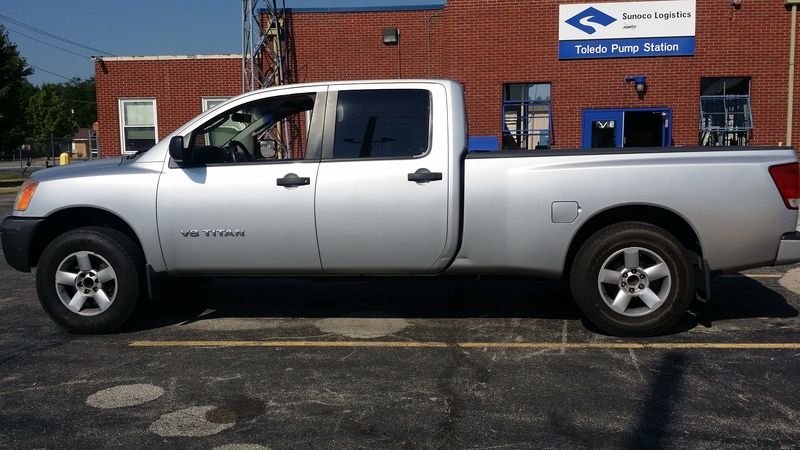 so next on the list was upgrading the brakes so i picked up CrossDrilled/Slotted Rotors for the front with pads: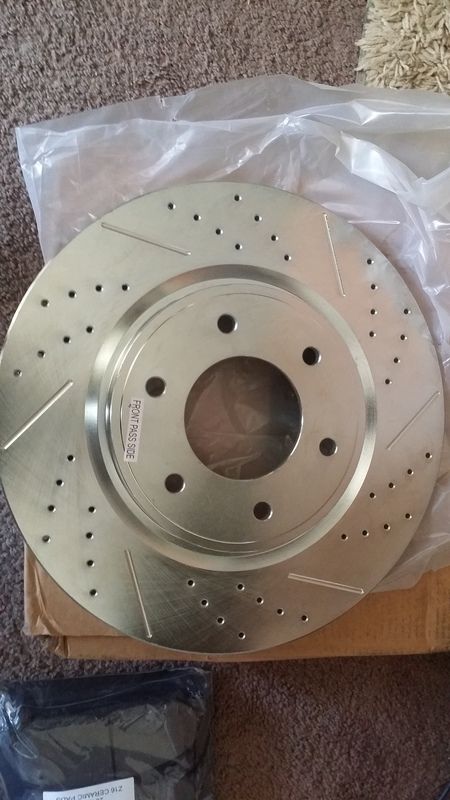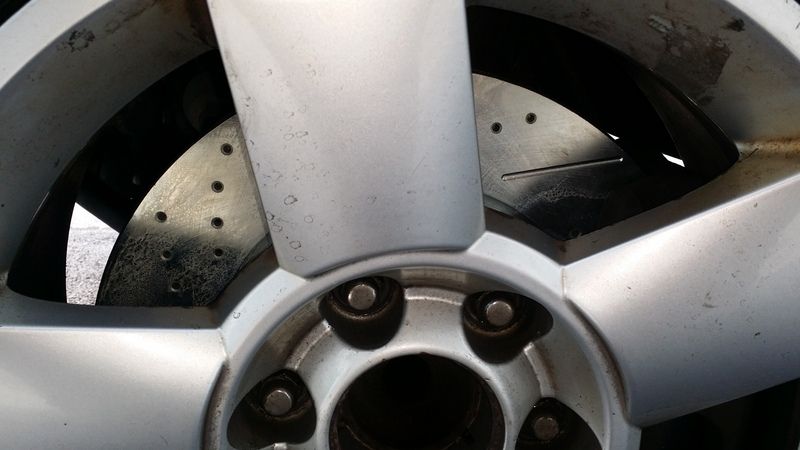 so now i thought about well i'm going to have around 8-9" of lift in the front and all i got is a 4" block for the rears so after asking the guys here what i need to do it looked like i was gonna need some longer shocks since the Maxtrac shocks will only work with a 4" rear lift. so after much thought i ended up ordering the Bilstein 5125's for 6"+ of lift from my good ole friend Mike at TAP! I freaked for a second as when I opened the box it came in I saw the pictures of the yellow and blue Bilsteins and thought "oh no he sent the wring one's!" But I opened them and they were the silver one's! Now they came with the separate ENERGY SUSPENSION bushings which i was told the one's in the Bilstein's i have to take out and put the Energy one's in.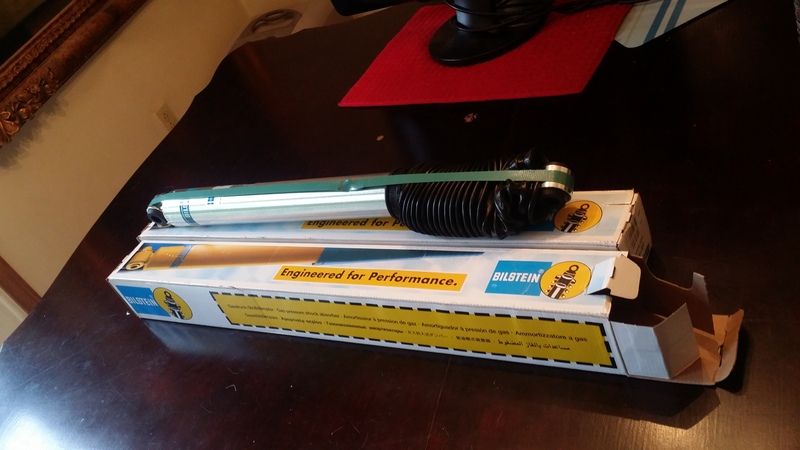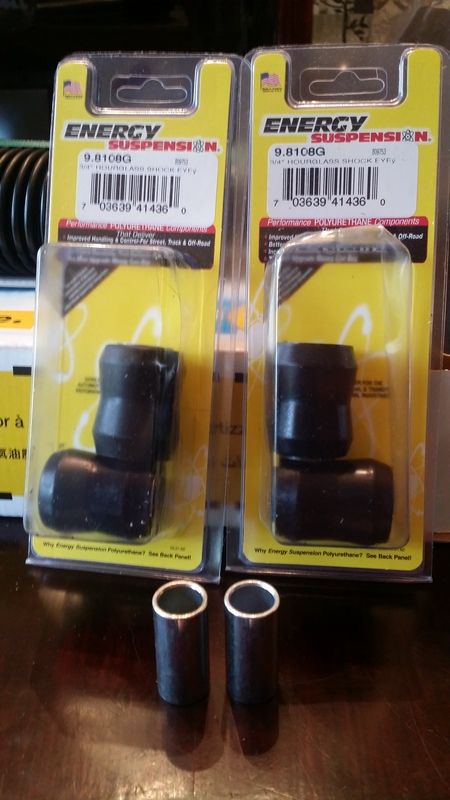 well those shocks weren't gonna do anything as far as more lift in the rear so i looked towards PRG Deaver C-30's which is suppose to give 2.5" of rear lift on a 2wd: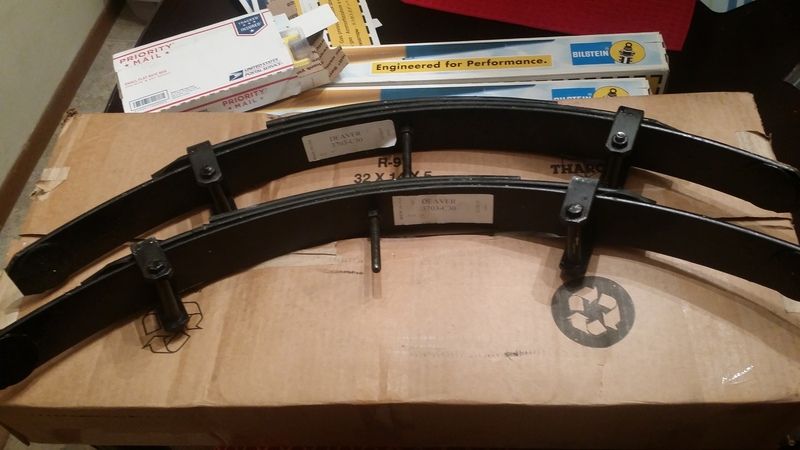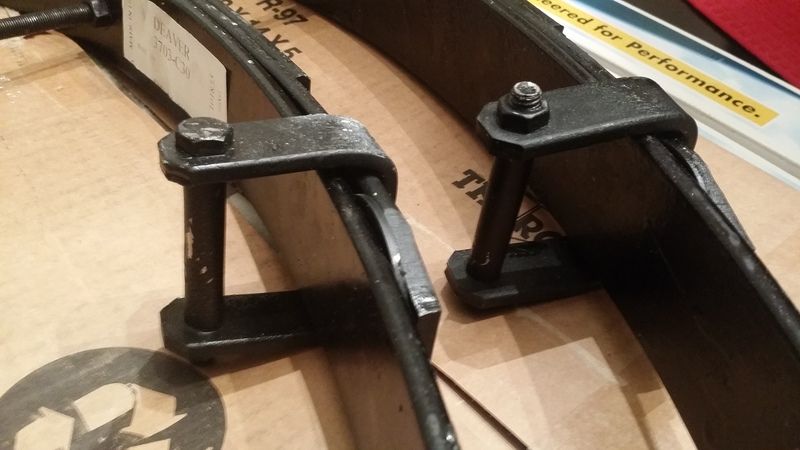 so after i thought i was done with the rears i started to think about possible axle wrap so i started search traction bars! i was deciding on which one's and i wanted the MetalWorx but after several emails and reaching out to him with no response i said forget it. i also learned that because my truck is a LWB that the bars actually had to be longer. i started looking into the ProComps and RC's but just read alot of reviews on how bad they creak and what not and those customer service reps said that those bars will also work on both LWB and regular size cabs. i inquired with CVTitan's traction bars from Madigan's Build and almost went with his but got a great deal i couldn't pass up on from OWP aka Mike from CJD Racing. I will say upon receiving the traction bars the package was damaged and retaped in the middle and most of the hardware/parts were missing due to UPS not handling my package with care and Mike was super cool about the whole thing! He apologized for the mishap and the inconvenience and i knew it wasn't his fault so i told him no worries...what can you do? he immediately said he would get on it right away and have it Fedex to me in a week. i told him i wasn't too keen about the ugly orange CJD sticker on the traction bars as pictured and he said he didn't have any of his metal logos in stock at the time that he normally applies to the bars but he would send me 2 of them when he resends the brackets and hardware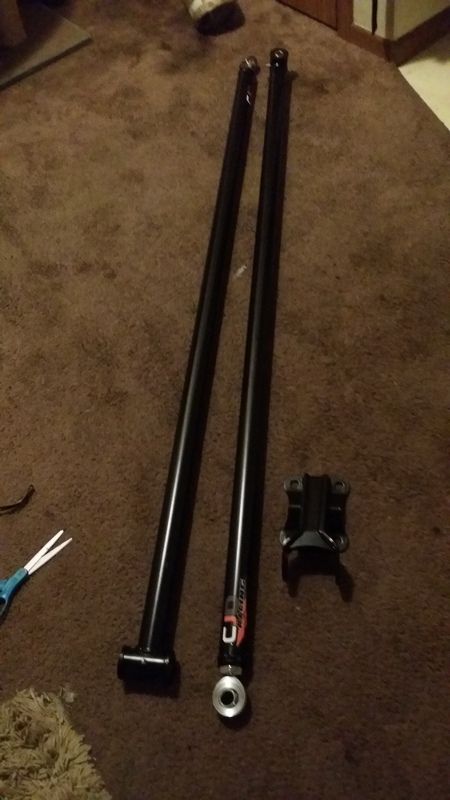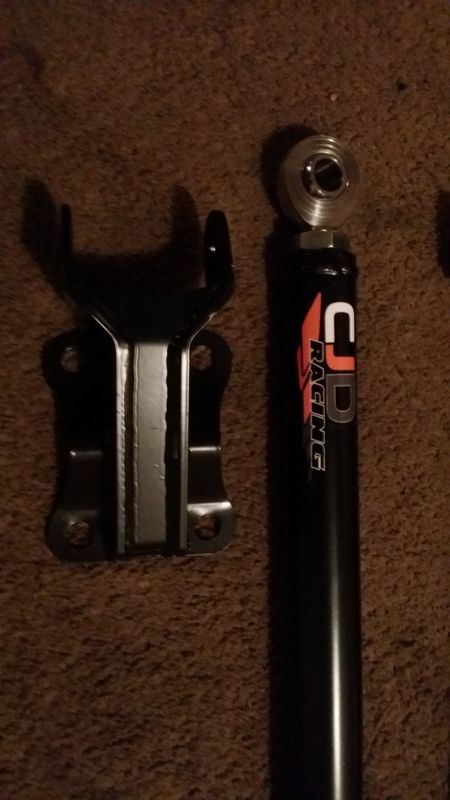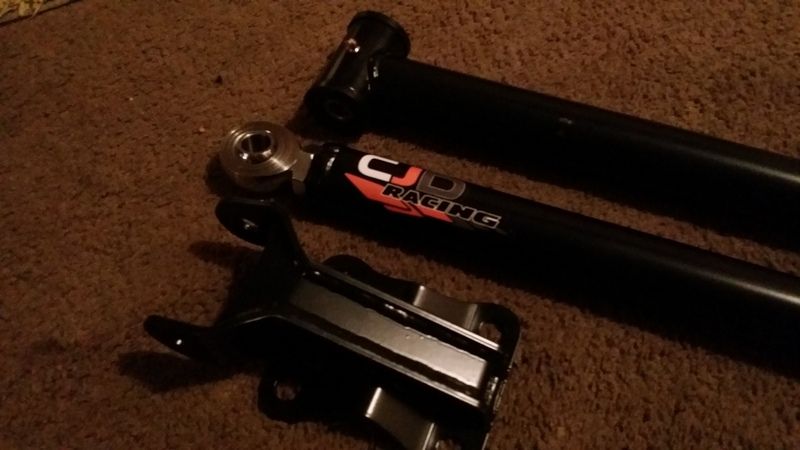 so with that out of the way i thought about what else needs to be upgraded in the rear and thought...well i did the front brakes i better do the rear brakes too! so i ordered the same CrossDrilled/Slotted rotors for the rear: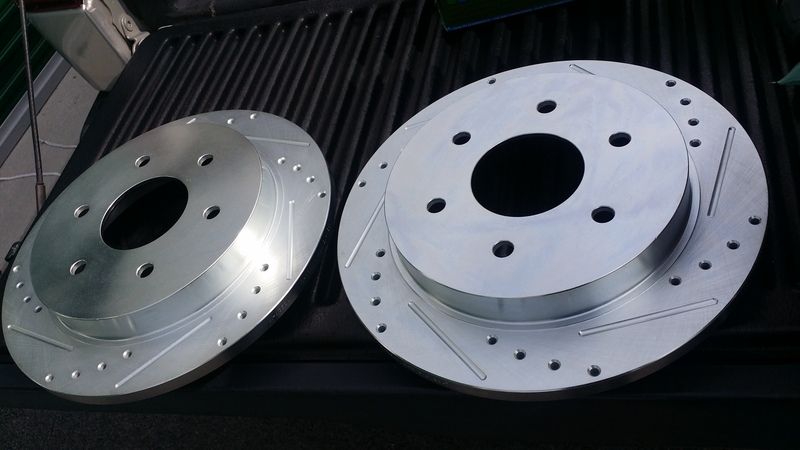 so when i first got my Titan i knew back than i wanted the Fuel Hostages! but after 6 years i thought there would be more better wheels out there now. i skimmed through all the google images for black wheels and nothing sparked my interest. i even scoured CustomOffsets website and it always came back to me that the Fuel Hostage is still the wheel i wanted!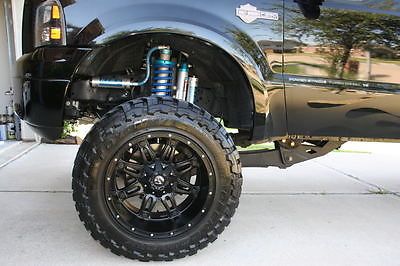 so i ordered a set from CustomOffsets 20x10-24mm with 35" Atturo Trail MTZ: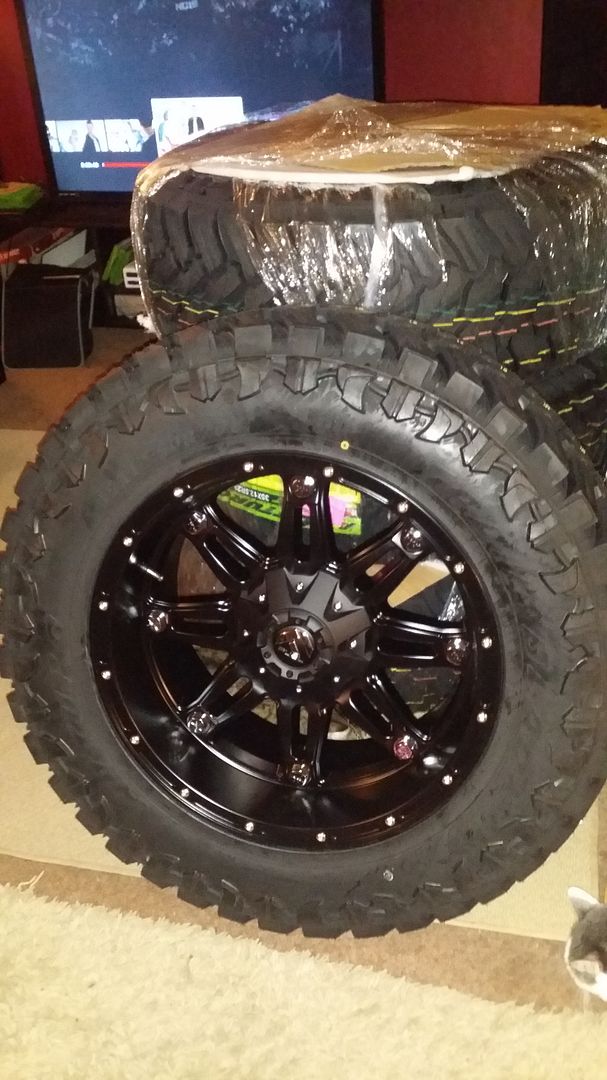 i than used Dr Beasley's Matte Wheel sealant to protect the finish from brake dust, grime, UV rays...just basically wanted to protect my wheels from the harsh outside environment. i also use these on my 21" AG's on my BMW!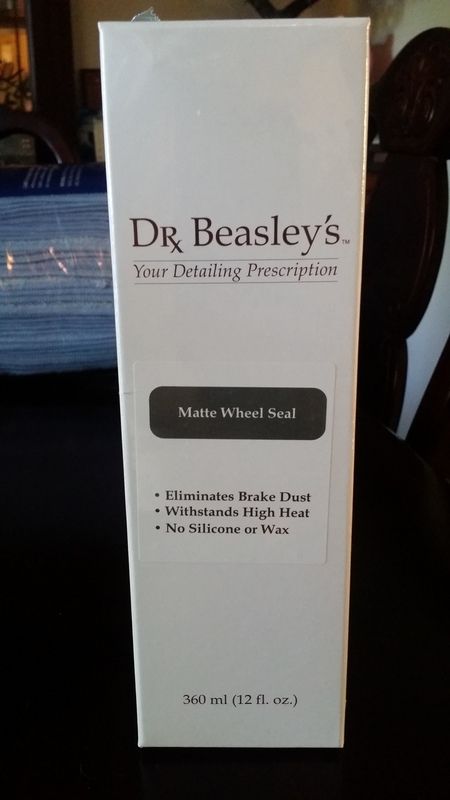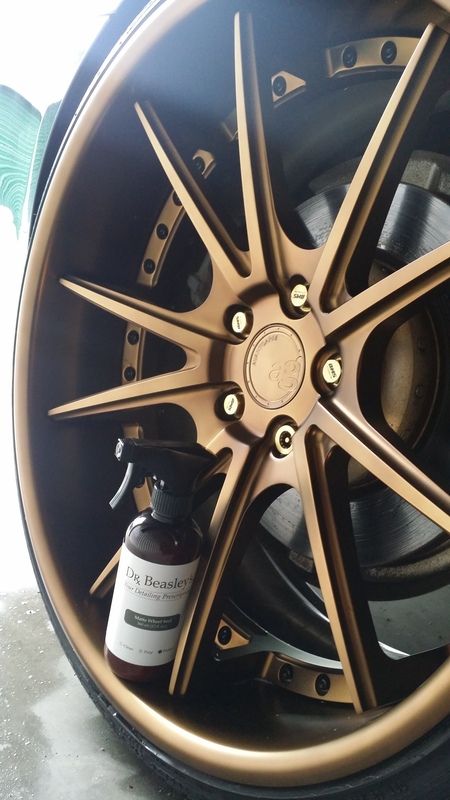 so now i thought about well how the hell am I the wife and kids going to get in and out of the truck? sooooo...i almost...almost went with the NFab bars in textured black. when i placed my order i pulled back and waited a day or two to see if any would come up in the MarketPlace here in the forum...NOTHING! :frown: So i just happened to browse through Ebay like i normally do and came across the Iron Cross HD Bars! Man did they look sweet lookin'! i tried to Google search images and came up with a couple of Nissan's with them but nothing with great pictures. Price was about the same as the NFabs probably $40 more so i bit the bullet and ordered them just so i'm not going with the norm. i'm glad i did!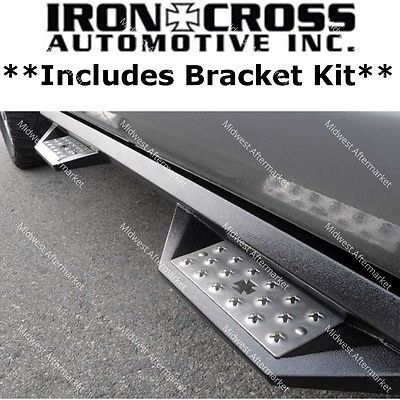 and here they are in the flesh! :devil: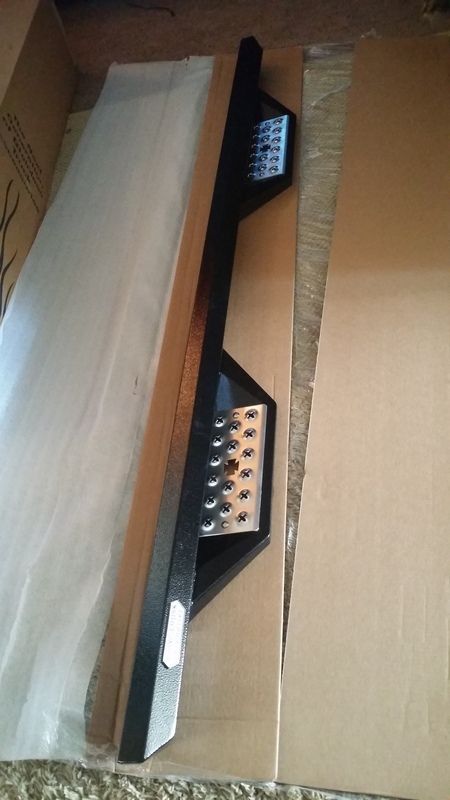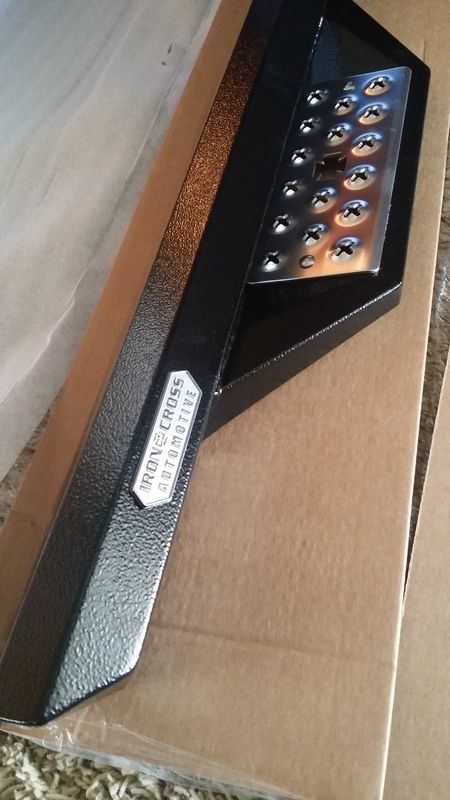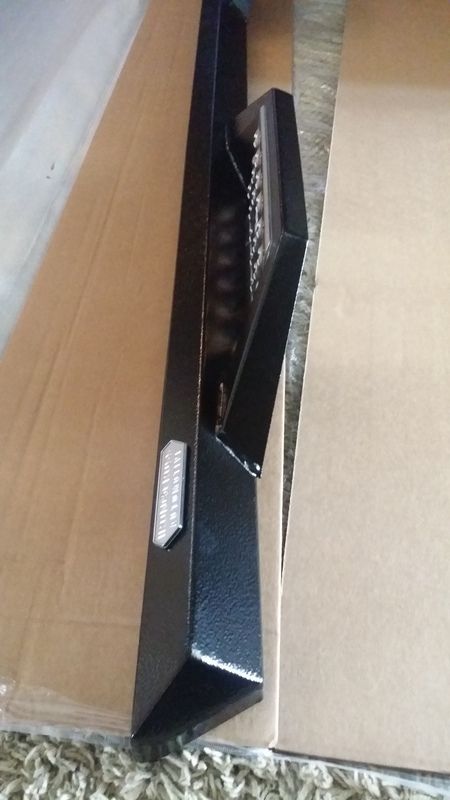 so after breaking the bank (wifey) :wink: here she is coming together! what i still have yet to install which i have to wait for my next day off is the Carrier Bracket and have my buddy here at work weld the CJD Traction Bar brackets on. i already installed the CJD bracket that goes under the axle instead of using the OEM plate to save time.
here's some teasers pictures for now...i'll get a full on shots when it's done. also need to finish putting the rear tires on as i couldn't believe how heavy MT 35's are that i thought i was going to break my back! :eek_surprise: lol i had to slide a 2x4 underneath the tire and pump the jack up and down until i can get the lugs to line up! what i *itch! :eek_surprise: and because the black paint or powder coating on the Fuel Hostage was thick i couldn't get the socket to go inside the lug hole. i had to use my impact gun with the socket on to grind out some of the paint inside a bit. so that put me back a bit from installing the rears. anyways, here's what she looks like as of now.
here's the front suspension with the Maxtrac Spindle installed. i went ahead and spray painted Black Satin Rustoleum on the frame and wheel well amongst other components not seen here. looks clean to me! :big_grin: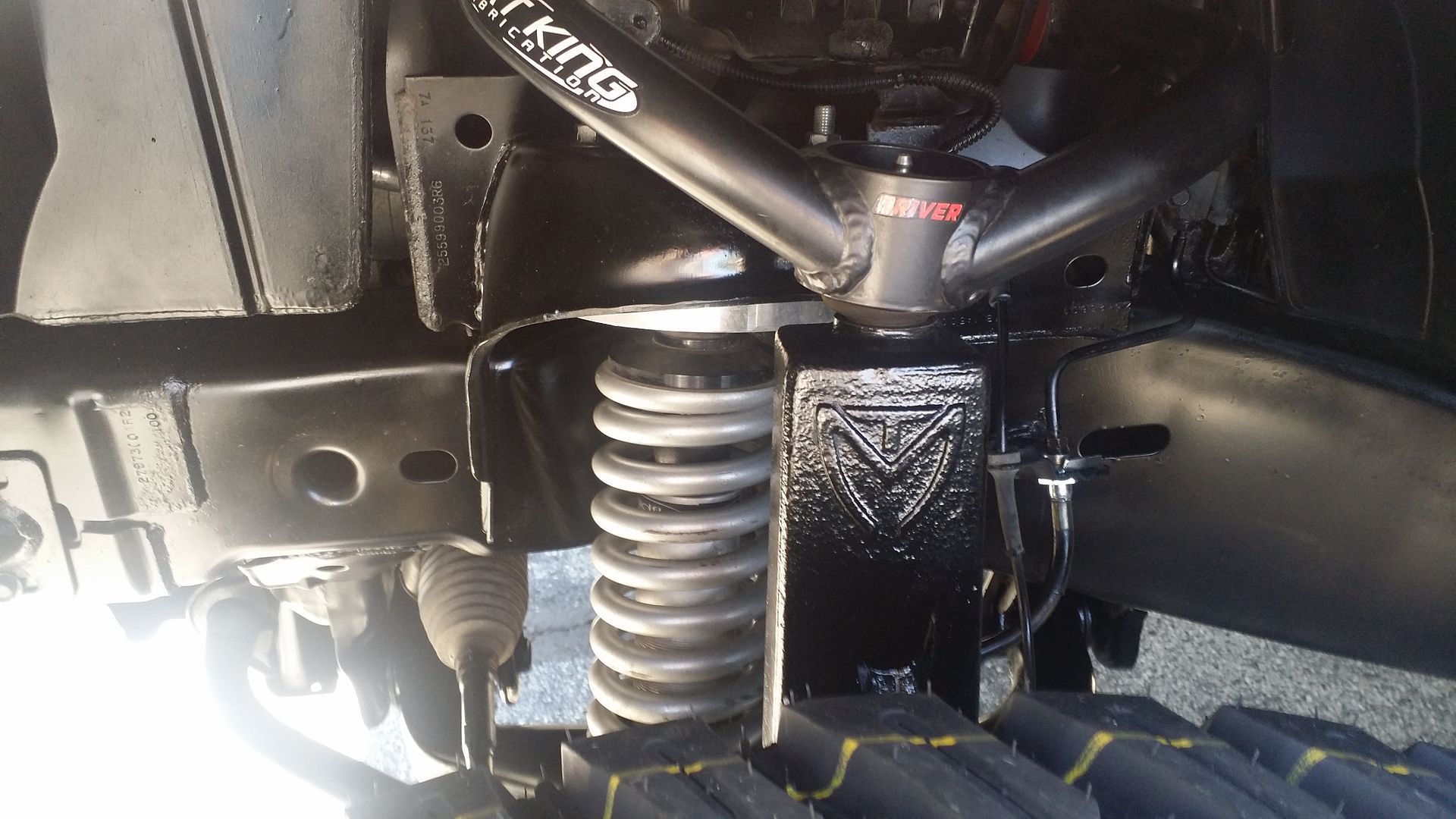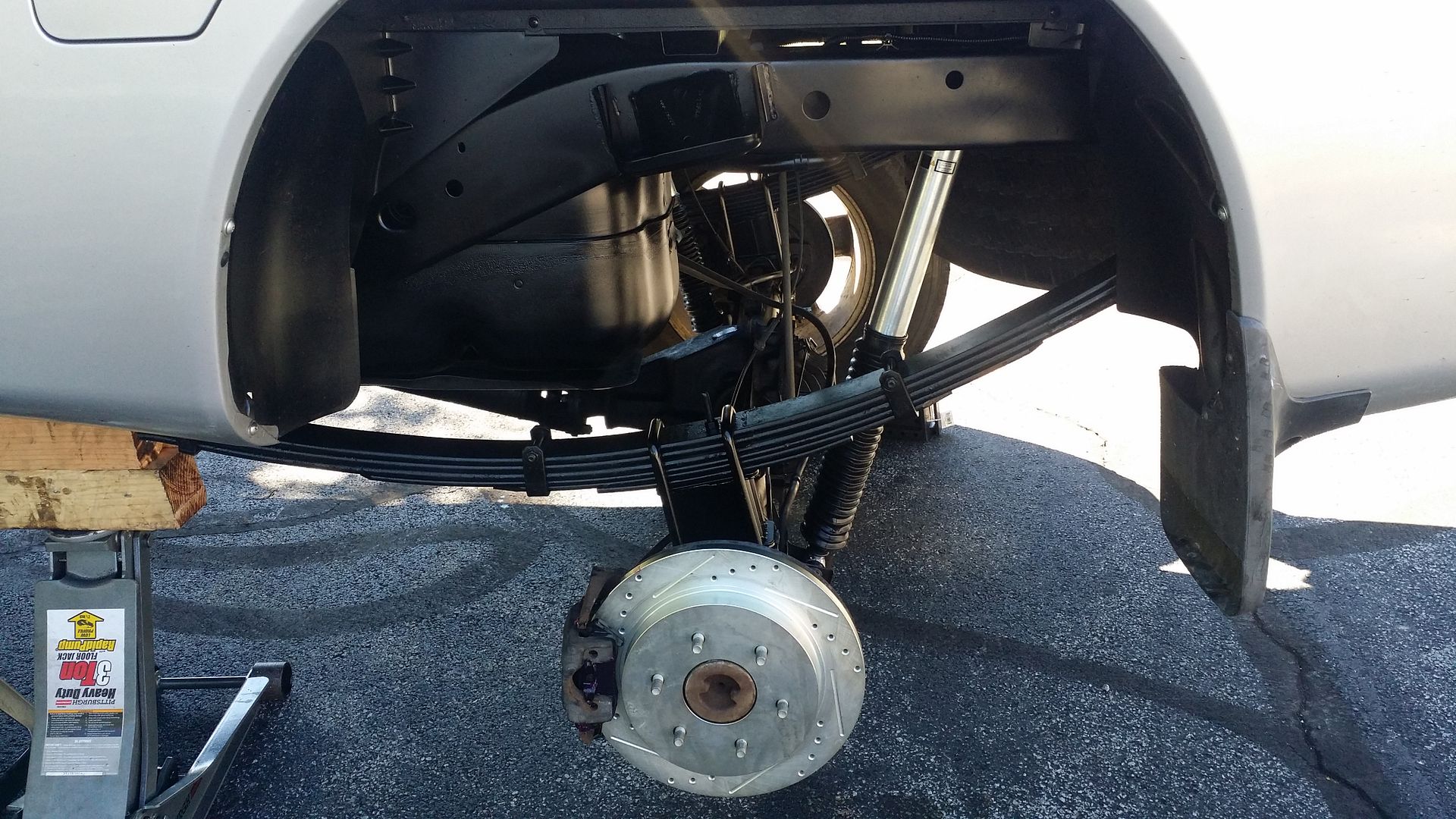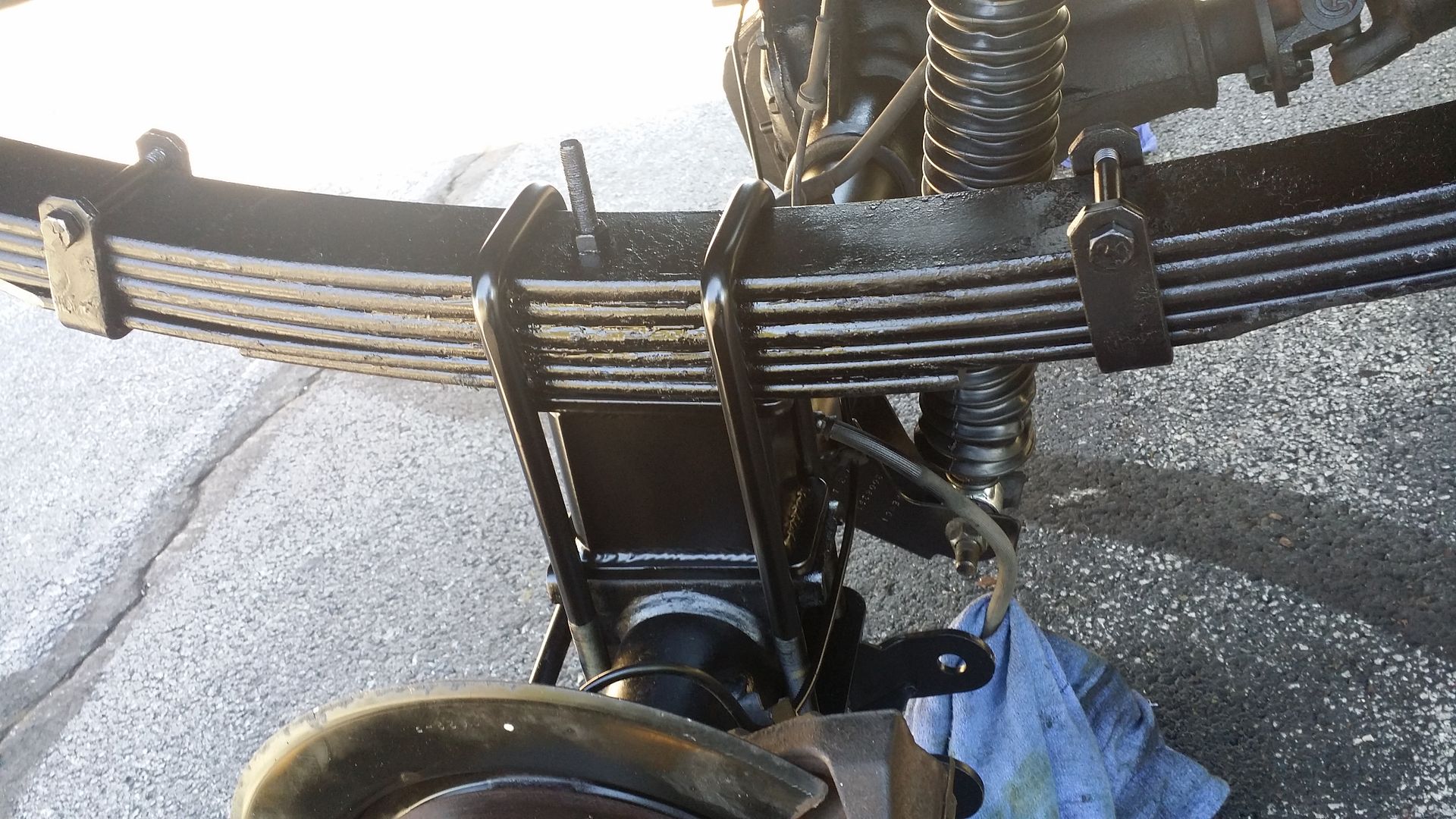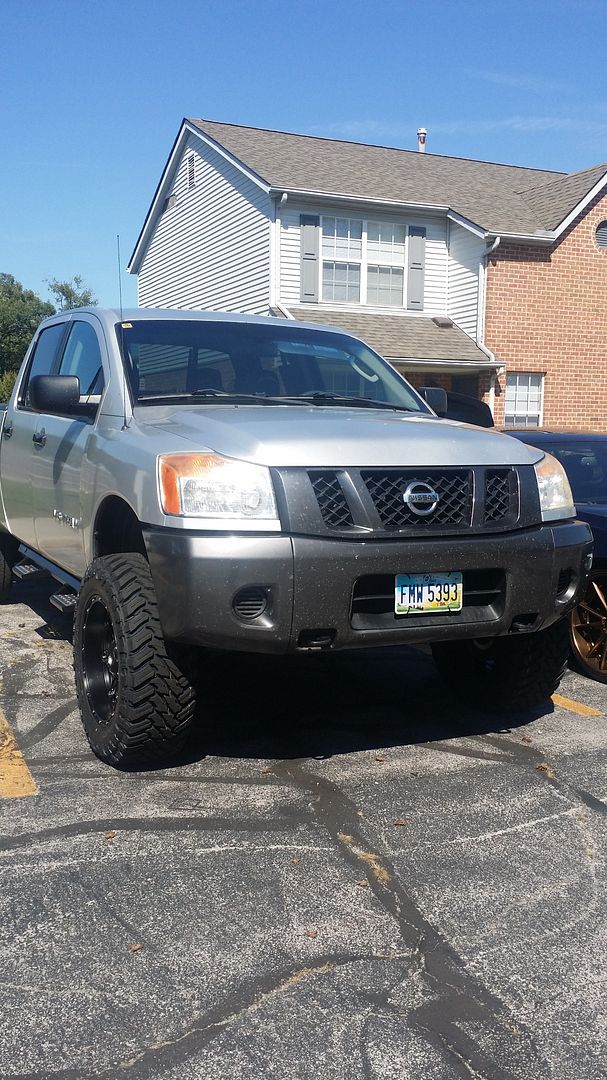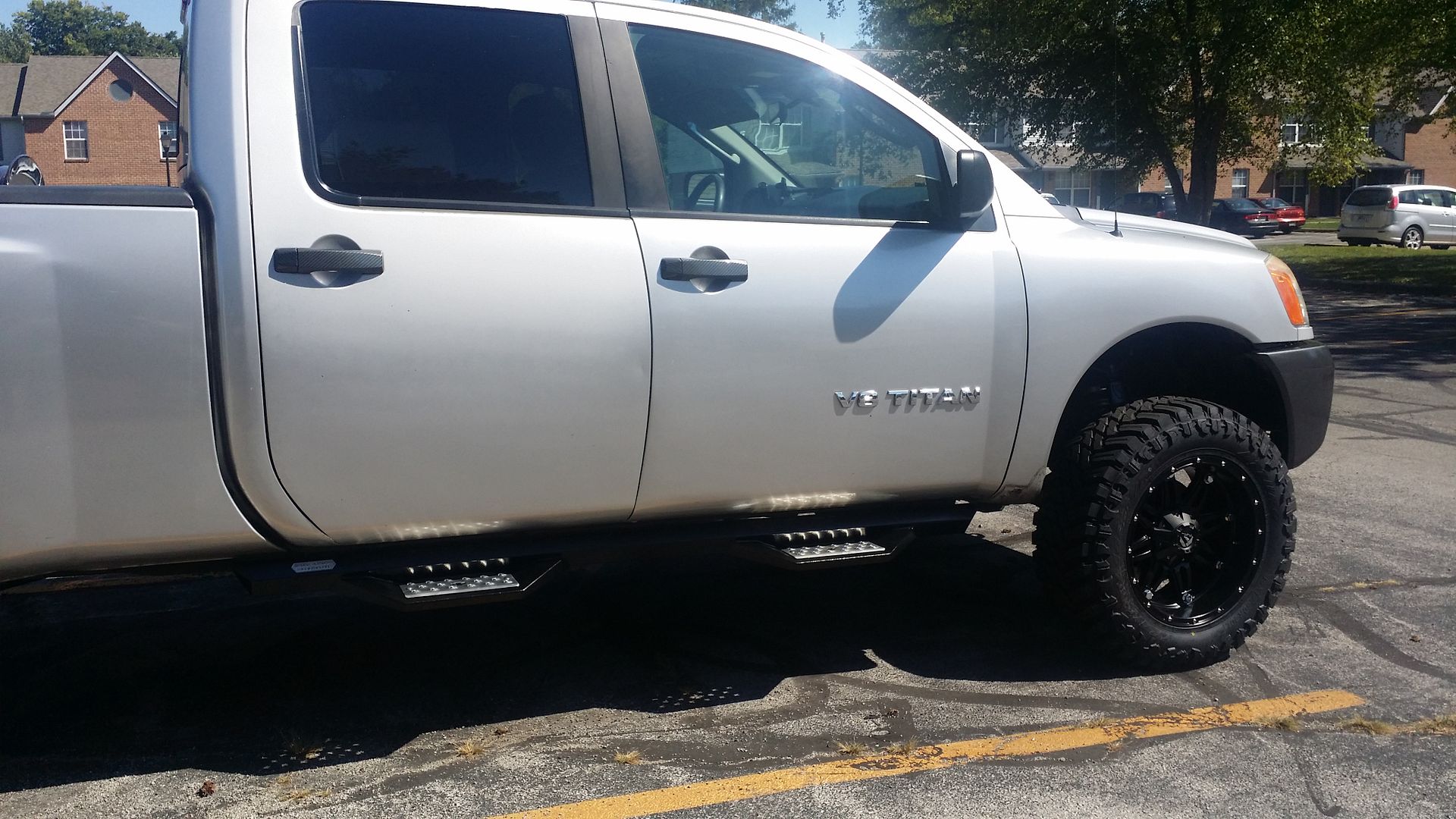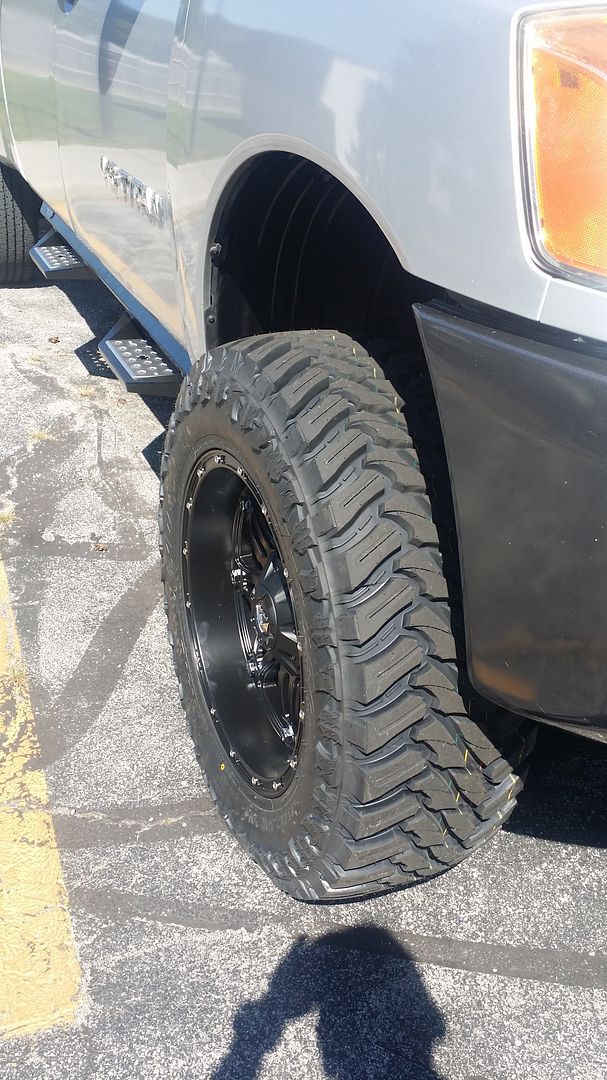 i'm gonna say that's about 3" outside fenders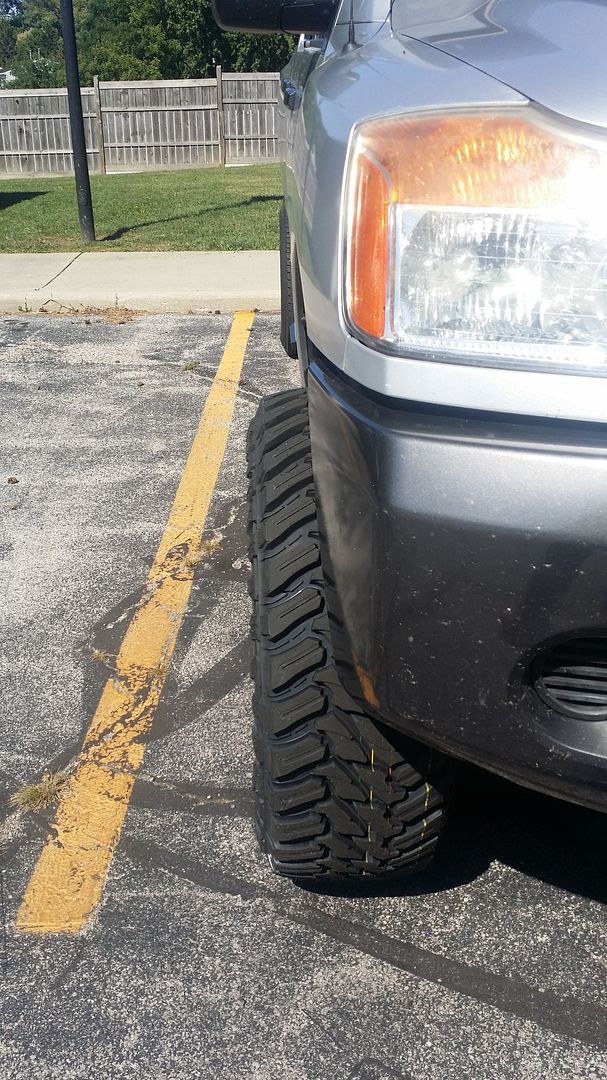 bada$$ Iron Cross HD bars!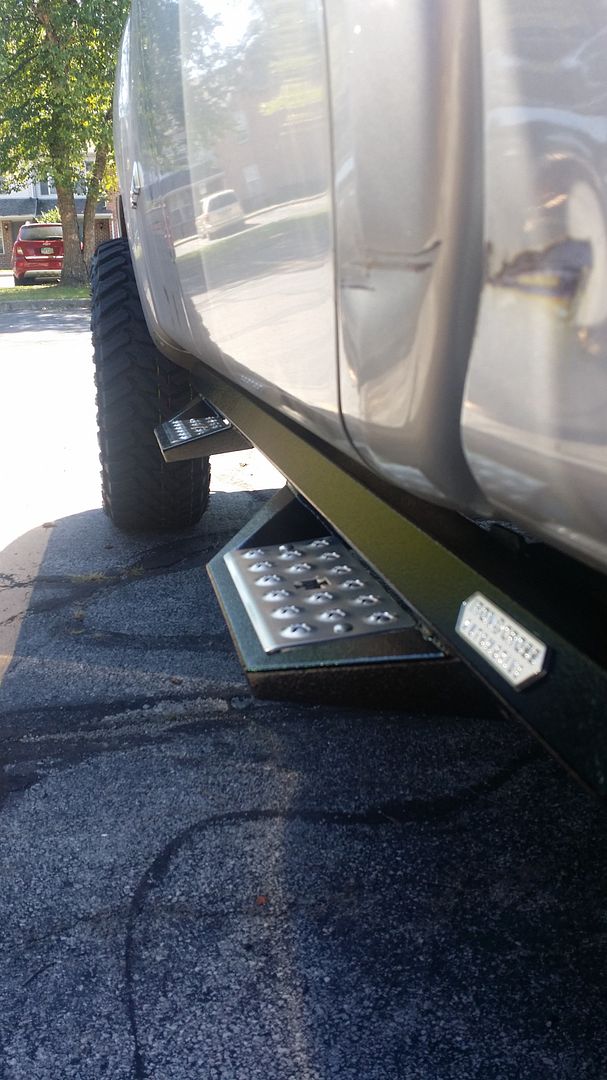 so like i said more better to pictures to come! i'll be ordering some Fender Flares this Friday! also new front black bumper as mine's starting to rust. Big Tow Mirrors, Black Headlights and black fog lights to go with some of the BlackOut theme. Paint the rear bumper black and i found the front Black mesh grill with rivets to match the wheels. hopefully the wifey will go along with the 50-52" LED light bar for the roof? she says it looks like a headband on the truck when i pointed out to her a Toyota Tundra with it on :laugh: not sure with the flares if i'll need to order some Bora wheel adaptors to push them out? i think that's it for suspension and exterior? next will be performance.
she will get a full 3 stage paint correction courtesy of Chemical Guy's Products! i will than apply JetSeal Sealant to protect the paint for up to 1 year. BlackLight to fill in whatever scratches and swirls that couldn't be removed and apply ButterWet Wax for the final wax!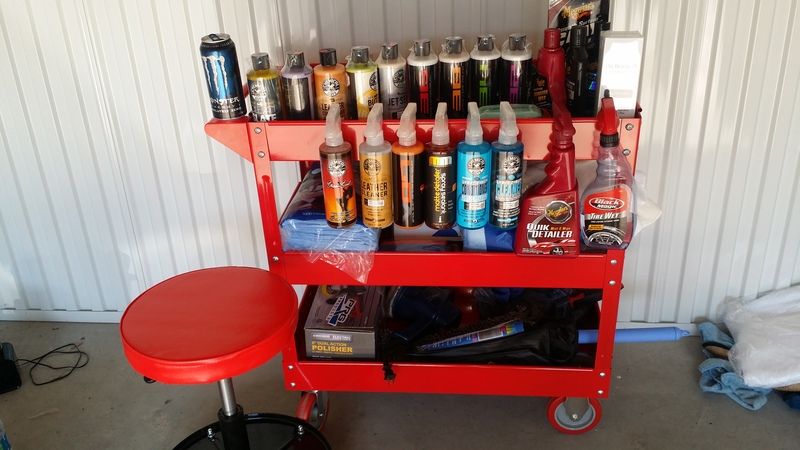 hope you guys enjoyed my build so far! i welcome any advice, comments, criticism and what not :devil: