Discussion Starter
·
#1
·
so i was one of the two members chosen to give a review of Xenon Vision's HID's. i asked for the 6000k. background, i have the Ebay Halo Projectors i bought from here:
04-15 Titan Armada Black Halo LED Projector Headlights+H1 6000K HID Kit | eBay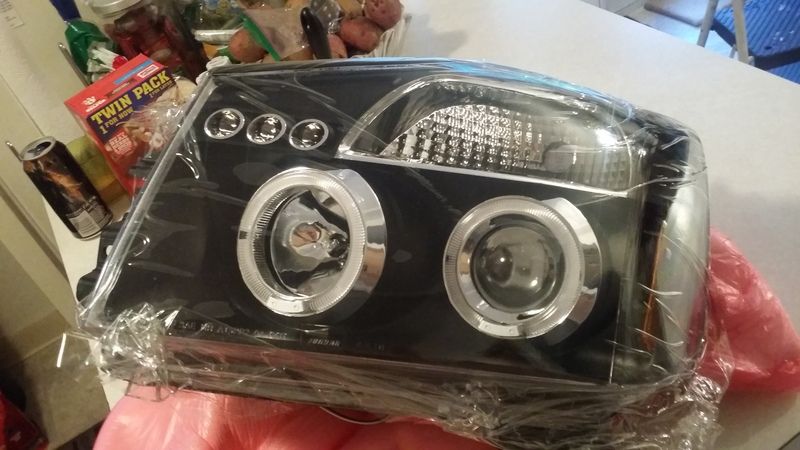 now i ran into an issue with these lights as the driving light bulbs would not remove from the housing even after removing or unclipping the wire bracket holding the bulb down. i ended up destroying one of the bulbs in the process.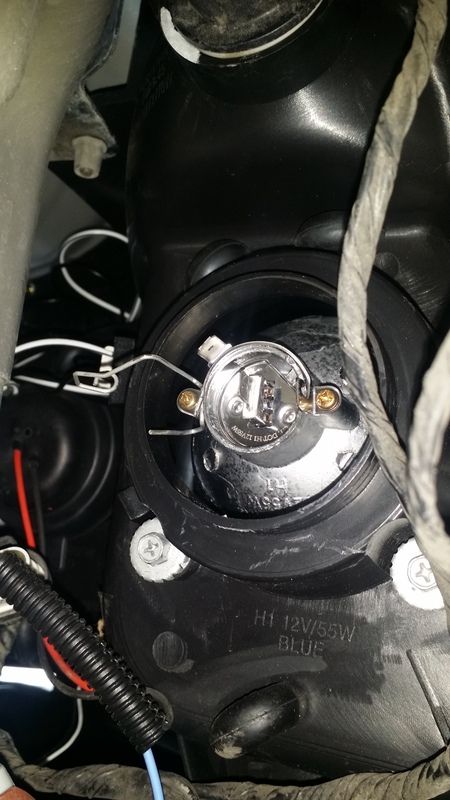 i installed the Ebay HID's that were included and those did not work as well :frown: either i didn't hook them up right or they were bad from the get go ::crying:: anyways, i really wanted to get a good comparison with the light output from both lights but looks like i won't be able to do that. here's the Ebay HID's Ballast next to Xenon Vision's. Ebay on the left. Quality wise night and day difference! you can tell the Ebay bulb and ballast look generic as there's no names or anything on the housing. no info or descriptions shown. i'm sure these are a sold a dime a dozen for ebay products. these were not Plug N Play that they claim to be. i had to cut and reconnect the red/black wire to the HID bulbs. The Xenon's look like a well quality built product. everything clearly labeled and organized in the packaging they came in. info card and install information provided as well as the Ebay did not come with any installation instructions. :serious: the Xenon's are to me pretty much dummy proof regarding install as all connector's fit only into matching connectors. i mean, there's no way to screw that up even if you didn't read the instructions :nerd: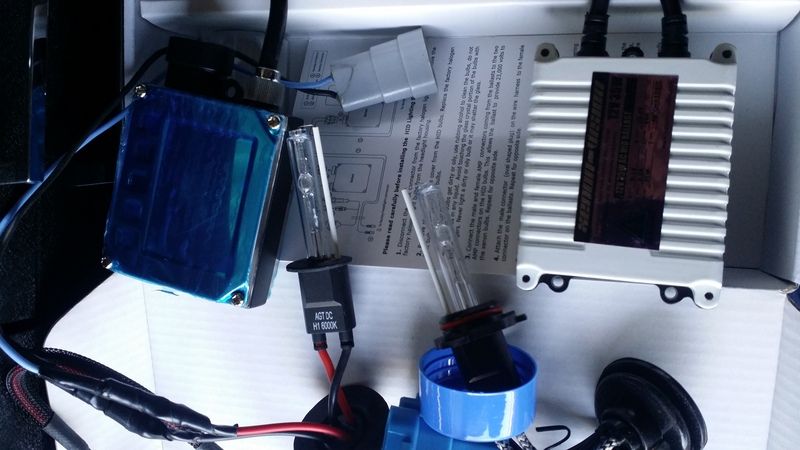 while it was still dusk here's what the lights look like. i was just glad they came on when i hit the switch! :wink: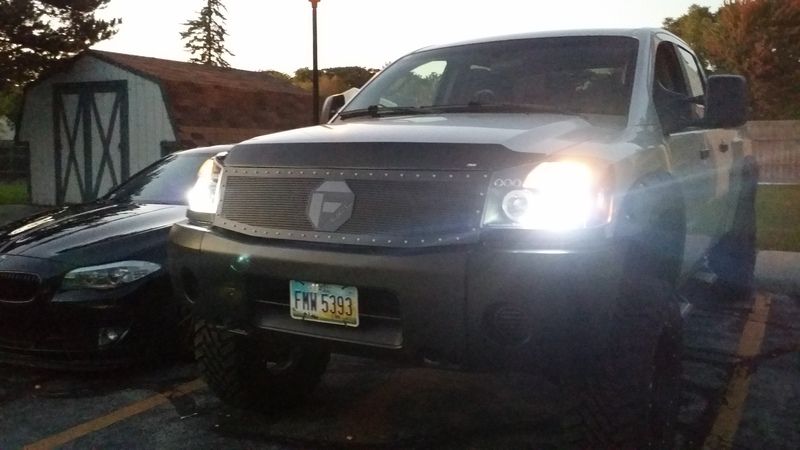 even without making adjustments the cutoff line was pretty spot on to where it needed to be. i asked member FishnAlaska as he's the other member who got the other set of these lights how do i measure the height and here's his response
At 25 feet they should be about an 1" lower than the measured height of the bulb at the headlight
so sitting 25' back i measured the cutoff light and it measures at 45.5 and the top of the bulb sits at 47"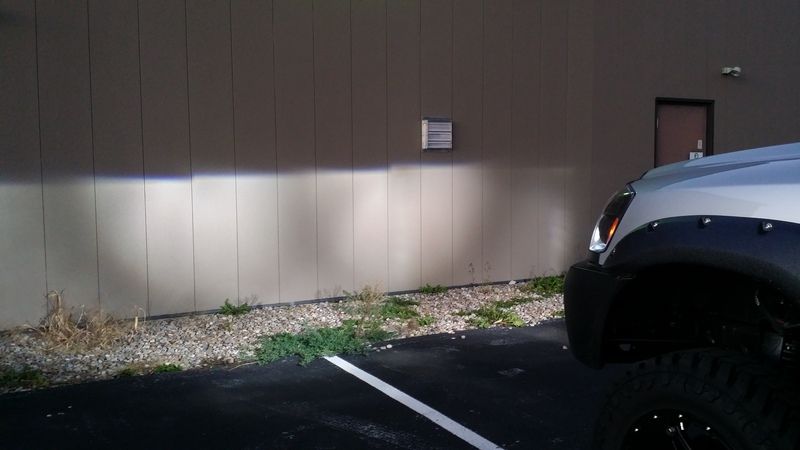 so i got a couple of days driving with these on since i've been on 3rd shift and first impression is night and day compared to halogens. one thing i was worried about was blinding oncoming traffic or just sitting behind somebody. no flickers from anybody. even a State Trooper i came head to head did not flash me so i'm happy to see that as when standing directly in front of the lights to me it's blinding!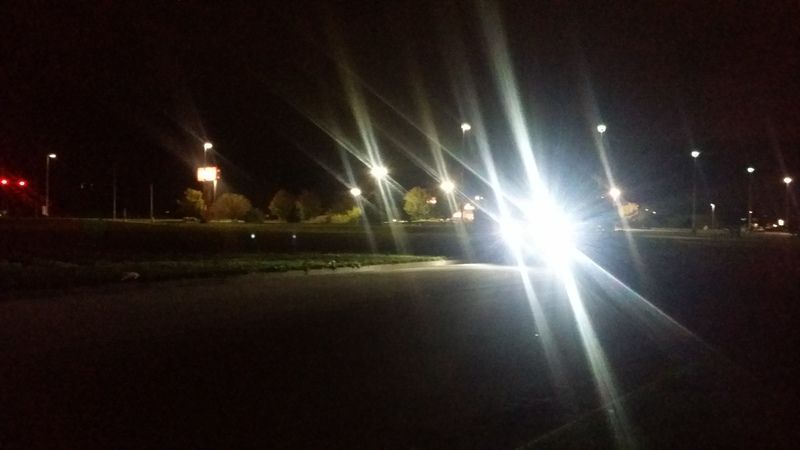 so these are the 6000k HID's and the output color is between a diamond white with a tint of blue!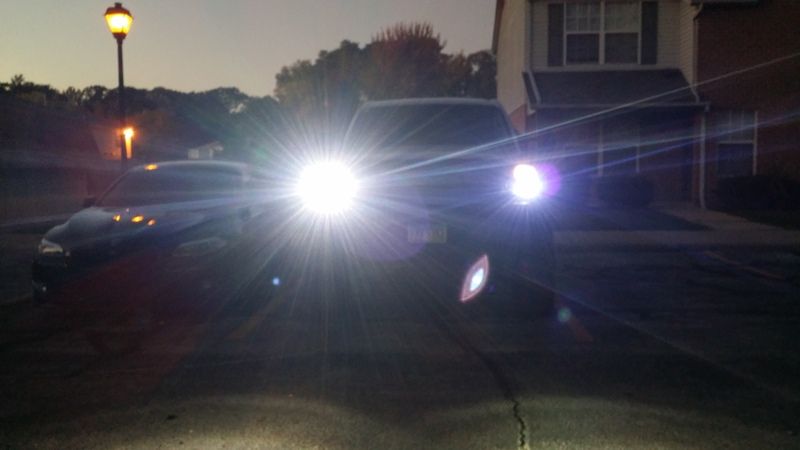 being in OHIO there's no overhead street lights to light up the streets like they do in Cali! :serious: it's pitch black on some of the roads out here and so what i like about the Xenon Vision's is any reflected signs down the road will reflect back right away as you can see here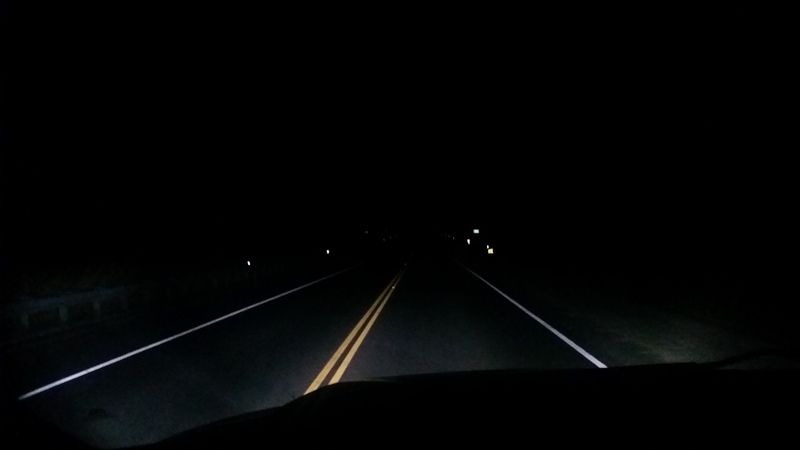 the pictures probably don't do it justice but those reflected signs are pretty far...i would say a good 1/4 mile? to me that's pretty good considering the only lights on the street are mine! with the halogen bulbs you would not see that at all so now i feel a bit more safer for the fact that i can see further down the road.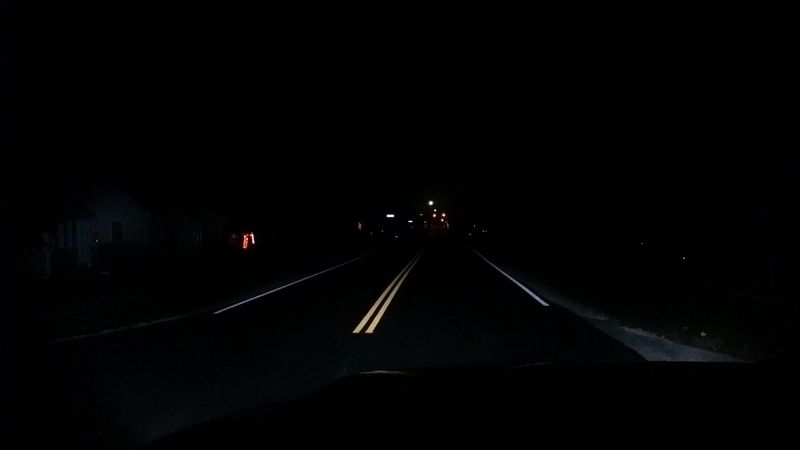 here's the light output with the truck parked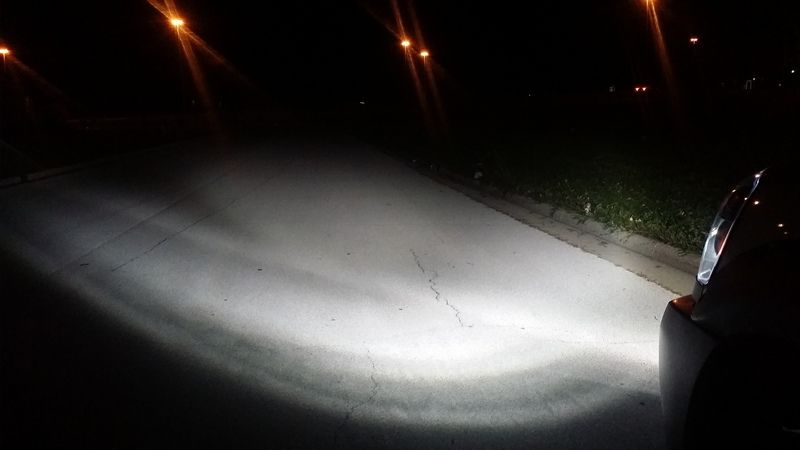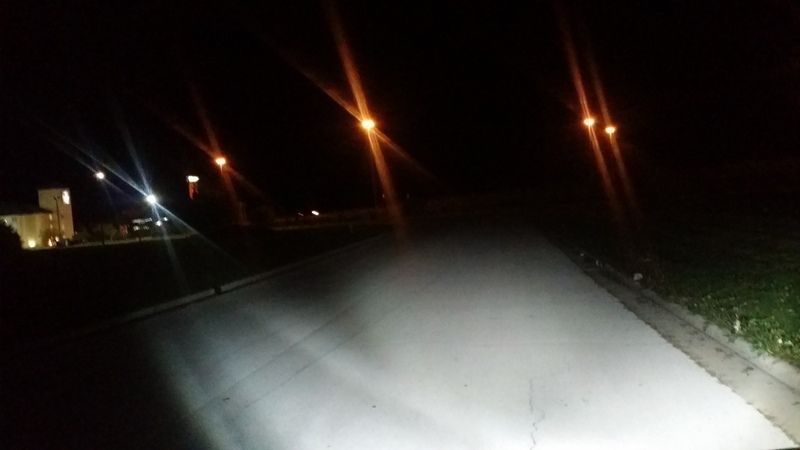 here's another shot while driving down the road here with no street lights. you can see how far the light goes reflecting those signs way way down the road. the road in front of me is lit up but get darker the further down you look but again the signs way down the road will reflect back.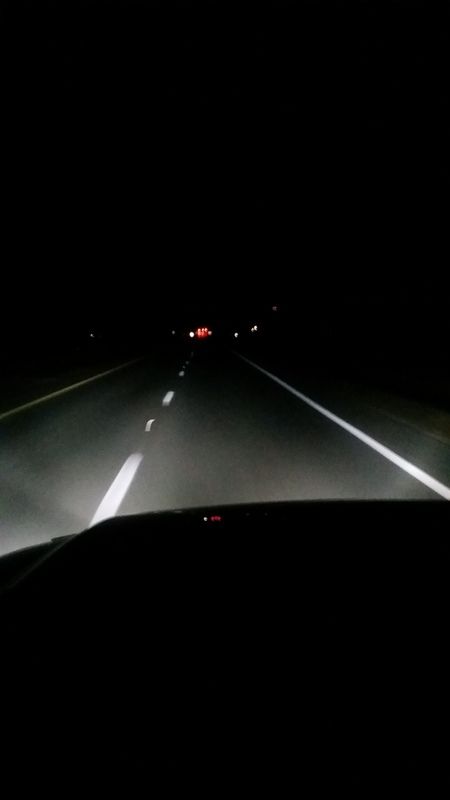 here's pulling up next to a truck with halogens on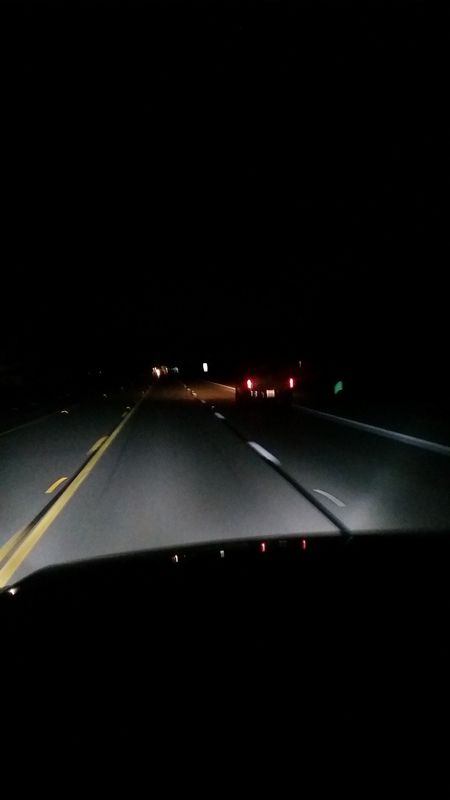 you can see here the only light output he's getting from the halogens is about 25' circle and that's it. the closer i got to him my HID's eventually engulfed his lights and he can see alot more in front of him when i was next to him. i tried to get a picture of that but i dropped my phone lol :eek_surprise: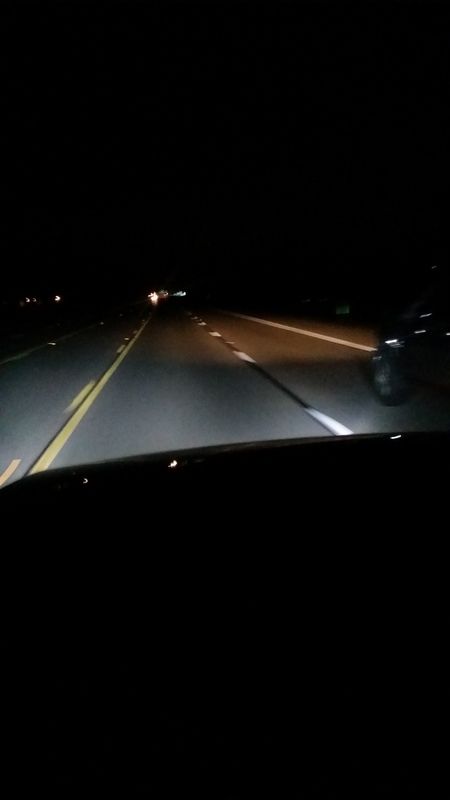 so a quick comparison to the factory HID's in my BMW i will say these Xenon Visions are pretty close if not just as good as BMW OEM HID's. so comparing the two it is a bit different and i think the differences is the Titan is lifted so maybe the way i see light output in front of me will be different than driving in my BMW which is pretty damn low to the ground. with the Titan i can see further ahead of me being lifted and with the BMW not so much but i do get a pretty good light coverage.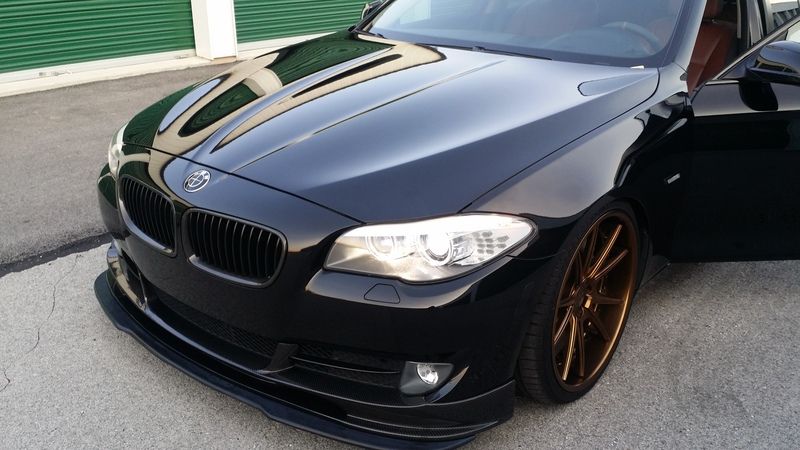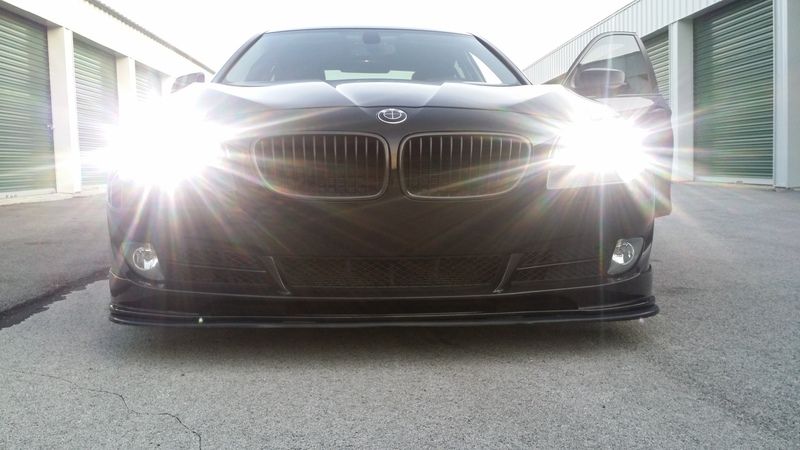 so in conclusion i'm very satisfied with Xenon Vision HID's :laugh: i would definetely use these in my other personal vehicles. easy and simple to install plug n play feature. love the light output these give. would definitely recommend these to you guys if you ever think about upgrading your Titan halogen lights to HID! :devil: