Discussion Starter
•
#1
•
Last night I went to Adam's HQ to use there products on my truck. I will list all products used in order and then go into some detail about each picture. I spent about 2 1/2 hours and wasnt quite done yet with the Inside.
Please feel free to ask any questions you may have about there products, how there used or anything like that!
My overall thoughts on Adam's products. I have used many different kinds of waxes/polishes/cleaners. Adam's by far as been the easiest to remove after applying the products. It came off with no force, just a wipe of the towels. The detail spray IMO is there best product, you can use it to safely dry wash if your truck is not REALLY dirty. You can use it on anything on your truck and the shine it leaves really speaks for itself. The V.R.T. is great, it leaves a better look than ArmorAll and it doesnt "spray" while driving and days after the area still looks like it was just done.
The service from these guys is Top Notch, I would compare Adam to our buddy PRG ( Greg ). He was right there to explain everything and answer any question in detail. You really dont find excellent service from companies that much anymore but these guys are up there IMO.
Link to Adam's for products
Adam's Polishes
Products Used on painted part of truck: Clay Bar, Detail Spray, Swirl & Haze Remover, Revive Polish, Fine Machine Polish, and Machine Superwax.
Products used on plastic, rubber, window's, rims : V.R.T. ( Vinyl,Rubber,Tire ), Glass Cleaner, Brilliant Glaze Spray, Leather and Interior Cleaner and Invisible Undercarriage Spray.
This is the best picture I could take of the wheel well's. This spray is amazing. Nissan Mike ( member here ) did his truck while he was at the open house and they made it look BRAND NEW! Just takes a couple sprays around each area, and they look amazing.
The next couple pictures are of the trucks body. These pictures dont show everything but my swirls are about 80% gone. One more good treatment and I cant imagine there being any. Take a look at how good the metalic shows up, looks like there are dirt particles on there but there isnt. All products listed above on the painted part were used in these pictures.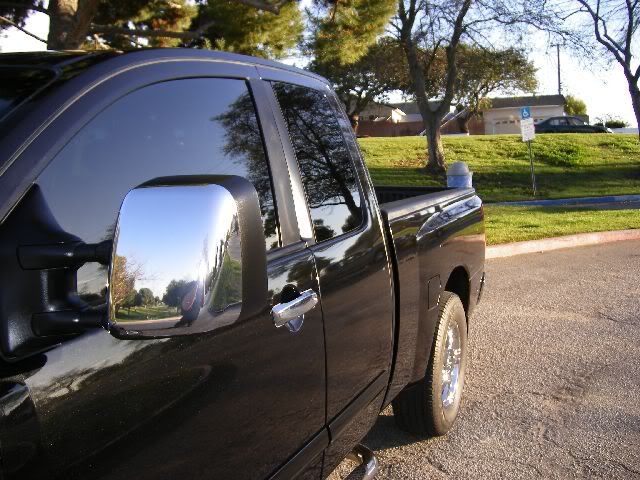 This picture was taken about 2" off the truck at an angle. You are seeing the reflection.
Upclose picture of the Rim and Tire. The rim was treated with the Brilliant Glaze Spray and the Tire was treated with the V.R.T.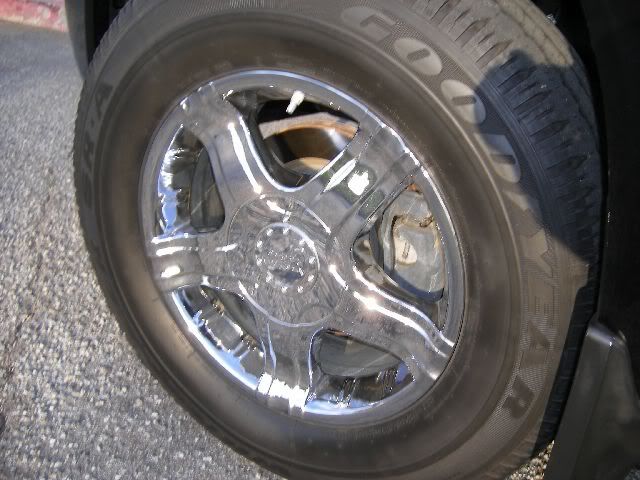 The next two picture are of the trim after being treated with the V.R.T.
Lastly, the interior. First Picture is of the steering wheel. This was treated with the Leather and Interior Cleaner. The second picture is of the driver's side door. Everything was wiped down with same Leather and Interior Cleaner.