Well, it's nothing radical and extreme, but I got some time to myself yesterday and took my Titan out to the "sluice boxes" / Luis and Clark National Forest to do some light trailing. It's only about a half an hour from here (35 miles) and I like to ride through every once in a while, but I took the more tougher trails this time.
I went alone, so I did have to take it easy so I wouldn't break down or get stuck up in the mountains all by myself, and there are no really good action shots just simple poses in some moderate locations. The really tough parts I had to concentrate on and didn't get any pics of, but I think they get the point accross! :jester:
I got to cross some 1 1/2 foot deep creeks that were about 40 feet wide and charge up some 40 degree bankings (88.8 % grade), crawl down a rock face in 4 LO-1 and had a HELL of a time getting back up that bastard, but with the right angle and technique, the Titan was undefeated!
Okay! Less talk, more pictures!
Some nice pics of suspension flex...
Fully tucked in...
...and all the way stretched out. The tire is actually 1" off the ground.
Nice pick of the creek
In some spots, the 2.5" front lift made the difference between keeping my front bumper on or taking it home with me in the bed of the truck! lol
dang...too blurry.
Cachow! :jester:
And here's that 40 degree banking I went up earlier.
Crap! My favorite trail is blocked off. I knew I shoulda brought my chain for something!
Well here's some pics of it...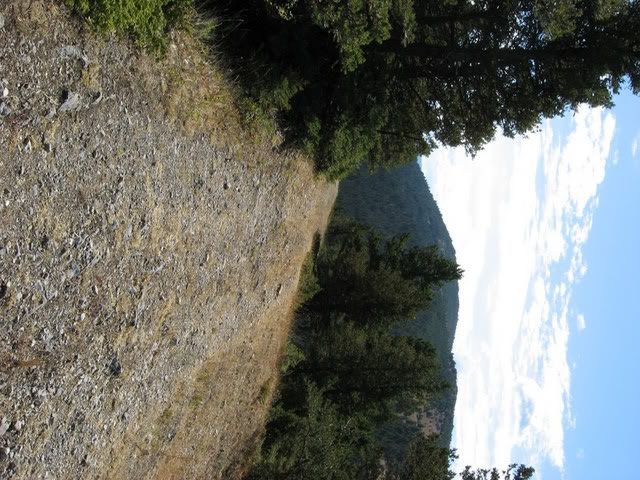 25-30 degrees of sharp rock face and loose shale and goes down for about 2.5 miles to the bottom.
And goes way down there...
walking back up the trail
Driving back home to flat land again. BTW, that's not smog. It's smoke from the forest fires on the western side of the state.
one of the hundreds of missile silos that this state is littered with.
And now to wash and buff out all those god damn scratches. ugh...
Not too bad for having a stock suspension w/ 2.5" leveling kit and no off-road package, though I do plan to upgrade!
I didn't have any problems at all. I didn't get stranded or stuck, nothing broke or acted up, I didn't bottom out with the exception of one light clunk, and even having two open differentials, I still had enough traction to power my way up a 40 degree loose gravel embankment after just driving through 40 feet of 1 1/2 feet of rushing water and a very rocky river bottom. I didn't have the option to hit it with some momentum so I climbed it from a dead stop.
This truck is capable of much more, but you have to know your limits unless you want to get stuck, stranded, broke down, or have damage to the body, driveline, or anything else under the frame and suspension.
BTW, These tires are great! I was in 4WD only about 5% of the time since these tires really do a great job.